Before we turn the page on 2022, let's review the times when Alibaba Group marked a significant milestone or contributed to the fast-evolving digital economy.
Looking back at the year, noteworthy patterns emerged in profitability, sustainability and corporate governance that we think are also worth a second look.
After examining group-level trends, we also reflected on major announcements by Alibaba's business units. Its logistics arm, Cainiao, harnessed planes, trains and automobiles to deliver goods, while the group's cloud computing arm worked to reduce the environmental impact of shopping.
One of the more noteworthy achievements was the ecosystem-wide coordination at the height of the coronavirus pandemic in China to support local communities.
But these are just some of 2022's highlights. Read on for our retrospective look at Alibaba's year:
#1: Alibaba Boosted Profits & Gave Back To Shareholders
Alibaba core profitability consistently beat Wall Street's forecasts in 2022 as the group reined in spending and carefully husbanded resources.
The business proved resilient against a deteriorating macroeconomic backdrop, wild swings in financial markets and fluctuating geopolitical tensions.
Alibaba bolstered earnings in the three months ending March 31 and the following two fiscal quarters.
"We have continued to take a holistic approach to improve operating efficiency and cost optimization throughout the company," said Toby Xu, Alibaba's Chief Financial Officer said in November.
Ample cash flow meant the company could hike its share buyback, once in March this year and then again in November.
In a separate move to boost shareholder value, Alibaba said in July that it would upgrade its secondary listing in Hong Kong to a primary listing, potentially making its shares eligible for mainland retail investors to trade.
Due to the company's prudence throughout the year, market analysts at Jefferies noted in November that Alibaba was in a "sweet spot" ahead of a widely expected rebound in China's economy from the impact of the pandemic.
#2: Alibaba Hit 1 billion Users In China Ahead of Schedule
Alibaba topped 1 billion annual active users in China this year, well ahead of schedule.
"During this past fiscal year, we achieved our stated goal of serving more than 1 billion annual active consumers in China," Daniel Zhang, Chairman and Chief Executive Officer of Alibaba Group shared in a letter to shareholders in July, in addition to over 300 million overseas customers.
Alibaba set the target back in 2019 when the company served 730 million consumers in China. At the time, it envisioned reaching its goal by fiscal 2024.
The company's China consumer business covers primarily its China retail marketplaces, digital media and entertainment, as well as local consumer services.
#3: Alibaba Cut Carbon Footprint by 620,000t
Alibaba said it had saved 619,944 metric tons of carbon dioxide equivalent in emissions across the 12 months to March 31 by tapping cleaner energy sources.
That saving is on a par with the carbon dioxide generated by 12,915 U.S. households in a year, according to the platform company's environmental, social and governance (ESG) report.
The ESG report is Alibaba's first progress update since it pledged to reach carbon neutrality by 2030 and slash carbon emissions by 1.5 gigatons across its digital ecosystem by 2035.
Alibaba's computing arm Alibaba Cloud vowed to run its data centers entirely on clean energy by 2030. In the 12 months ending March 31, 21.6% of the energy it used was clean.
Cainiao leveraged artificial intelligence algorithms to reduce packing materials by 15% on average and its warehouses installed 24.9 MW of solar power capacity, accounting for 16,000Mt of carbon dioxide equivalent, in the 12 months ended March 31.
Since March, Alibaba has continued to build a more sustainable ecosystem.
Alibaba Cloud boosted its use of clean energy and leveraged cloud-native technology to make this year's 11.11 Global Shopping Festival the most eco-friendly to date. It used over 32 million kilowatt-hours of electricity to support this 11.11 from clean energy sources, a 30% jump on an average daily basis from last year.
#4: Alibaba Took Steps to Improve Corporate Governance
Alibaba named Irene Yun-Lien Lee, Chairman of Hysan Development, and Albert Kong Ping Ng, a former Chairman of Ernst & Young China, independent board directors to enhance corporate governance in August.
The board additions came on the heels of Weijian Shan's appointment in March to the same role. The author, asset manager and banking director is an executive chairman of investment group PAG.
"The new independent board member appointments are part of Alibaba's ongoing enhancement of our corporate governance," said Alibaba's Zhang in August.
Seven out of twelve of Alibaba's board members are now independent directors. The appointments raised the number of Alibaba's female board members to three.
#5: Cainiao Expanded Logistics Network During Pandemic
Cainiao continued to expand its logistics network this year to ease parcel delivery during the pandemic.
It unveiled the first automated smart distribution centers in Pakistan, built in collaboration with Daraz, Alibaba's South Asian affiliated platform. The distribution facilities can handle an average of 420,000 parcels daily.
It expanded its network in Latin America this year by launching its regional headquarters in São Paulo, Brazil, in November, following the launch of sorting centers in Mexico and Chile earlier in the year. Cainiao has pledged to build nine distribution centers and 1,000 smart lockers in Brazil over the next three years.
In the domestic market, Cainiao expanded Cainiao Post, a network of neighborhoods, campuses, rural village stations, and residential self-pick-up lockers. During the quarter ending Sept. 30, the number of Cainiao Posts grew by over 20% year-over-year to more than 170,000.
Cainiao's autonomous driverless robots, dubbed Xiaomanlv or "Little Donkey", hit a milestone this year. They have delivered more than 10 million parcels as of March 31 to address the country's last-mile delivery problem. During this year's 11.11, from Oct. 31 to Nov. 11, the robots delivered close to two million packages, double the number delivered last year.
#6: Alibaba Hosted Record Product Listings During 11.11
The creator of the world's biggest retail event hosted a record number of product listings during the festival. Also known as Double 11 or Singles' Day, the shopping holiday routinely dwarfs Black Friday and Cyber Monday combined.
"This is undoubtedly the most important campaign of the year," said Cynthia Carbonell at Spanish startup Freshly Cosmetics.
As Double 11 marked its 14th year, brands' success metrics shifted in tandem with changing consumer behavior. Instead of chasing growth through discounting drives that are starting to look tired and generic, more brands rolled out customer membership programs to generate revenue all year round, according to consultancy Bain & Co.
Partly thanks to loyalty programs, Alibaba's e-commerce platforms have become go-to destinations for big spenders. During the 2022 fiscal year, there were more than 124 million consumers on Taobao and Tmall with annual average revenue per user exceeding RMB10,000.
During 11.11, although the total number of buyers declined compared with the same period last year, the average gross merchandise value per person increased.
#7: Maker Festival Spotlit Emerging Consumption Trends
Alibaba's annual shopping bazaar, the Maker Festival, brought together small business owners to glean industry insights and exchange tips to tide over challenging times.
The event offered a glimpse of the latest and greatest consumption trends: outdoor sports and pet care caught the eye of Gen-Z shoppers, while non-alcoholic tipples and camp-fire ready meal sets filled their bellies.
It hosted a series of panel discussions for the first time in the event's seven-year history. Business founders, investors and executives, including Xia Heng, co-founder of Chinese EV manufacturer XPeng, and Mei Dong, executive president at down apparel brand Bosideng, took part.
#8: Beijing 2022 First Winter Olympics on the Cloud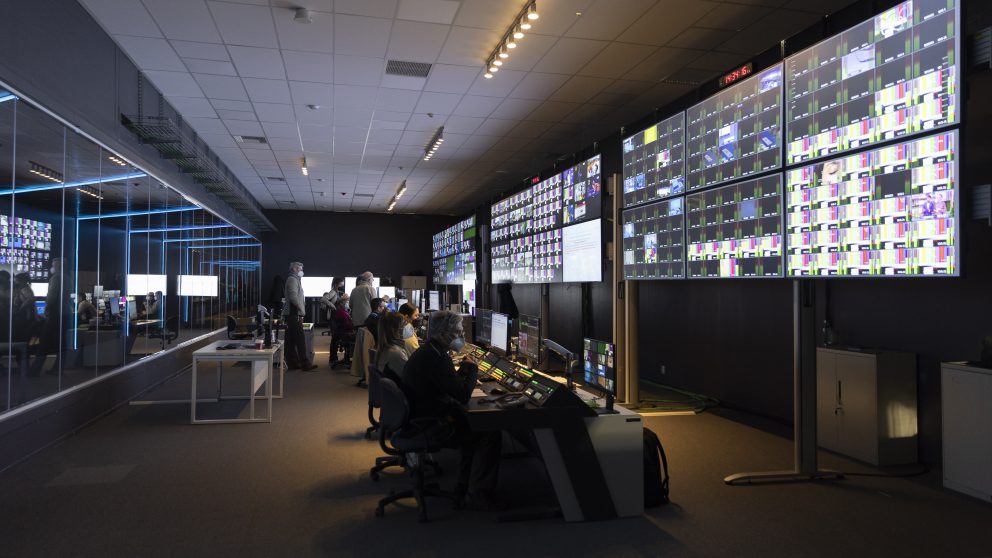 The Olympic Broadcasting Services (OBS) and Alibaba used the cloud to deliver and produce more content during The Olympic Winter Games Beijing 2022 at a lower cost and with less environmental impact.
Alibaba's cloud computing arm, Alibaba Cloud, has teamed up with OBS to offer a live content delivery platform on the cloud. The platform, run as a pilot project at the Olympic Games Tokyo 2020, was developed into a standard service at Beijing 2022.
"We hope that cloud technologies will not only reduce the cost associated with broadcasting, but also bolster the coverage of the Winter Olympic Games as more RHBs can access the live footage and choose the feeds they prefer," said Selina Yuan, general manager of International Business, Alibaba Cloud Intelligence, in a statement.
Over 20 broadcasters signed up to receive these real-time feeds.
#9: Alibaba Rallied To Support Shanghai During Pandemic
Alibaba's Ele.me delivery platform was among the services recognized in 2022 for their extraordinary efforts during lockdowns to prevent the spread of the coronavirus in Shanghai.
"Officials turned to China's delivery giants—Alibaba, JD.com, and Meituan—to ferry items to a city in need," Fortune Magazine editors explained on the news site's list.
The platform established special services for the elderly, the disabled, and families with young children and worked with Cainiao to distribute goods.
Cainiao took similar initiatives later in the year in the transport hub of Chengdu in southwest China, keeping inhabitants well-supplied amid delivery delays, food shortages and long stretches of isolation.
A warehouse operated by Cainiao in Chengdu launched preparations to ensure its ability to supply Tmall Supermarket's delivery routes in the city, including bringing on additional staff to make deliveries and stock extra products.
#10: Tmall Luxury Pavilion Embraced the Metaverse
Tmall Luxury Pavilion has seen meteoric growth over the past five years in step with the growth of China's luxury market, and it continued to deploy technologies that helped brands reach their customers in multiple dimensions.
"This is the destination for Chinese consumers to interact with brands, to browse, to experience the brands," said Janet Wang, head of the platform, in an interview with Alizila.
Luxury houses including Bulgari, Moncler and Brunello Cucinelli joined the platform in 2022. China is on track to become the world's largest luxury market by 2025, according to research firm Bain & Company.
Tmall Luxury Pavilion is helping to drive this trend by equipping brands with the latest tech advances, from 3D imagery to VR visuals, to drive consumer engagement. It is also driving omnichannel shopping: it connected luxury brands Valentino and Ralph Lauren's online and offline inventory.
Britain's Burberry leveraged Luxury Pavilion's data to create a private digital salon focused on luxury coats and it expects more luxury brands to follow in the brand's well-heeled footsteps in 2023.
"Luxury brands are launching innovative digital services to create a better shopping experience for consumers and to bring people together with gift-giving," Wang noted in the run-up to Chinese Valentine's Day.