Alipay scored a win Thursday, with Monumental Sports & Entertainment saying visitors to the Capital One Arena in Washington, D.C. can use the mobile payment solution.
Starting this week, Chinese tourists can use their Alipay accounts at concession stands, ticketing windows and souvenir shops. Hundreds of thousands of Chinese tourists and sports fans visit the D.C. metro area each year.
"We are proud to integrate Alipay, a lifestyle super-app that is used by more than 700 million people in China, at Capital One Arena, as the first stadium of its kind. The payment solution will allow Chinese visitors to move seamlessly across the arena, so that they never miss an exciting moment inside the stadium," said Yulei Wang, general manager of Alipay North America.
"We are thrilled to team up with our partners at Alibaba to become the first arena in the world to provide fans with access to Alipay," Jim Van Stone, president of business operations and chief commercial officer at Monumental Sports & Entertainment, said. "Not only will it give our fans another way to pay quickly and easily, we will also have the opportunity to better connect with the global audience visiting the arena."
The World's E-Wallet
Operated by Ant Financial Services, an affiliate of the Alibaba Group, Alipay is available in 54 countries and regions across the global including Japan, the UK, Germany and even at Santa's Village in Finland. The US-based retail giant Walgreens also accepts Alipay at over 7,000 stores nationwide.
Alipay works with over 250 overseas financial institutions and payment-solution providers to enable Chinese traveling overseas. Together, Alipay and its local e-wallet partners serve over one billion customer worldwide.
Alipays also serves as China's leading lifestyle platform. Beyond simple payments, customers can use Alipayto do such things as ordering a taxi, booking a hotel, buying movie tickets, paying utility bills and purchasing wealth-management products – all directly from within the app. According toApp Annie, it is the world's most-used app in 2019, apart from key global social media apps.
Chinese Sports Fan on the Rise
The activation of Alipay at the home of the Washington Capitals, the beloved home hockey team that nabbed the Stanley Cup last year, comes ahead of National Hockey League Playoffs, and as hockey is gaining rapid traction in China.
According to the South China Morning Post, one of Hong Kong's leading news publications that Alibaba owns, the fast-paced and adrenaline-pumping sport is one of the coolest sports in China "for millennials to participate in, especially for those from privileged backgrounds." Stats from China's Under-18 national team show there were roughly 3,000 hockey players at the elementary-school level in China in 2008. Fast forward to now, the number has soared by 10 times.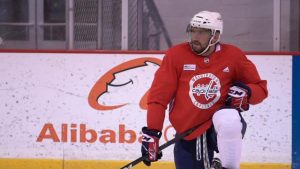 Moreover, as Beijing is gearing up to host the Winter Olympics in 2022, the government is strengthening its efforts to encourage its citizens to be more physically active. China has already announced its ambition to involve 300 million people to take up winter sports, especially among youth.
The increased love for sports has also stoked a boom in sports tourism among more Chinese travelers who are making attending a sports game a priority on their overseas holidays.
China's Ministry of Culture and Tourism projects by 2020, globally, Chinese visitors will go on 1 billion sports-themed trips annually, accounting for 15% of the total number of trips. The total consumption scale is expected to reach RMB1 trillion ($100 billion).
Next Stop: Washington D.C.
The expansion of China's middle class has resulted in a surge in outbound travel, and many tourists are visiting the U.S. capital city. According to the Washington Board of Tourism, tourists from China have made up the largest group of overseas visitors for five years running, with 302,000 in 2017, the last year for which figures were available.
The National Travel and Tourism Office in the U.S. also predicts the number of Chinese tourists is likely to hit 5 million by 2020, with 530,000 of them expected to visit Washington, D.C.
The influx of Chinese tourists is often a boon to the local retail industry and businesses. According to U.S. government data, Chinese travelers are the highest-spending of international tourists in the U.S.
In the case of Washington D.C., in 2016, Chinese visitors' per-person spending was nearly 50% higher than for D.C.'s average overseas visitor, according to Destination DC, a marketing organization. Chinese visitors to the district spent more than $650 million there in 2017.