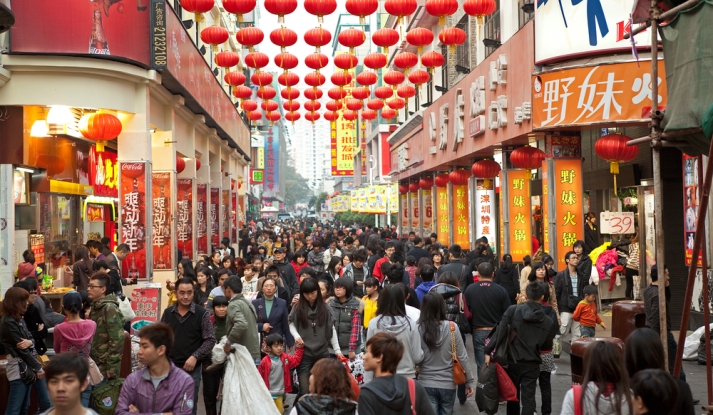 This article was originally published by Forbes.
1. Think Digital. Chinese ad spending is shifting away from traditional media like TV and into digital marketing, for a straightforward reason: that's where the customers are. Chinese consumers spend a large amount of their leisure time online—up to 70 percent, according to a McKinsey survey. This is a factor in the decline of TV advertising in China, which is expected to slip to $18.73 billion in 2018 from $18.92 billion in 2016, according to a forecast from eMarketer, while digital ad spending is expected to grow from $40.42 billion to $62.14 billion over the same period. In fact, for about 60 percent of regular online shoppers in China, the Internet has become the primary source for learning about products, brands, and prices, according to Boston Consulting Group. "Ad spending in China continues to shift rapidly toward digital formats and in particular mobile formats as more time is spent on mobile devices," according to eMarketer forecasting analyst Shelleen Shum.
2. Think Mobile. Consumers are using smartphones to voraciously consume social media, news, videos and especially to shop. Accenture says these consumers spend on average 4.7 hours a day online on their phones. E-commerce giant Alibaba Group reported that mobile shopping accounted for 80 percent of its China retail revenue in the quarter ended Dec. 31. Alibaba CEO Daniel Zhang said last year that the average Mobile Taobao user spends more than 20 minutes a day on the app, compared with Amazon Mobile users' average of 8.9 minutes, according to media research firm ComScore. Marketing campaigns need to be developed for the small screen, also taking into account how most people use their phones.
3. Think Platforms and Ecosystems. China's major online hubs interconnect with news portals, games, videos, and e-commerce, offering "click-to-buy" product placements that are simple and fast for consumers. Alibaba, for example, is no longer simply running online marketplaces where merchants just place search ads. Its investments in other outlets like video site Youku means Alibaba's e-commerce platforms are now "lifestyle channels" that are part of a larger media ecosystem. Within this ecosystem, consumers can find a wide range of information and entertainment; interact with celebrities, opinion leaders, brands and each other; and participate in online communities. This environment not only offers marketers more options for reaching and engaging customers where they live online through multiple, multimedia channels; the ecosystem's "one-stop-shop" nature also can simplify the development of digital marketing campaigns.
4. Think Data. China's big online marketplaces are leading the world in the use of data and analytics to target and understand customers. Unlike Western marketplaces like Amazon, Alibaba allows merchants to "own" their relationship with their customers, giving them access to specific data through value-added services that lets merchants to do their own analysis using Alibaba software and tools. With nearly 500 million mobile users, the type of information Alibaba collects includes data on shopping habits, payment and credit history, search preferences, social networks, and interests–drawing on information gleaned from individual activity throughout the Alibaba ecosystem. This ability to understand and zoom in on specific customer wants and needs can greatly increase marketing effectiveness and foster stronger customer relationships.
5. Think Fast. Trends shift quickly in China and today's market leaders can wind up as yesterday's news if they don't continuously adapt their strategies, especially in highly competitive product categories like cosmetics. One example: in 2016, livestream videos suddenly became wildly popular in China; major brands reacted by creating their own livestream events, hiring celebrities and popular bloggers as hosts. If you spend six months evaluating digital agencies, you are probably hurting yourself more than you are helping.
Frank Lavin is the CEO of Export Now, the leading operator of China e-commerce stores for international brands. He previously worked on China issues in government, finance, and communications.