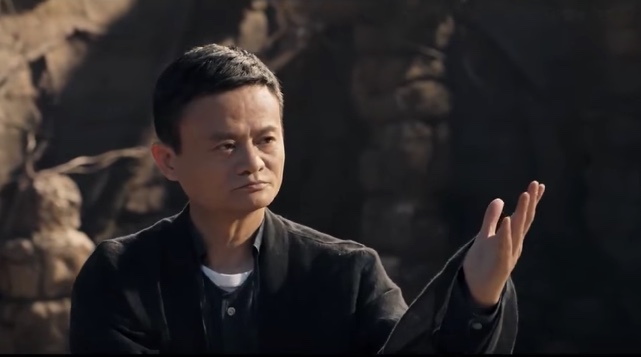 Jack Ma's tribute to Taiji (or Tai Chi) is going global, with his Gong Shou Dao short film set for its official release outside China just ahead of the Chinese New Year holiday.
The high-speed, star-studded martial-arts flick, already viewed over 170 million times by Chinese audiences, will be available free to global viewers from Friday, said Alibaba Pictures, the Alibaba Group's entertainment affiliate, which is coordinating the broader launch.
"I think a true global film should be focused on universal values. Some genres are easier than others, for example, action films, because they're easier for people to understand without too much specific cultural context," said Alibaba Pictures President Zhang Wei. "Comedies are more difficult, because you usually need more cultural context. The action genre is easier to build cross-cultural elements."
Zhang noted Taiji's universal appeal, saying around 150 million people around the world practice the Chinese art.
"Taiji is about peaceful coexistence. It's all about that balance – people coexisting. Everybody struggles with something. There is always conflict. Taiji is about how you can take the good and the bad and challenges and have them coexist in your mind and in the people around you," Zhang said.
Ma, who is Alibaba's founder and executive chairman, created the film with actor and martial artist Jet Li. Gong Shou Dao stars Ma and 11 of the world's top martial-arts masters from eight different disciplines. The ensemble cast includes Donnie Yen, Wu Jing, Tony Jaa,Sammo Hung Kang-bo,andNatasha Liu Bordizzo.
"This project presents a fresh way to view Taiji. It pays respect to a martial art which has been practiced in China for over 5,000 years, and really — it's just fun! I think Americans love a lot of aspects of Chinese culture, particularly Chinese martial arts, perhaps without being aware of their traditional origins," said Liu Bordizzo. "GSD is a movement to educate us all of the real philosophy behind those flashy martial arts moves that we love so much; a beautiful philosophy involving spiritual wellness and balance in life."
The film centers on Ma, who enters a world where he is confronted by and competes against martial-arts masters from around the world. After testing each of the eight martial-arts disciplines of his opponents in dramatic fight sequences, the truth of Ma's experience is revealed to the audience.
Underlying the film is Ma's fascination with a lifestyle centered around the Chinese martial arts. Alibaba Picture's Zhang said, "this movie is just the beginning for us. We are hoping to create a Gong Shou Dao league. Gong Shou Dao is based on Taiji, but they want to integrate more-combative elements in it. Most people think Taiji is just a sport practiced by old people."
Ma and director Jet Li previously indicated the cast had come together to do the film for fun and passion for the martial arts, not money, a point underscored by Liu Bordizzo.
"I wanted to be part of this movement because it's so important for women and young girls, in particular, to practice martial arts. The challenges of facing down opponents (often male) in the dojo as a young woman really do rewire your mind to bring that bravery, discipline and tenacity to other areas of your life — something women can really benefit from considering a society that teaches us to be cared for and protected by others," she said. "I really do believe that physically learning to defend myself, made me mentally far more-equipped to handle the life and career I now lead; traveling mostly alone since I was 19."
GSD was first released in China in November 2017, aiming to revitalize national passion for martial arts in its birthplace. The goal is now to share the story on a global scale, promoting Taiji and other methods of martial arts.With over a quarter of the globe's population expected to take part in Chinese New Year celebrations, Alibaba Pictureshopes to pay homage to the ancient art through Gong Shou Dao's global release and that itsappreciation forallmartial artsis echoed around the world.
To watch the film in full and read more about it, the official site ishttps://gongshoudaofilm.com/