RT-Mart has finished a months-long digital transformation of a quarter of its 400 stores using New Retail technology developed by Alibaba Group, the Chinese hypermarket chain said Monday.
Using Alibaba's Freshippo (also known as Hema) supermarket as a model, RT-Mart has rolled out a series of features aimed at improving the shopping experience for customers. Whether through in-store fulfillment of online orders, interactive kiosks or a selection of popular products from Tmall, the retailer said it wanted to deliver the best of online and offline commerce in a country where the line between the two has been increasingly blurred.
"New Retail has introduced a new way of thinking. By digitizing the store's operation, the online and offline business merge into one. This will boost retailer's online transaction volume," RT-Mart Chief Executive Officer Peter Huang said.
WATCH: How Alibaba Got Consumers To Love Grocery Shopping
Building the Infrastructure of Commerce
The revamp is part of Alibaba's strategy to build the technologies necessary to bring old retail into the 21st century and to provide those tools to its brick-and-mortar partners. After the successful launch of Freshippo's business model, RT-Mart is now the first grocery partner to leverage those innovations for its own New Retail transformation.
Alibaba Group late last year in a $2.88 billion deal acquired 36% of Sun Art Retail Group, which operate nearly 400 hypermarkets under the Auchan and RT-Mart banners. Per the agreement, Alibaba said it would share its New Retail technology and insights of consumer trends with RT Mart to expedite its digitization, sync its online and offline operations, improve its instore layout and increase efficiencies in the grocer's inventory management.
As part the digital makeover, RT-Mart gains access to Alibaba's customer insights, supply-chain management, retail technologies and electronic payments via Alipay, which is owned by Alibaba related company Ant Financial.
Shopping New Retail Style
First among RT-Mart's new offerings is one-hour arrival for orders within a three-kilometer radius. Orders placed through RT-Mart's mobile app are fulfilled using inventory in the store, the same as Freshippo, then placed on conveyor belts that carry the bags of groceries above the shopping floor to a dedicated area for packing and delivery.
Delivery is also available for in-store shoppers. By scanning the bar code on the items with the Mobile Taobao app, they can place the items in a virtual shopping cart, complete the transaction with their Alipay and receive delivery at home in as fast as 60 minutes.
Another addition is the Smart Mommy-and-Me corner, an area stocked with domestic and imported products for infants and new mothers. Here, there are online shopping kiosks that allow customers to browse through Tmall and make their purchases by scanning a QR code with their mobile phone.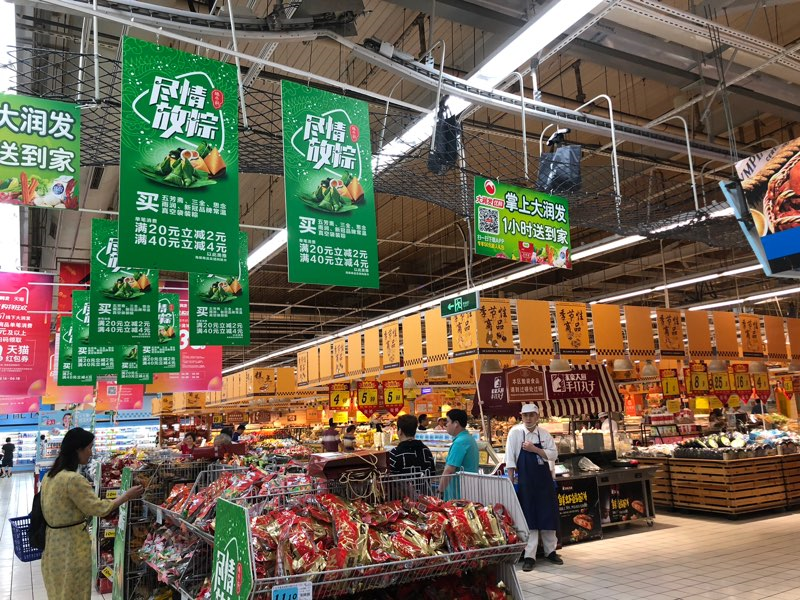 This year, RT-Mart will participate in Alibaba's annual 618 shopping festival for the first time, further blending online and offline shopping. Customers can get "red envelopes," or coupons, for Tmall products sold at the store if they spend over a certain amount during their visit.
Daily Fresh
RT-Mart is also taking a page from Freshippo's emphasis on fresh foods, as Chinese consumers increasingly demand higher-quality foods as part of a larger trend toward healthier living.
At the upgraded RT Mart hypermarts, customers can purchase products from Freshippo's "Daily Fresh" program. Meat, vegetable, and dairy products are brought in and replaced each day to ensure that only the freshest items are available for sale.
This was made possible through a joint purchase agreement between Freshippo and RT-Mart to source from the same suppliers.
New Retail, New Opportunities
Thanks to the New Retail updates, the volume of online orders at the revamped stores has increased, as Huang predicted. At one RT-Mart in Shanghai, online orders climbed to 5,000 a day at their peak compared to nearly zero prior to the collaboration with Alibaba.
Currently, both companies are discussing the implementations of other New Retail technologies at RT-Mart. Alibaba said it aimed at complete the transformation of the rest of RT-Mart's stores in China by the end of this year.