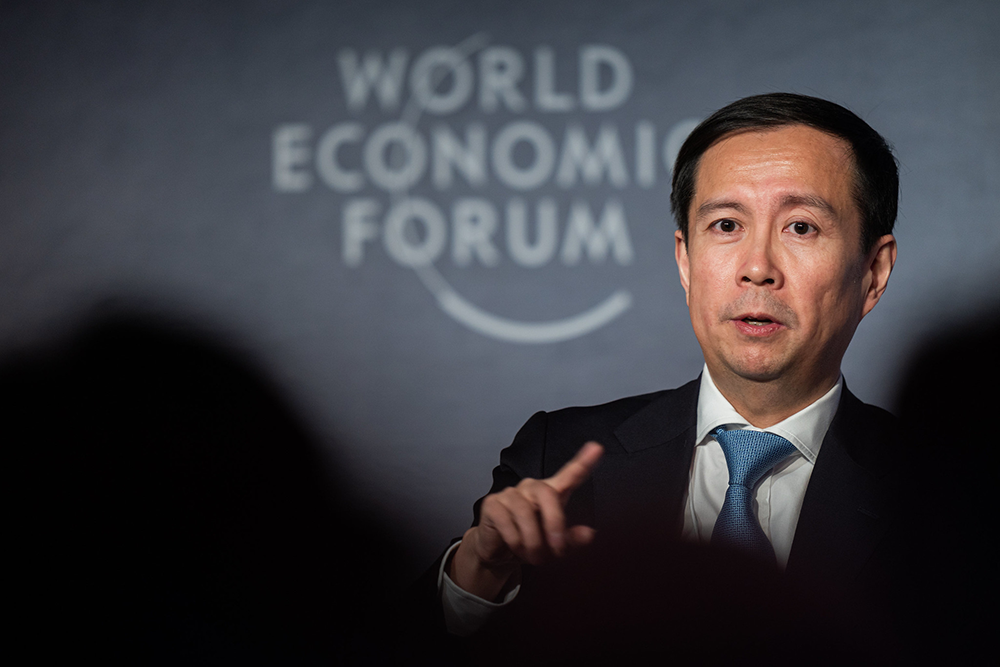 One of the most important social-welfare campaigns in China right now is the push to eradicate poverty – and e-commerce giant Alibaba Group is doing its part. But not by merely donating money to the cause. Instead, the e-commerce giant is using its powerful platform economy to enable China's poor to lift themselves out of poverty.
"We try to help them create their own business, digital business, and make it sustainable," said Alibaba Group Chairman and CEO Daniel Zhang at the annual World Economic Forum meeting in Davos, Switzerland.
"Yes, we want to do better for the society, but we need to do this – my keyword is – using a market-driven approach," he said.
Zhang was speaking during an interview with Accenture CEO Julie Sweet, which focused on how platform companies such as Alibaba are leveraging their networks and analytics to reshape entire sectors while also creating new products, services and even economic opportunities for their users.
Watch the full Davos 2020 interview with Daniel Zhang:
The enablement of farmers and other micro-businesses in China was just one example of the power of "inclusive platforms" such as Alibaba, Zhang noted. He also pointed to an initiative on Alibaba's online marketplaces, such as Taobao, where merchants can opt in to donate a small portion of their sales to charity. To support this new channel for giving, Alibaba features these merchants and their products more prominently on the shopping site, drawing interest from potential buyers. And because Chinese consumers often want to support businesses that have integrated philanthropy into their business models, these merchants "will have more sales and then they will [make] more donations," Zhang said.
These types of initiatives – the ethos and culture of inclusive business – need to come from the very top of a company, he said. Strong leadership is required to develop and executive them across an entire organization. Moreover, they cannot be delegated to special teams and siloed away from the main operations of a company. In fact, inclusive business should be integral to those operations, said Zhang.
"If you can unlock the power of your main business to make this happen, I think this will have more impact, get more results for the whole society," he said.
Innovation, too, needs to come from the top: "If the leader is not innovative, then you cannot [ask] your team to be innovative," he said.
WATCH: Daniel Zhang at Davos 2020 – What It Take to Be a Global Company
Zhang emphasized the role that both merchants and consumers – and even delivery people – play in Alibaba's platform economy, saying that each one is a stakeholder and "all the stakeholders work together. We work for the same purpose."
That collaboration has created a virtuous circle of supply and demand in the Alibaba ecosystem, and services to serve that supply and demand, leading to the creation of 40 million jobs and never-before-seen events such as the 11.11 Global Shopping Festival, which last year generated $38.4 billion in gross merchandise volume.
"All the consumers show their demand and all the merchants get their supply ready to meet the demand. And when demand and supply meet in a particular day, then it creates a huge volume," Zhang said.
But the goal was never to build a platform, just a good business.
"We create the business, we create demand. Then, because of demand, [businesses] need to hire more people," Zhang said. "When you grow the platform, when you have so many packages developed from this business, you need delivery guys, last-mile guys. So, I think that's the evolution of the platform."
With the quick and continuous development of new technologies, more platforms will be created, Zhang said. As a result, they will create new networks of stakeholders who will need to work together to grow and thrive, and a shared vision of the future will need to be at the core of that collaboration.
"If we share the same vision, if we share the same goals, we can find the right way to get there," Zhang said.