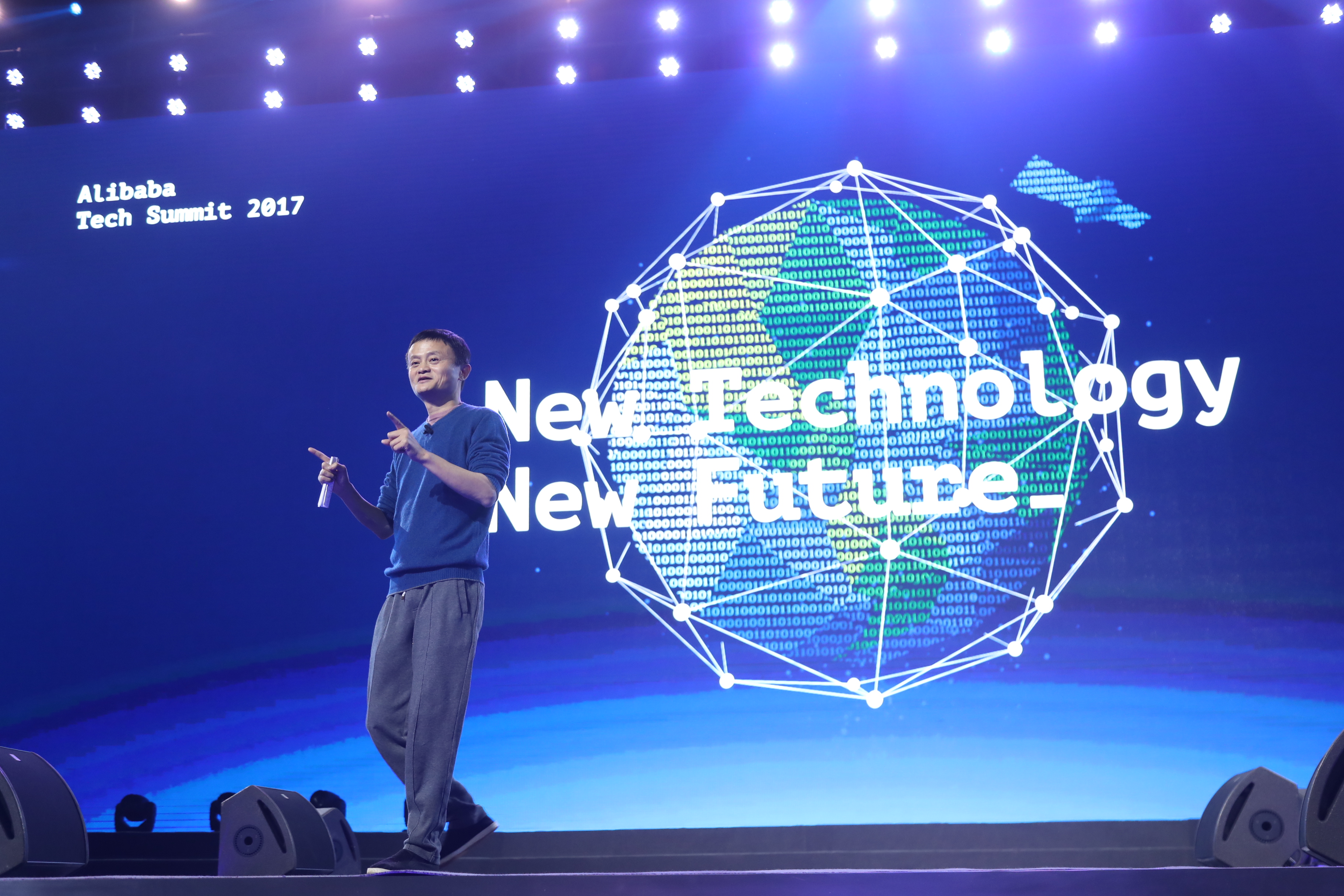 Alibaba plans to form independent research and development teams to build up core technologies that support its vision of serving 2 billion people in the future.
The giant e-commerce and technology company unveiled its grand plan at its inaugural tech summit, called "New Technology, New Future" held at Hangzhou headquarters on March 9. Some 5,000 engineers attended, and thousands of other staff, technical and otherwise, watched via live stream.
"Alibaba's success in commerce has outshone its light of technology over the past 18 years," said Alibaba Group Chief Technology Officer Jeff Zhang at the summit. Zhang called Alibaba "a tech-driven company which seamlessly combines business and technology."
Over the past several years, Alibaba has rolled out a wide rangetechnologies for an array events and business areas,including Alibaba's 11.11 Global Shopping Festival, payments, cloud-computing and logistics. Zhang said Alibaba has reached "a critical point in technology innovation" and should gear up to develop more core technologies for future success.
Jack Ma, Alibaba's executive chairman, reiterated his expectation that Alibaba will become the world's fifth-largest economy in in the next 20 years, serving 2billion customers, creating 100 million job opportunities and enabling 10 million businesses to make profits. Ma said to hit that goal, the new economy he envisions must be built on the continuing development of technological infrastructure.
"An economy that serves two billion people must be backed by solid technological capacity. To shoulder the future responsibility, we will build Alibaba's own 'NASA,'" Ma said, referring to the National Aeronautics and Space Administration — an organization he admires for what it has contributed to mankind through technological advances. "We will establish new teams to develop the core technologies of machine learning, chips, the Internet of Things, operating systems and biometric identification," said Ma.
Ma said Alibaba used to develop figurative "hand grenades," but the new R&D-focused team and mechanisms will allow it to develop "missiles."
Ma said Alibaba needs to have a discerning, independent eye when judging technology trends. Technology developed by Alibaba must empower people in the virtual economy, making it more inclusive and creating opportunities. Technology needs to ensure that new economy he envisions will be sustainable and lead to participants in it having happy and healthy lives.
Speaking about computers and robots and the possibility that they might one day replace or displace humans, Ma was emphatic that machine learning should help humans do things that otherwise couldn't be done. Machines should serve as assistants to humans, rather than robbing them of human pleasure or becoming rivals.
Alibaba has over 20,000 engineers on staff, including more than 500 with doctoral degrees. Among its 36 partners — the group's powerful decision-making body — nine come from a technology background. Alibaba has been investing in new technologies for many years, and has developed numerous, key cutting-edge technologies of its own.
Below are examples of some of Alibaba's homegrown technologies and how the group is applying them for business purposes:
Cloud Computing
Apsara –A super computational engine developed by Alibaba Cloud. It enables clients with powerful computing capability, offering robust technology services and solutions that can affect broader society.
Database systems
OceanBase –The first applied large-scale financial database system in China, developed by Alibaba Group and Ant Financial.
Artificial Intelligence
ET –Artificial intelligence services that can be broadly applied to different areas in society. Cases in point include the "Hangzhou City Brain" master plan, which has enhanced the city transportation department's efforts to ease traffic congestion. It also helped Guangzhou International Airport with flight-management.
Personal recommendations –Tailor-made shopping pages on Taobao/Tmall with the most-suitable product recommendation for each buyer. Some 6.7 billion personalized shopping pages were created during Alibaba's "11.11 Global Shopping Festival" in 2016.
Ali Xiaomi –Smart personal shopping assistant on Alibaba's e-commerce sites. Around 95% of daily inquiries can be handled by Ali Xiaomi.
Ant Financial's smart customer service – About 97% of daily inquiries can be answered by this smart CS.
Quantum Computing and Communications
The Chinese Academy of Sciences -­‐ Alibaba Quantum Computing Laboratory was established in 2015.
In 2017, cloud-based quantum cryptographic data-transfer services became available on Alibaba Cloud.
Virtual Reality
Buy+ –Offers the world's first end-to-end virtual-reality shopping experience, in which the entire transaction, from browsing, to order to payment, is completed within a VR environment.
Biometric recognition
Facial recognition payment –Alipay enables facial-recognition payment with an accuracy rate over 99%. It is one of the top-10 technology breakthroughs this year by the MIT Technology Review.
Alibaba is also using biometrics to recognize eye patterns, irises, palm prints, and handwriting.
Geolocation Technology
QianXun Location Network Technology –By leveraging the BeiDou satellite technology, this technology can achieve a one-millimeter positioning accuracy.
Operating systems
YunOS –The world's third-largest mobile operating system works in mobile phones, cars, TVs, tablets and other Internet of Things items.
Blockchain
Ant Financial has started deploying this technology for charitable donations. Blockchains are a database — an open ledger that records transactions between two parties in an immediate, secure, verifiable and permanent way.
Smart logistics
Alibaba's smart-logistics technology includes last-mile delivery robot and its intelligent warehousing system.