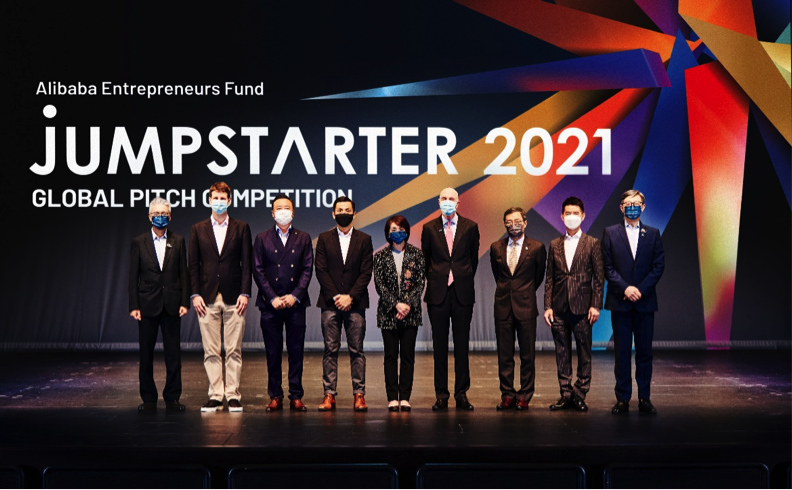 The Alibaba Hong Kong Entrepreneurs Fund on Monday named Hong Kong startup Rice Robotics and Lingxi AR Technology of Beijing the winners of its Jumpstarter 2021 Global Pitch Competition.
As winners from the group of 10 finalists, the autonomous robot company and the optical display and AR technology startup will receive investment up to US$4 million in total, with possible co-investments from Jumpstarter sponsors, Hong Kong Cyperport Management Co. Ltd. and the Hong Kong Science and Technology Parks Corp.
Jumpstarter 2021 drew over 2,000 applications from companies in 100 countries and regions around the world. Startups from the Asia-Pacific region and Greater China comprised the largest number of applications. The competition was held fully online for the first time due to the Covid pandemic.
Over 220 pitch sessions were held online, attracting over 126,000 fans and supporters worldwide. The event's scale was the largest since its 2017 inception in Hong Kong. Jumpstarter went global in 2019. This year, startups competed in the categories of retail, fintech, smart ciy and deep tech industries. Retail startups were a relatively high proportion of overall entries this year.
"The Hong Kong and global markets have faced severe challenges over the past year. We are happy to see that many startups still hold on to indomitable, innovative and flexible thinking during their journeys," said Cindy Chow, executive director of the Alibaba Hong Kong Entrepreneurs Fund. "The support from enterprises is crucial to the growth of startups. With the help of Cyberport, HKSTP, as well as other sponsoring companies and institutions, we will have abundant resources to match startups with mentors to share relevant experiences in entrepreneurship and management."
Headed by Chow, the Entrepreneurs Fund was established by Alibaba Group in 2015. To date, it has invested over $70 million in more than 30 startups. From April 1, 2020 to March 1, 2021, the AEF made five new investments. Its investment portfolio spans multiple areas, including green technology, educational technology, fintech, medical, healthcare, logistics and e-commerce.
About the Jumpstarter 2021 Winners:
Rice Robotics is building the infrastructure for corporations to deploy robot fleets. It has four robots: Rice (delivery), Jasmine (disinfection), Valencia (patrol and guiding) and Waiter (food court delivery), each of which are autonomous, navigating in crowded areas and charging without help, and run by the management software RiceCore.
By exploiting its strong optics technology and processing advantages, Lingxi AR Technology is the first developer of the waveguide AR technology in China. Consumer electronics, smart-eyewear manufacturers and industrial enterprises will apply the company's underlying optical solutions in their see-through wearable displays.
Here are the 10 finalists for the Jumpstarter 2021 competition. Click here to read more about Jumpstarter.