The view from Huang Donghai's Hangzhou convenience store is brighter and decidedly more-modern today than it was eight years ago, when he bought it.
Huang, who runs Weijun Grocery with his son, An, has an Alibaba initiative called Ling Shou Tong to thank for his store's upgrade and better business prospects.
Watch: An Extreme Tech Makeover for China's Mom-and-Pop Convenience Stores
Ling Shou Tong, which means "Retail Integrated," is reinventing the cramped and dated convenience stores that dot streets and neighborhoods across China offering basic goods, fresh and packaged foods, snacks, smokes and drinks. The program doesn't just give a cosmetic update to convenience stores. It's also an extreme tech makeover, injecting modern analytics to improve, streamline and automate operations that have long relied on elbow grease and intuition.
In some cases, modernizing these six million stores is important in keeping them open and relevant in the face of big-box retail competition. In some remote locations, where retail is hard to come by, they serve as a general store of sorts. More than 80% of these mom-and-pop stores are owned by people over 45, who log long hours and do everything themselves. Improving the customer experience and the business of the proprietors is the paramount objective of Ling Shou Tong.
Huang said he turned to Ling Shou Tong hoping to modernize his store.
"In the past, we had a lot of difficulties," said Huang. "We couldn't catch up with this day and age. We had to transform and upgrade."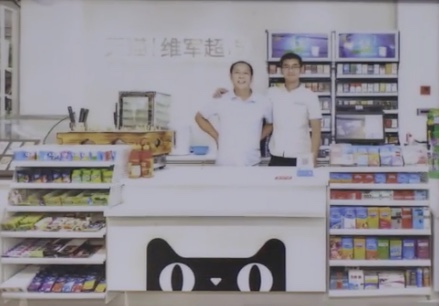 The Huangs didn't have to go it alone. An outside consultant, called a "City Partner," helped install the back-end technology and showed the family how to use Ling Shou Tong and fine-tune their merchandising, product display and in-store promotion through the app. The partners get a commission on what the merchants order from Ling Shou Tong.
Ling Shou Tong has already made a big difference. The change in appearance is startling, with the store looking bigger and brighter, the aisles less-crowded
Behind the appearances, there's a lot going on. Ling Shou Tong gave the Huangs a suite of digital services to make the store more-efficient and potentially help their bottom line.
When they order goods via the Ling Shou Tong mobile app, consumer analytics of their store suggests to them the articles that are in highest demand by their customers, to make the process smarter.
Those analytics also work to make brands smarter about Chinese customers. Mondelez, for example, used data insights to come up with individual-serving Oreo cookies to satisfy customers seeking an affordable sweet snack.
Digital orders are centralized with Ling Shou Tong, eliminating the need to buy from and negotiate with multiple distributors. Restocking of fast-moving goods is done next day from city warehouses, while regional warehouses guarantee two-day delivery for less-frequently purchased goods.
Marquee Ling Shou Tong stores have the option of becoming what's known as a "Tmall Corner Store," an initiative aimed at giving high revenue-earning stores access to greater product selection, a point-of-sales system with integrated inventory tracking, in-store digital advertising and LED signage for the store.
An added benefit of being in the Ling Shou Tong program is the ability to digitally offer other services, such as mobile phone and data top-ups for mobile-internet users. Ling Shou Tong also allows them to order popular cooked snacks as impulse buys at or near the checkout counter. And there's even a hyperlocal display that stocks the favorites of consumer who live in the immediate vicinity of the store.
"The main purpose of the Tmall small store project was to transform our store," said Huang An. "They give us access to services we couldn't get before, like top brands and new technology."