Alibaba Group published its annual report on Tuesday for the fiscal year ended March 31, 2021. Below is a letter from Chairman and CEO Daniel Zhang to shareholders.
Dear Shareholders,
This time last year, I thought the world would have reopened and normal travel would have resumed by now. I hope that you and your loved ones have stayed safe and healthy over this past year, and discovered silver linings amidst the challenges. I want to express my appreciation for your continued understanding, support, and trust during these exceptional times.
We went through an unprecedented year. In addition to the complications of the pandemic, there were profound and lasting shifts in international relations, global economy, and the overall macro environment. Many of these changes were also new for Alibaba. Luckily, we are well-positioned in the world's biggest consumption market and backed by the world's most resilient and dynamic supply chain system here in China. Moreover, the economy and life in China was among the first to return to normalcy. All these factors have reinforced confidence in our long-term growth and value-creation.
Despite the challenges, we remained focused on our vision and mission, and in transforming adversity into opportunity. As of the end of March 2021, global annual active consumers across the Alibaba ecosystem reached 1.13 billion, surpassing the historic one billion consumer milestone.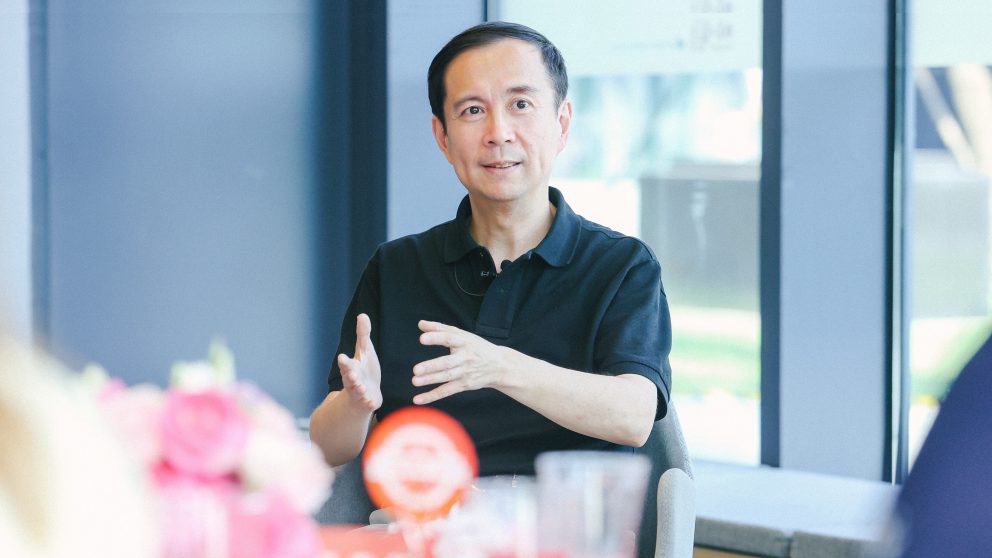 Our globalization strategy is making solid progress and our overseas active consumers reached 240 million, with Lazada's swift growth in Southeast Asia, rapid expansion of AliExpress in Europe and healthy development of our investee company Trendyol in Turkey.
Over the past year, our consumers in China and overseas collectively contributed a combined GMV of more than RMB8,119 billion (US$1,239 billion). More importantly, we have China's most diverse consumer base with the highest consumption power. Over the past fiscal year, the annual average GMV per consumer on our China retail marketplaces exceeded RMB9,200 (US$1,404).
New Retail
In 2016, we introduced our New Retail strategy and have been actively experimenting with different retail formats over the past few years. We have redefined the shopping experience for consumers online and offline, by leveraging our understanding of the industry's complexities to transform traditional retailers such as RT-Mart and incubate new omnichannel retail formats such as Freshippo.
We are addressing a wide range of consumer needs through a full range of high-frequency fulfillment services that includes one-hour delivery, half-day delivery and next-day delivery. In 2020, we introduced our Community Marketplace business that offered next-day pickup in select regions. This new retail format will help to further expand our consumer base in less-developed and rural areas, and an important channel for serving price-sensitive consumers within our multi-dimensional New Retail matrix.
The combined capabilities that we have accumulated over the years – product and supply chain; fulfillment and delivery; consumer management; and social commerce channel development and operations – have made Alibaba well-positioned to build out a healthy and sustainable new business that will enrich our New Retail matrix.
Alibaba Cloud
Alibaba Cloud is our second pillar of growth and it continued to maintain market leadership. Revenue grew 50% year-over-year to surpass RMB60 billion. Alibaba Cloud is the world's third-largest Infrastructure as a Service (IaaS) provider.
We firmly believe that industrial internet is an important opportunity worldwide. Looking toward the future, Alibaba Cloud is well-placed in one of the world's largest economies to capture this generational opportunity where all companies will become internet companies moving forward.
Alibaba will leverage its digitalization and intelligence-based technology capabilities, using leading global technology standards as benchmark, to contribute towards advancement of China's industrial internet. The development of China's industrial internet means every industry and sector will increasingly be driven by intelligence-based technology. We will continue to drive our strategy of Cloud and DingTalk integration to create a mobile office platform for enterprises, invest in technology development, build out a robust middle platform, strengthen our ecosystem, and deliver quality service. We will continue to grow with our customers and fully actualize this pillar of growth.
When Alibaba was founded, we defined our mission "to make it easy to do business anywhere." Over the past 22 years, we have remained committed to taking a long-term approach and investing for the future. This has been the cornerstone of our development. This has been our guiding principle in the past, it is our guiding principle today and it will continue to be our guiding principle in the future.
The leadership and competitive advantages that Alibaba Cloud enjoys today are the culmination of more than ten years of investment. Our early and unwavering bet in cloud computing gave us the opportunity to be at the forefront of our generation, and be a company driven by twin flywheels of consumer internet and industrial internet. Following several years of insight and experimentation, our New Retail strategy is becoming increasingly vibrant and multi-dimensional.
Our other innovation bet, Amap, has now been part of the Alibaba ecosystem for eight years with around 100 million daily active users. Amap has steadily progressed from being just a map navigation tool into a multi-scenario, multi-application lifestyle service platform supporting users during their travels.
Corporate Culture
Alibaba has a unique corporate culture. Over the years, Alibaba has remained true to being a people-centric organization that encourages innovation. We believe that only a caring organization can do great things. And the best way to attract the right talent is by continuously developing new business runways and fostering a culture of innovation that will attract like-minded people.
We are also focused on exploring ways to enhance and strengthen the Alibaba governance structure in response to the evolving needs of our increasingly diversified and vibrant business. This remains a rarity within the internet industry, not just in China but for multinationals as well. We hope to implement constructive changes, methodically and gradually, in our management practices, governance, performance measurement and resource allocation across the organization. We aim to make our organization more agile and our culture more straightforward to better focus on our priorities of customer experience, customer value creation and customer mindshare.
Internet platform economies are new developments in the global landscape. Over the past year, we have gained a greater understanding about internet platform economies. On April 20, 2021, Alibaba received the Administrative Penalty Decision issued by the State Administration for Market Regulation (SAMR) of the People's Republic of China. We accept the penalty with sincerity and will ensure our compliance with determination. This experience has made us more thoughtful about the responsibilities of a platform company like Alibaba, which aspires to be the infrastructure of the digital economy, and how we engage in constructive relationships with partners and other stakeholders across the community and contribute to society.
Internet platform businesses inherently share common characteristics with society. We need to give more thought towards the positive value being created for society; addressing challenges related to essential technology; supporting the development of rural revitalization; becoming more environmentally friendly and sustainable. We want to be a responsible corporate citizen and a good company in substance.
We believe Alibaba can successfully integrate consumer internet and industrial internet under one umbrella as our understanding of the digitalized world of commerce grows
Our new fiscal year has started. We believe Alibaba can successfully integrate consumer internet and industrial internet under one umbrella as our understanding of the digitalized world of commerce grows. This is an important positioning and path for Alibaba's future. Alibaba started as an internet company, and captured the openness, transparency and global connectivity that is representative of the internet in its DNA. Today, Alibaba has evolved into a multi-engine company with businesses across different runways. We are creating more value for customers and users by stimulating traditional businesses to embrace new commerce. Alibaba is committed to doing our part in supporting the infrastructure development of the digital economy.
Thank you again for your continued support. We will work even harder to validate your invaluable trust. Let us look towards a more caring and beautiful future!
Daniel Zhang
Chairman and Chief Executive Officer
Alibaba Group
Sign up for our newsletter to receive the latest Alibaba updates in your inbox every week