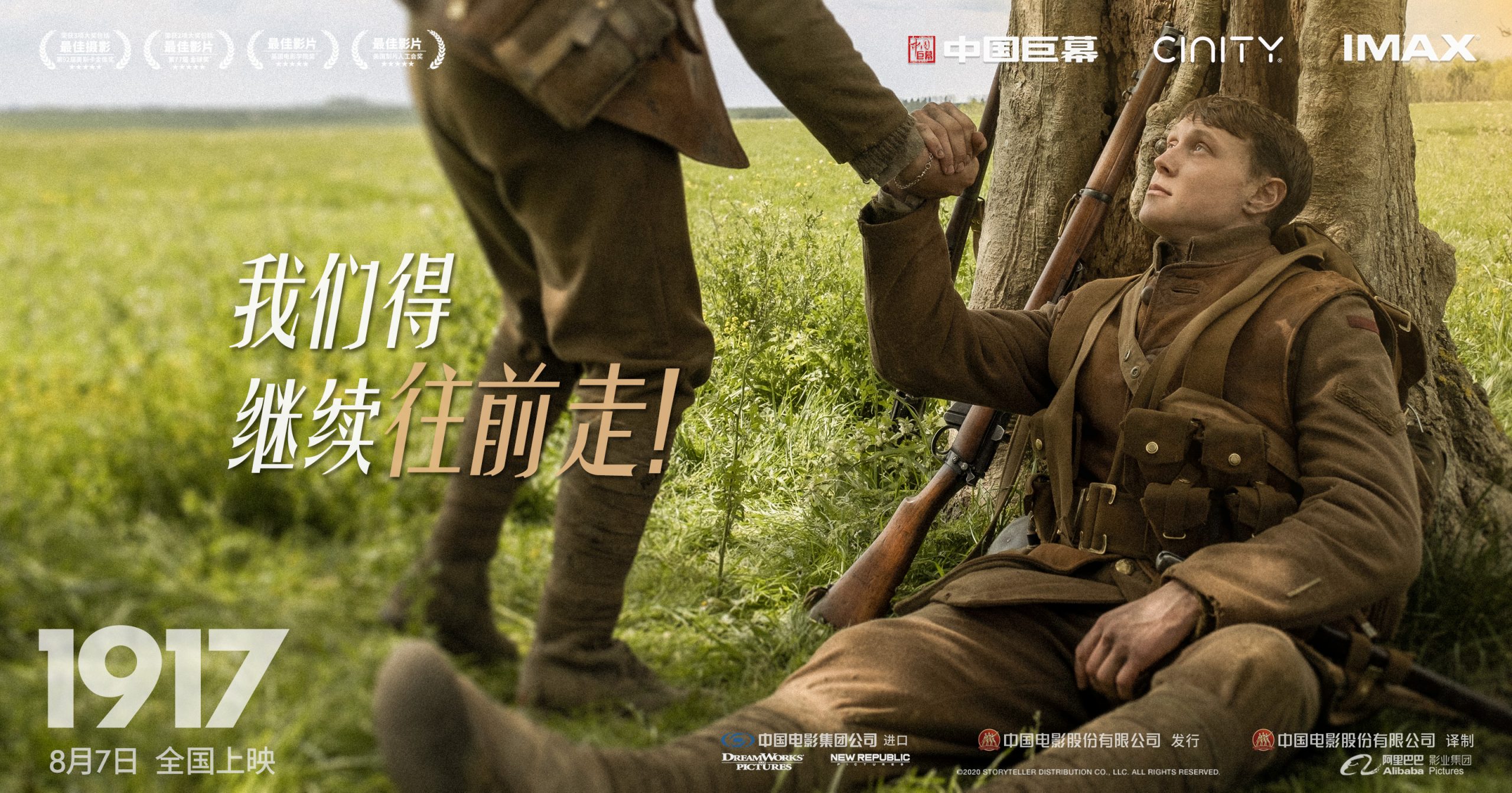 As movie theaters across China are cautiously reopening after nearly six months of Covid-related closures, Alibaba Pictures is tapping its technologies to bring Chinese moviegoers safely back to the cinemas and help the film industry recover from the pandemic.
Since the reopening announcement last Monday, more than 5,000 theaters in China's low-risk areas have resumed operations to date, according to statistics from Beacon, Alibaba Pictures' digital platform for film distribution and advertising.
As a first step, Alibaba Pictures is working with industry partners to market and distribute high-quality films to support their return to the big screen. The company said Monday it expects an August 7 China release of its Oscar-winning war epic "1917" – one of the first foreign films to debut in the country since the Covid-19 outbreak.
Directed by Sam Mendes and co-financed by Alibaba Pictures, "1917" is inspired by true World War I events and centers on two young British soldiers trying to cross enemy lines and deliver a warning message to save their battalion from an ambush. Made to look as though it was shot in a single take, the film has been lauded for its stunning cinematography and unique editing style and won three Academy Awards earlier this year. The critically acclaimed movie, which captivated audiences worldwide with its message of courage and perseverance, is already resonating with Chinese moviegoers who are looking for inspirational stories as they navigate through the challenges of the Covid-19 outbreak. According to Taopiaopiao, more than 230,000 users have expressed interest in watching the film.
"1917" is the latest Oscar-winning film brought to Chinese moviegoers by Alibaba Pictures in recent years. Working with Hollywood partners, such as Steven Spielberg's Amblin Partners (also a co-producer of "1917"), Alibaba Pictures has helped award-winning movies like "Green Book" and "Capernaum" find success in China.
"1917's China debut is part of Alibaba Pictures' ongoing efforts to revitalize the film industry and cinemas post-coronavirus," said Jerry Li, co-president of Alibaba Pictures. "Our company hopes to provide comprehensive assistance to serve the entire industry chain, so together we can create safe and enjoyable viewing experiences for Chinese audiences who are eager to return to movie theaters."
WATCH: Director Steven Spielberg's message to Chinese movie fans
To help the film industry recover from the impact of Covid-19, Alibaba Pictures and several of Alibaba Group's platforms rolled out a series of measures to accelerate internet-based promotions, ticket sales and technological support to help cinemas optimize their operations.
For one, Alibaba Pictures created new outreach channels by partnering with Taobao Live and Youku – Alibaba's livestreaming and video-streaming platforms, respectively. Beacon statistics showed Chinese romcom "My Dear Liar" attracted 8 million viewers and sold 116,000 tickets after its lead actors appeared in a livestreaming session with China's top key opinion leader, Viya. Despite challenging circumstances, the coronavirus has accelerated digital transformations of the film industry from production, distribution to consumption, Li explained.
Taopiaopiao, Alibaba's online movie-ticketing platform, launched several consumer-facing flash sales and online campaigns last week to encourage box-office returns. As the official partner for the 23rd Shanghai International Film Festival, Taopiaopiao sold more than 120,000 tickets in seconds on the app. By partnering with Juhuasuan, Alibaba Group's sales and digital marketing platform, the app offered consumers discounted tickets at RMB19.9 ($2.84) a piece.
Theaters can also leverage Phoenix Yunzhi, Alibaba Pictures' cloud-based cinema-management solution, to automate and implement new social-distancing arrangements. The system recommends optimal seating based on different theater layouts and new safety regulations. Consumers can also access these alternate seating charts when purchasing their tickets on Taopiaopiao. Additionally, the system taps into Alibaba's e-commerce capabilities to help cinemas order and restock protective gear and disinfectants to keep surfaces and surroundings clean and safe.
In addition, Taopiaopiao and Youku have partnered to roll out a series of virtual film screenings to keep movie fans engaged. On July 24, the two platforms jointly launched a special page honoring Spielberg and his movies, featuring an encouraging video message from the renowned director himself, who shares his love for storytelling with Chinese fans. The platforms also invited Chinese filmmakers and critics to host livestream sessions and share their commentary on Spielberg's classics, such as "Schindler's List" and "Jurassic Park," with fans.
"Alibaba Pictures aims to use technology to bring more high-quality films to moviegoers and meet the demands of our customers," said Li. "We are committed to supporting the movie industry and we remain confident of the outlook as the industry joins forces to navigate through the disruptions and recover from the pandemic."
Sign up for our newsletter to receive the latest Alibaba updates in your inbox every week.