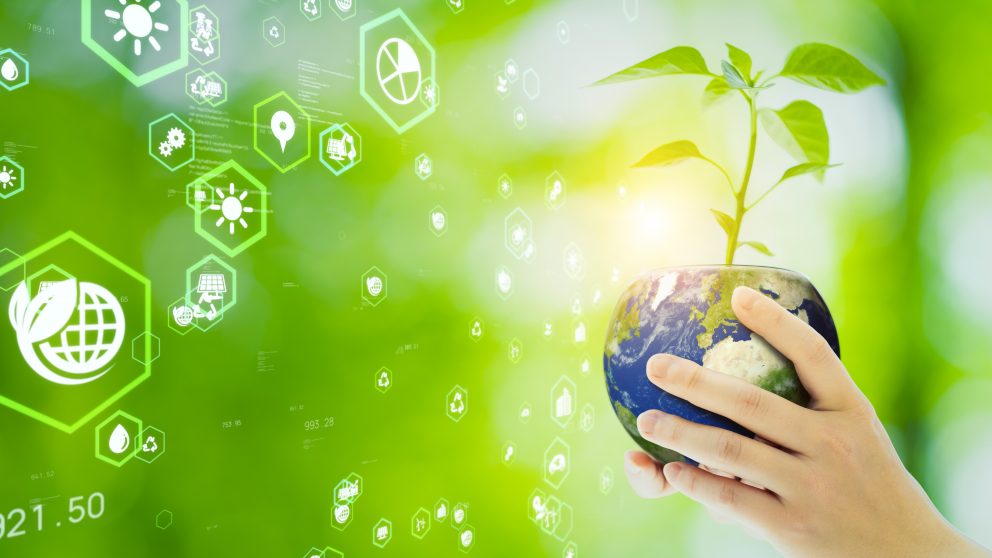 Alibaba Group pledged on Friday to reach carbon neutrality by 2030 as it reins in emissions across its operations amid a global push to tackle climate change.
By working with merchants and consumers, Alibaba said it would slash carbon emissions by 1.5 gigatons across its digital ecosystem by 2035, making it the first major platform operator to set such a target.
The stretch goals require Alibaba to go beyond the common corporate practice of simply offsetting carbon emissions by buying carbon credits from trading markets. To hit its self-imposed deadlines, the group will need to apply its technical prowess to boost efficiency and collaborate with stakeholders across its platform.
"We aspire to be a force for positive change in society and to assume even greater responsibility within the Alibaba digital ecosystem," Daniel Zhang, Chairman and CEO of Alibaba Group, said during a livestream to investors on Friday.
The Scope 3+ pledge reflects our commitment to take higher social responsibility as a platform operator
The Heat Is On
As well as being socially responsible, tackling climate change represents a business opportunity. In the pursuit of decarbonization, Alibaba is deploying its enterprise digitalization services, such as cloud computing and data intelligence and more sustainable logistics services.
Enterprises migrating to the cloud shrink their carbon footprint by 84% on average, according to consultants at Accenture. The group's cloud computing unit, Alibaba Cloud, also plans to hit carbon neutrality by 2030.
Decarbonization is also in tune with society's changing attitude toward waste as awareness of global warming spreads. Consumers are increasingly adopting a low-carbon lifestyle and seeking certified recyclable products or less packaging.
Alibaba is already promoting consumption of green products, encouraging consumers to adopt eco-friendly transportation, and nurturing a second-hand marketplace.
"That's the platform part. That is what we are best at," Dr. Chen Long, Vice President of Alibaba Group and Chair of Alibaba's Sustainability Steering Committee, told Alizila.
Roadmap
Earlier this year, the United Nations Climate Change Conference, more commonly known as COP26, underscored the urgent need to keep the world's rising temperature within 1.5ºC of what it was mid-19th century. To shoulder its responsibility, the Chinese government pledged in September last year to reach peak carbon dioxide emissions by 2030 and strive to achieve carbon neutrality by 2060.
Alibaba plans to play its part in the global effort by leveraging energy-saving and efficiency-improving technology, as well as upping the proportion of renewables in its electricity consumption. The group will adopt a multi-pronged approach, including carbon reduction, offsetting, and actively removing greenhouse gases (GHG) from the atmosphere.
Chiming with the public's greater demand for environmental, social and corporate governance (ESG) accountability and transparency by corporations, Alibaba will provide annual updates on its progress towards carbon neutrality, verified by accredited auditors.
In the manufacture or sale of products, many companies indirectly generate most of their GHG emissions outside of their own controlled operations.
China's largest e-commerce company plans to halve its carbon intensity, which is the emission rate relative to activity, along its supply chain by 2030, from 5.294 million metric tons of carbon dioxide equivalent in 2020.
Alibaba based its formula for decarbonization on the widely used framework devised by the Greenhouse Gas Protocol.
Its pledge to reach carbon neutrality by 2030 maps to the Greenhouse Gas Protocol's Scope 1, direct emissions generated by the company's own operations; Scope 2 includes indirect emissions from purchased electricity and heating; Scope 3 emissions occur in the supply chain, including from goods and services, from the end-use of products sold, commuting and business travel.
Greening The Platform
One aspect of Alibaba's ESG commitments that sets it apart from the millions of companies striving to shrink their own carbon footprint is its pledge to influence others to be greener as a platform operator.
Platform companies generally have many participants and partners spanning across commerce, logistics and cloud computing.
So, Alibaba has gone beyond the guidelines outlined by the Greenhouse Gas Protocol and came up with the term "Scope 3+" to explain how it will cut its carbon emissions by 1.5 gigatons across its digital ecosystem by 2035.
"Alibaba's new scope 3+ concept is a particularly welcome addition to the global debate on emissions reduction. It represents a distinct development in the conversation about how large companies can contribute more to the wider sustainability transition," said Dr. Andrew Charlton, Managing Director at Accenture, Adjunct Professor at Macquarie University and Director of the e61 Institute for economic research.
To put the 1.5 gigaton reduction into perspective, carbon dioxide emissions globally are expected to reach 33 gigatons this year.
"We believe the Scope 3+ pledge reflects our commitment to take higher social responsibility as a platform operator," said Zhang.
Board Has Eyes-On Prize
In terms of governance, Alibaba has set up a sustainability committee at the board level that will meet at least once annually to guide the group along its ESG roadmap.
The committee is chaired by Jerry Yang, an Alibaba independent director and co-founder of Yahoo! Other committee members include Alibaba independent director Walter Teh Ming Kwauk, Alibaba's Executive Vice Chairman Joe Tsai and Alibaba's CFO Maggie Wu.
Alibaba has also set up a sustainability steering committee responsible for ESG-related strategic planning, goal setting and management. An ESG cross-business action group, comprising representatives from each of the group's business units, will be responsible for putting the goals into action on a day-to-day basis.
"These measures will help fortify governance support for both our business and ESG implementation," said Zhang.
Taking Social Responsibility
Alibaba elevated ESG to the group's list of core corporate responsibilities in September. It has since aligned its social responsibility aims with the United Nations sustainable development goals, a shared blueprint for people and the planet adopted by all UN Member States in 2015.
The group's focus areas include technology innovation; economic development; job creation, training & support; as well as care for vulnerable groups. It has established an RMB20 billion ($3.14 billion) fund to pursue initiatives in these areas.
"I will personally oversee their implementation and progress to ensure cross-department synergies and strategic planning with long-term vision," said Zhang.