With China's family-oriented Lunar New Year holiday fast approaching, Alibaba's C2C e-commerce site Taobao on Thursday released a new channel on its platform that caters specifically to senior users and their families.
Taobao for retirees will make it easier for seniors to register an account and browse products, delivering an improved user experience, from personalized recommendations to after-sales service, said Ding Jian, the channel's head of development.
It also includes a new peer-to-peer chat function, allowing family members to share products and consult or help one another in one click, as well as a new "pay-for-me" option to pay for another's purchases.
The move is the first this year by Taobao to refine services based on different consumer groups.
"We want Taobao to become a bridge—one that helps them strengthen relationships with the younger generation, brings them closer together," Ding said.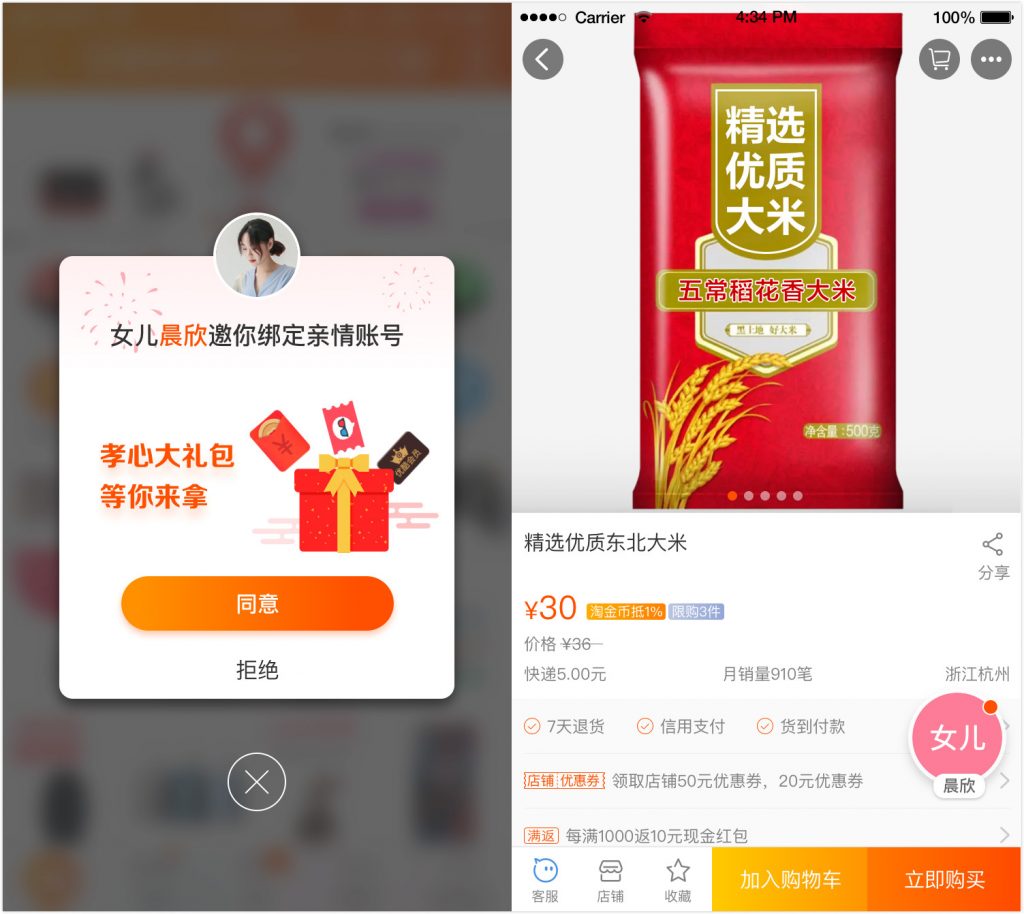 The new channel expands the current Taobao from "a tool for individuals" to a more-social "shopping destination for our relatives, partners and children…a shared place where we can seamlessly exchange product information and interact with each other as a unit," said product manager Zhang Xiaoyu.
"For middle-aged to elderly people, the website layout is too loud and contains too much information. Things we don't need to see can be removed. And they did it, they [simplified the website and made it cleaner]. It's great to see that," said Liu Yanping, a 64-year-old retired teacher.
Former engineering professor Li Lu said the new channel will have a major impact on seniors.
"In my [social circle], over 85 percent of us stay home for retirement and rely on Taobao. Retirement would be impossible without Taobao. [Groceries] can be too heavy to carry," said the 83-year-old. "A good product plus a good team can make a difference. This is something we really need."
Alibaba is currently recruiting a pair of "Senior Experience Officers," Chinese senior citizens who are influential in their social circles, to provide user feedback and help further improve the new channel.
An aging China has hastened the rise of the so-called "silver economy." The number of people over 60 years old is expected to exceed 255 millionby 2020—up from 230 million in 2016 and equivalent to 16.7 percent of the country's overall population—according to the National Health and Family Planning Commission.
According to Alibaba's latest figures, over 30 million Taobao users are over 50, with over 75 percent falling in the 50-59 range, and nearly 20 percent aged 60-69. Over 1,000 livestream shows aimed towards this consumer group are broadcast on Taobao daily.