Alibaba Group on Thursday signed an agreement with the government of Thailand to build a smart digital trading hub in the country, while also working to develop its capabilities in e-commerce, digital logistics, tourism and training.
In the wide-ranging agreement, Alibaba said it would work with Thailand on everything from boosting efficiencies in trade to educating Thai entrepreneurs and SMEs in digital commerce. The partnership will give Thailand access to technologies and processes that can help advance its economy, while Alibaba gains a stronger foothold in an important market in Southeast Asia.
The new "Smart Digital Hub," which will be located in Thailand's all-important Eastern Economic Corridor, will leverage technologies from Alibaba and its logistics platform, Cainiao Network, to streamline trade between Thailand and China and other markets, including digitizing the customs process. The EEC is a key part of government program, called "Thailand 4.0," which is working to expand the economy beyond heavy industry and agriculture to technology and other innovations. The Smart Digital Hub is being described as a part of that effort.
At the same time, Alibaba and the Thai government said they would develop educational initiatives to teach SMEs and entrepreneurs best practices for e-commerce to help increase the know-how and sophistication of Thailand's labor force. Those include courses co-developed by Alibaba Business School and Thailand's Ministries of Industry and Commerce, as well as training centered on the digital economy at Alibaba Business School in Hangzhou for students and academics.
"The Smart Digital Hub will be an important platform to link Thai SME and OTOP (One Tambon One Product) products and agricultural products to, not only China, but also global markets," said Deputy Prime Minister Somkid Jatusripitak, "while pushing forward digital economic development in Thailand."
"Given Thailand's unique strengths in people and culture, we are confident of its future and growth potential under the government's Thailand 4.0 policy," said Alibaba Executive Chairman Jack Ma. "We are committed to being a long-term partner of Thailand to help enable its digital transformation."
The deal also gives Thailand greater access to China's consumer market, the second-largest in the world behind the U.S. China's middle class alone, at 300 million people, is larger than the entire U.S. population, and its consumers are increasingly seeking out high-quality goods from overseas. Thai products, such as fragrant rice, durian and other tropical fruits, are highly sought-after by Chinese shoppers.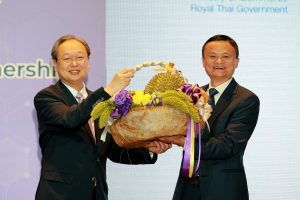 The new Smart Digital Hub will serve to better facilitate that trade, meeting the demand from Chinese consumers while expanding the reachable market for Thai farmers and manufacturers. Related to the agreement, a flagship store was launched on Alibaba's Tmall platform to sell Thai rice, the country's chief export. Alibaba said it would also help drive sales of popular Thai fruits, such as durian, into China.
Alibaba-owned online travel platform Fliggy is part of the arrangement. Because Thailand is a top destination for Chinese tourists, Fliggy and the Tourism Authority of Thailand will work to develop smart and digital services for those travelers, including online tour guides and electronic ticketing systems.
In addition, Fliggy and Ant Financial, Alibaba Group's affiliate and the operator of Alipay, want to deliver an end-to-end digital solution that allows Chinese travelers to do everything from applying for visas online to tax refunds. Discussions are currently underway with the Thai government to make those plans a reality.