Alibaba Group's 11.11 Global Shopping Festival, the world's largest 24-hour online sale, got underway today at midnight China Standard Time (CST). Check this live blog for updates as the sale progresses.
---
12:00 p.m. CST … And the data screen reappears, final GMV results revealed!In the 24 hours of the 2015 11.11 Global Shopping Festival, GMV totaled RMB 91.2 billion ($14.3 billion). Watch Alizila for a wrap-up report.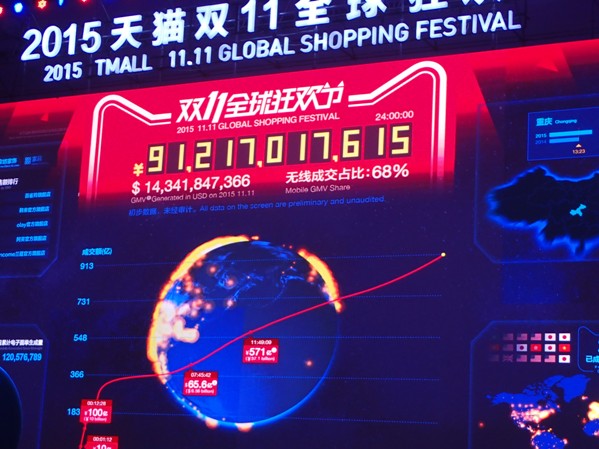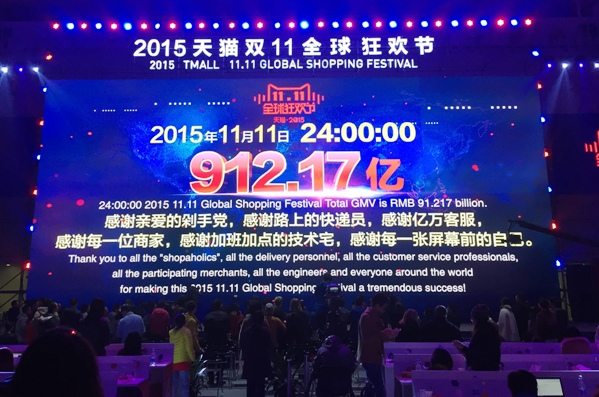 11:55 p.m. CST … The data screen in the media center has winked out, replaced with the logo for the 2015 11.11 sale. The shopping is coming to an end.
10:30 p.m. CST … With the end of the sale in sight, Alibaba execs Jack Ma and Daniel Zhang, along with Tom Farley, president of the New York Stock Exchange, took to the stage at the 11.11 media center in Beijing's Water Cube for a remote bell-ringing ceremony. The NYSE signals the start and finish of each trading day with the (arguably pavolovian) sound of bells; the ceremony has been a tradition for more than 50 years so it's kind of a big deal to participate. Today's ceremony was unusual because typically bells are struck at a podium in the New York exchange. The NYSE has held remote bell-ringings on special occasions, such as at the opening of the 2012 London Olympics and the Shanghai Expo.
The occasion this time: the NYSE wanted to congratulate Alibaba on its record-smashing 11.11 sale. The NYSE "is known for listed companies that were built by great entrepreneurs who built global businesses and made the world a better place," Farley said. "No one epitomizes that more than Alibaba," he said, noting that today was the 100th anniversary of the listing of IBM. "Jack Ma has told me he is building a business forthree centuries, and, therefore, I believe that our successors will be back here in the year 2114 to celebrate the 100th year of Alibaba." Ma, Zhang and Farley were joined in the ceremony by eight guests who have been recognized by Alibaba for unusual acts of philanthropy, environmental awareness and community building.
Here's a video of the bell-ringing ceremony. An Alibaba video that ran at the New York Stock Exchange during the ceremony follows.
9:44 p.m. CST … Withtotal GMV for the sale edging toward $13 billion, Alibaba Group CEO Daniel Zhang just finished a media briefing that was not quite a victory lapbut was close to one. "We are very happy that Singles Day has become the consumers' day in China," Zhang said, calling the not-yet-final eventresults "very solid evidence for the power of Chinese consumers."Zhang seemed particularly pleased with the performance of international retailers on Alibaba's China marketplaces. Alibaba this year encouraged more overseas brands and merchants to join the sale by selling direct to Chinese consumers through cross-border e-commerce. Less than two minutes after the sale began, total GMV for cross-border transactions exceeded results for the entire 24-hour sale last year. When Zhanglaunchedthe 11.11 sale in 2009, "we never dreamed it could be such a huge shopping day," he said. "I think we can do the same things in this international channel."
5 p.m. CST … Alibaba Group just released a recap of some of the sales milestones reached so far, highlighting that $10 billion (approximately RMB 63.6 billion) of GMV was settled through Alipay on Alibaba's China and international retail marketplaces as of 2:05 p.m. CST. Mobile GMV settled through Alipay accounted for 70% of the total.
Other milestones:
In 11 hours and 50 minutes, total GMV settled through Alipay exceeded the total GMV of RMB 57.1 billion for the entire 24-hour sale last year.
At 2:00 p.m. CST, mobile GMV settled through Alipay was $7.1 billion (approximately RMB 44.9 billion).
At 2:00 p.m. CST, the total number of mobile buyers was more than 70 million.
By 2:00 p.m. CST, Cainiao Logistics, the logistics affiliate of Alibaba Group, had received 310 million delivery orders, exceeding the 278 million orders generated last year on 11.11.
3:38 p.m. CST … At an 11.11 merchants roundtable discussion/media Q&A this afternoon, Jasmine Xu, vice president of the greater China region for Proctor & Gamble, said the consumer product giant's flagship store on Tmall has been an effective way to build its brand in China. Evidence? P&G brands newly introduced to China account for 70 percent of P&G sales during the 11.11 sale so far, Xu said.
"Beyond doing a lot of promotion, something for which 11.11 is well known, we have also been integrating marketing campaigns for each brand this year," she said."For us, this is not onlyabout driving sales, but alsoabout brand building and having a better consumer experience and consumer interaction." She added that a Tmall flagship store is a deterrent to counterfeiters, because it offers online shoppers a trustworthy outlet where they know all products are coming straight from the genuine brand owner.
2:27 p.m. CST … Jack Ma got an attaboy from on high yesterday, before the 11.11 sale began. Chinese Premier Li Keqiang's office called Alibaba's executive chairman to express congratulations and offer "encouragement for Alibaba's achievement on Singles Day," according to the company's Weibo blog. Li also promised to pop in for a visit to the company's campus. With luck that will happensometime after the dust and disruption kicked up by the 11.11 sale has settled.
2:05 p.m. CST … Total GMV exceeded $10 billion (RMB 63.60 billion). Mobile GMV was 70 percent of the total.
1:15 p.m. CST … After announcing that roughly halfway through the 2015 sale that Alibaba had already topped its 11.11 GMV results (in U.S. dollars) from the 2014 sale, Alibaba Group President Michael Evans told a group of journalists thatthe international response to the sale "has been terrific so far."During the 11.11 festival, Alibaba's online platforms are facilitating sales not only for overseas merchants selling to Chinese consumers but also for Chinese retailersselling toconsumers in dozens of countries though AliExpress, the company's global B2C website.
This is the second year Alibaba has been promoting the 11.11 Global Shopping Festival globally, and the 2105 festival is "the most international (sale) yet," Evans said. More than 30,000 brands from 25 countries are represented at the sale in 2015, including P&G, Unilever, Burberry, Estee Lauder, Zara, Huggies, Macy's, Costco, Apple, Nike, Friso, Topshop, and Uniqlo, to name a few. According to Brian Buchwald, co-founder and chief executive officer of Bomoda, a consumer research company in New York, growing participation by global merchants represents "a really fascinating evolution" for 11.11. "We've seen major retailers and brands in Europe as well as in North America really start to focus on this moment," Buchwald told Bloomberg News.
"Singles Day is something of a Hallmark holiday, like the ones we have in the U.S.," said Patrick J. Murphy, a professor at DePaul University's Driehaus College of Business. "But it has evolved into a very popular shopping day, on par with our Black Friday."
It's all down to the rising purchasing power of China's large and growing base of consumers, who are "purchasing more and saving less," Evans said. With the same aspirations and desires as people everywhere, China's consumers are increasingly interested in buying international products through cross-border online shopping, he said, a trend that reflects not only desires for authentic, safe and high-quality food and merchandise, but also "reflects a willingness to try new things."
12:32 p.m. CST … Total GMV surpasses total U.S. dollar amount of GMV for the entire 24-hour sale in 2014 ($9.3 billion). This means the 2015 sale has eclipsed last year's record final results in dollar terms in a little over half the time. The company broke pastlast year's RMB GMV total before noon. It took longer to surpass the U.S. dollar total set last year due to the yuan's devaluation in 2015.
11:50 a.m. CST … Total GMV exceeded that of entire 2014 GMV of RMB 57.1 billion.
11:44 a.m. CST … To mark the 11.11 festival, later today Alibaba officials will ring the opening bell on the New York Stock Exchange — from the media center in Beijing. It's a virtual bell-ringing. More details later, but here's how the NYSE is promoting the event in New York and in Silicon Valley.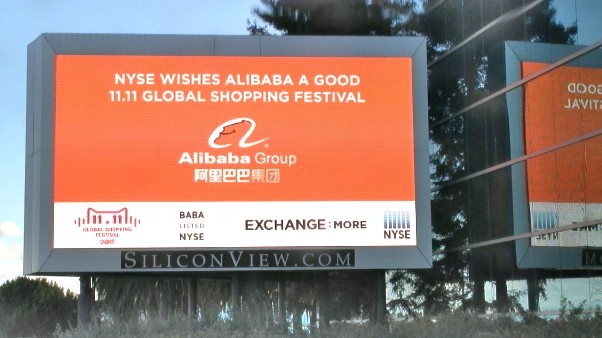 9:52 a.m. CST … Total GMV tops RMB 50 billion ($7.86 billion).
7:45 a.m. CST … Total GMV reached RMB 41.7 billion,surpassing the total desktop GMV of 2014 Thanksgiving through Cyber Monday ($6.56 billion).
3:14 a.m. CST … Alibaba Group recaps the firstleg of the sale, announcing that $5 billion (approximately RMB 31.8 billion) of GMV was settled through Alipay on Alibaba's China and international retail marketplaces in the first 90 minutes. Mobile GMV settled through Alipay accounted for 72% of total GMV.
Other early highlights:
In the hours leading up to 11.11 sale's start, almost 130 million users visited the Mobile Taobao app, exceeding the peak volume during the 2014 11.11 Shopping Festival.
Total GMV settled through Alipay was $3.9 billion (approximately RMB 24.8 billion) in the first hour.
Total number of mobile buyers was more than 27 million in the first hour.
Total GMV settled through Alipay exceeded $1 billion (approximately RMB 6.36 billion) within the first eight minutes.
Total GMV settled through Alipay exceeded the total GMV of Alibaba's 2012 11.11 Shopping Festival of $3.1 billion within 31 minutes.
A press release from Alibaba included the following statements from CEO Daniel Zhang: "This year, Alibaba Group has transformed 11.11 into an unprecedented mobile shopping experience. Over the course of the 24-hour shopping marathon, consumers will have a new surprise every hour that has been especially tailored for mobile users. The whole world will witness the power of Chinese consumption this November 11."
Zhang continued: "At each 11.11, Alibaba's infrastructure is put to the test and our technological capabilities are taken to the next level. Last year, we handled a record-breaking 80,000 orders per second at peak. This year, we expect to handle 120,000 orders and 60,000 payments at peak per second. It will be a proud achievement for us."
1:30 a.m. CST … Total GMV exceeded $ 5 billion. Mobile GMV accounts for 72 percent of the total.
1:14 a.m. CST … Total GMV exceeded RMB 30 billion.
1:04 a.m. CST … Alibaba may be an Internet company, but it isn't shy about using China's old-schooladvertising to get consumers pumped up for 11.11.
And then there's this slick TV commercial that aired in China prior to the sale:

1:00 a.m. CST …One hour into the sale, total GMV is RMB 24.77 billion ($3.89 billion); Mobile GMV is RMB 18.29 billion ($2.87 billion), 73 percent of total GMV. Number of mobile buyers: 27,370,000.
12:37 a.m. CST … Total GMV exceeds $3 billion in just over 30 minutes.
12:35 a.m. CST'Ķ Speaking of the globalization of 11.11, Beats headphones helped raise awareness of the sale in the U.S., advertising its participation in the 11.11 sale on billboards in New York's Times Square. The Beats billboards engaged passers-by with a "shake shake" campaign offering special promotions and coupons to users who shook their phones while using Taobao or Tmall mobile apps during promotional periods. The most likely targets of the pitch were Chinese tourists visiting New York. Watch the video.
12:09 a.m. CST'Ķ Mobile GMV exceeded RMB 10 billion just 12 minutes, 28 seconds into the sale. That's Jack Ma giving the thumbs up.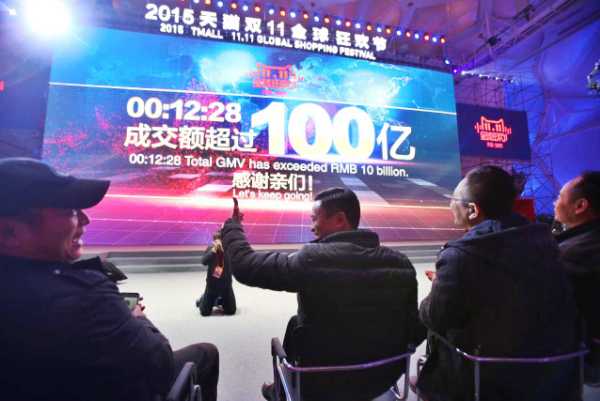 12:09 a.m. CST'Ķ Alibaba's 11.11 GMV exceeded $1 billionwithin 8 minutes.
12:07 a.m. CST… Alibaba Group GMV exceeded RMB 5 billionin 5 min 45 sec after the sale began.
12:05 a.m. CST… One reason the totals mount quickly, aside from the 6 million products on offer from more than 40,000 merchants, is pre-sales: special promotions that have been going on for several weeks allowing consumers to lock in discounts by reserving products in advance. This year, pump-priming promotional activities in the run-up to the sale had some international flavor as Alibaba worked to involve some big global brands while raising awareness of the sale with consumers all over the world.
For example Coca-Cola, which just launched a store on Tmall.com, gave away 5 million bottles of 300ml cokes to wet China shoppers' whistles prior to the sale.
And Apple teamed up with AliExpress, Alibaba's global B2C marketplace, by setting up a special Apple Zone on the AliExpress mobile app. The promotion gave iPhone, iPad and Apple Watch users—be they in Russia, Brazil, the U.S. or elsewhere—access to games, discount coupons and previews of selected products, among other perks, to AliExpress shoppers.
12:00 CST 'Ķ It's on. Sales totals shoot up quickly during the opening frenzy as millions of online shoppers race to grab the best deals before products sell out.