Alibaba on Friday unveiled the "A100 Strategic Partnership," a program to help key brands accelerate their own digital transformation through a new service package that rolls all of the tools available on the Alibaba ecosystem into one.
Powered by the Alibaba Business Operating System, A100 will let users tap into whichever Alibaba services are the best fit for their business operations, from retail, work flow management, payment, logistics, cloud computing, corporate communications, and marketing to on-demand local services and more.
"Three years ago, Alibaba group founder Jack Ma introduced the concept of New Retail, and the idea of integrating online and offline resonated with many. Now, three years later, we have come to the realization to fully unleash the power of New Retail, the focus must not just be on the retail level. There must be a comprehensive commercial operating system to drive the digitization process," said Alibaba CEO Daniel Zhang, at an event in Hangzhou.
The operating system, he added, can serve brands and companies in 11 different areas: branding, product development, sales, marketing, channel management, customer services, finance, logistics and supply chain, organizational structure and information communication management. It will deepen ties between both Alibaba and merchants selling on its platforms, as well as the merchants and their customers.
"We believe the system will help draw the consumer and the merchants closer together. By narrowing the gap between supply and demand, the merchants will be able to present the best services and products to their customers," Zhang said.
Highlights from the Inaugural "Alibaba ONE Business Conference"
An End-to-End Solution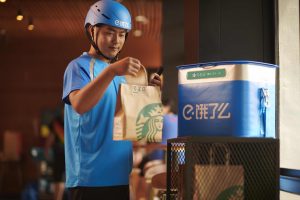 For many A100 partners, the Alibaba Business Operating System will allow them to work with a designated team or a project manager to serve as the main bridge between the brand and Alibaba. The single-contact communication point can boost efficiency and reduce chances for misunderstandings.
Case Studies:Read more about Alibaba's cooperation with brands.
Starbucks, for example, works with a team of Alibaba employees, who spend an extensive amount time at Starbucks' China headquarters to provide timely troubleshooting and consultation to the Seattle-based coffee company and ensuring it collaborates with Alibaba on multiple fronts.
Starbucks is working with Tmall and Taobao to expand its online retail presence by opening a virtual store. It also works with Ele.me, Alibaba's on-demand local service for delivery, as well as with Freshippo (also known as Hema), Alibaba's tech-driven grocery chain.
Leo Tsoi, the COO of Starbucks China, said that since the coffee company's collaboration with Ele.me in September, over 2,000 Starbucks locations around China now provide delivery services. The virtual store on Taobao also allows Starbucks to directly engage with the 600 million-plus customers on Alibaba's online marketplaces.
"The integrated solution by Alibaba limits the number of partners that a brand needs to deal with in order to get the services they need. Our experience is, the less people you have to talk to, the more likely you will be successful," said Dustin Jones, managing director of Hong Kong-based Fung Retailing, one of Alibaba's key strategic partners.
Reaping Success by Going Digital
Another success story from Alibaba's tight-knit collaborations with brands is Nestle. In addition to strengthening its core B2C business through its Tmall flagship store, Tmall Supermarket and Rural Taobao, Nestlé has recently expanded into new Alibaba channels, such as Lingshoutong, aninventory-management system for convenience stores, and the Freshippo and RT-Mart supermarkets.
In 2018, Nestlé also entered a strategic partnership with Cainiao, which enabled Nestlé to consolidate four distributors serving its Alibaba-related business into one while introducing Cainiao's "One Set" inventory system to fulfill online orders. As a result, Nestlé can now fully leverage Cainiao's intelligence to sort products and manage inventories according to consumers' preferences in different regions, reducing the proportion of cross-region parcels and speeding up deliveries.
Rashid Qureshi, the CEO ofNestléin the Greater China region, said Alibaba's new business operating system is a significant service for his company's digitization process because it helps to reassess data usage to "seamlessly connect the different pillars across the entire organization Рfrom consumer engagement, manufacturing, procurement of raw material to supply chain."
He pointed out that one of the most-unique traits of Chinese consumers is they are more tech-savvy than their Western counterparts, and they are not just looking for products when they shop. "They want services, solution and ecosystem. So, unless your organization is ready with the right [digital] infrastructure and capabilities'Ķyou will not be successful," he said.
Keeping Up by Staying Ahead
The demanding nature of Chinese consumers poses a challenge for a fast-moving consumer goods giant such as Unilever to keep up with Chinese consumers' ever-changing tastes.
By working with different platforms in the Alibaba ecosystem, from Tmall and Taobao to Alipay and Cainiao, as well as digital media and entertainment division Youku and Alibaba Cloud to Lingshoutong, Unilever said it has been able to dig up more-poignant insights on Chinese shoppers and co-create innovative products together with Alibaba.
"With the support of Alibaba's tools, Unilever has developed several 'China-for-China' products. These successful cases are also influencing global portfolio changes outside of China," said Wu Yating, vice president of digital marketing and e-commerce for Unilever.
"Becoming an A100 Strategic Partner does not only show our ambition to win with Alibaba, but also shows Unilever globally sees Alibaba as one of the most-important platforms to drive brands and engage with consumers," said Wang. "China, as our biggest market in e-commerce, will definitely play a key role in driving the changes."
P&G has been collaborating with Alibaba for over 10 years. Jasmine Xu, vice president of P&G China for eBusiness, Brand Operation & New Retail, pointed out that by harnessing the Alibaba ecosystem, it has been able to tap into a sizable amount of insight from the China market, analyze the results and adjust its market approach – and even develop a product formula to better meet consumer expectations.
"The entire ecosystem provides P&G a lot of consumer insights at much faster speed," Xu said, adding that as part of the future collaboration, P&G will continue to work with a batch of Alibaba business units to boost its penetration in China's third-and fourth-tier cities, the young consumer demographic and enhance its online-offline integration.