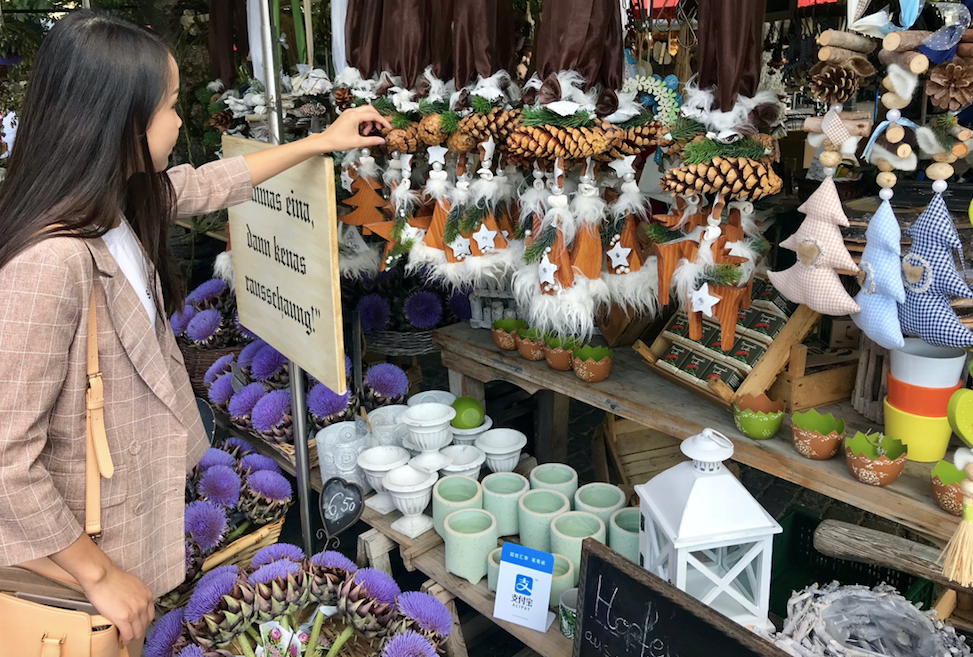 Alipay said Friday it launched an in-app travel guide in Chinese for visitors to Munich's Oktoberfest celebration and the city's 211-year-old downtown Viktualienmarkt.
The mobile and online payment platform said the pilot service will offer "a wealth of information on the culture and history of both venues," including a map, a guide to individual stalls and products, information on German behavioral norms, like how to toast with a glass of beer and advice on when and where it's OK to take photos. Users can also pay for what they buy through the Alipay app, with processing handled by European company Blue Code, in partnership with local banks.
The guide also points to food and drink choices aimed at Chinese visitors, including tea stall Tea Flower's promotion of fruit teas and green teas with Bavarian herbs and photos and recommendations in Chinese for the traditional German soup bistro, called Münchner Suppenküche.
"With the in-app 'Travel Guide', we want to help Chinese visitors in Munich to move around like a local, strengthen mutual relationships and contribute to a better understanding, overcoming language, cultural and currency barriers," said Alipay's Head of EMEA Roland Palmer.
Alipay payments mean shorter waiting times and lines, said Palmer, with the in-app guide having an added benefit of fostering a better understanding of German traditions among Chinese visitors.
The launch comes in time for China's October "Golden Week," which sees Chinese tourists head overseas for a week of vacation.
Alipay users in Europe will continue to benefit from existing value-added services, including better exchange rates for higher-level members, coupons and vouchers they can redeem onsite, locating local attractions and receiving instant tax refunds at participating merchants and airports.
Alipay said it intends to expand its partnership in Germany and beyond with BlueCode in the near future.
Alipay is operated by Ant Financial Services Group. Founded in 2004, it has over 700 million active registered users. Overseas, Alipay covers over 40 countries and regions to provide more diversified services to Chinese tourists traveling overseas and supports 27 currencies. Several thousand retailers use Alipay in Germany, including cooperations with Rossmann, Zwilling, WMF, The North Face and Timberland, among others.