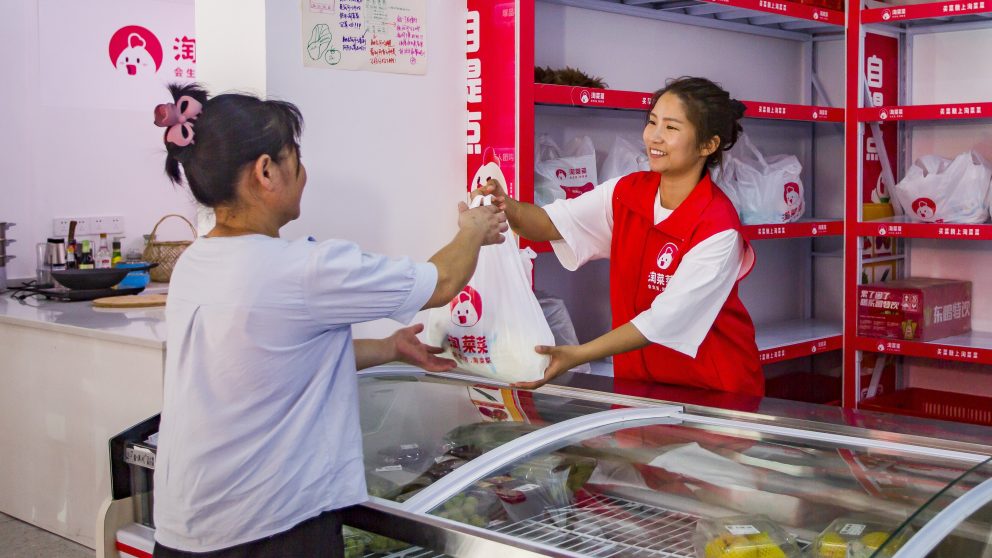 China's lower-tier cities are home to more than 930 million people, almost three times the U.S. population — mostly underserved by e-commerce sites
Alibaba has hit a 99% penetration rate in China's tier-1 and tier-2 cities and is seeking to delve deeper into less-developed areas
Fan Huihong has run her mom-and-pop store for more than a decade. But it was not until very recently that her store started to serve more than hundreds of people a day.
Her convenience store, located in Guodian, a town in China's eastern province of Zhejiang, joined the burgeoning number of community marketplaces in June. Residents from the local township place orders for groceries and daily necessities on Taocaicai, Alibaba's community marketplace, and pick up their goods at Fan's store the next day.
"Fast delivery and convenience are what drive residents to the online community marketplace," said 44-year-old Fan in an interview with Alizila. "If you can buy groceries by scrolling on your phone in bed, why not?"
Groceries also come much cheaper when residents band together to place a bulk order. Fan sells a pack of 12 boxes of milk for RMB37 (US$5.8), even cheaper than the wholesale price she paid previously.
The name of her store started to spread quickly, and even residents who did not live close to her store would place orders and pick up the goods when they ran errands in town. Fan bags goods for every resident with a list of purchased items. Perishable food and fresh produce are put in the store's cooler.
Fan's store is one of the millions of mom-and-pop stores in China that Taocaicai, Alibaba's virtual grocery marketplace, wants to tap into. The platform is turning those stores at the heart of communities into pick-up points, and helped them source fresh and quality produce directly from the field.
Taocaicai already covers 40% of townships and counties in China, as of the end of September this year, said ​​Trudy Dai, Alibaba's president of industrial e-commerce and community e-commerce.
"These [apps] represent new capabilities for serving consumers in less-developed areas, characterized by a huge population base, high price sensitivity, and emphasis on value-for-money," Dai explained.
Foray into Lower-Tier Cities
Cities in China number over 600 and are divided into four tiers based on GDP, population and political administration. While Beijing, Shanghai, Guangzhou, and Shenzhen are widely called tier-1 cities, major provincial capitals such as Hangzhou and Chengdu are classified as tier-2.
Lower-tier cities are smaller and less developed but growing fast, such as prefecture-level cities Guilin and Jining.
Alibaba is gaining traction in such lower-tier cities in China, the latest data released by the company during its Investor Day presentations earlier this month showed. Bargain marketplace Taobao Deals and virtual grocery store Taocaicai reported 270 million annual active users collectively as of September 31.
This translates to a 200% year-on-year growth rate, with order volume up 400% year-on-year, said Dai, who will take on the role of Alibaba Group President overseeing China Digital Commerce in January.
The two platforms, launched in 2020 and 2021 respectively, are seeing a surge in new users. Annual active users on bargains app Taobao Deals climbed to over 240 million in September, and a large proportion of its users are new to Alibaba's ecosystem.
But this is just the tip of the iceberg, according to Dai.
"It will take time to unleash the full potential of [the] consumption upgrade in less-developed areas, especially rural areas," she told investors.
Widening Consumer Base
Until now, the rural under-digitalized consumer was a tough nut for companies to crack thanks to challenging logistics, lower internet penetration and generally modest consumption budgets.
Most businesses are focused on chasing internet savvy big-city residents, according to Zhang Yi, chief analyst and CEO of Guangzhou-based mobile internet consulting agency, iiMedia Research.
But top-tier cities are now well served, and Alibaba has attained a 99% penetration rate in the country's metropolis. The bigger growth opportunity lies elsewhere.
"Going into lower-tier markets would bring tremendous growth potential for e-commerce companies," Zhang told Alizila.
At roughly 930 million as of 2018, the number of lower-tier city residents is almost three times the population of the U.S. and remains largely untapped by e-commerce platforms.
"This massive retail market is under-digitalized, but e-commerce penetration is growing fast," said Dai, pointing to a recent CEIC Global Database report and data from China Business Network showing that third-tier and lower areas accounted for a whopping RMB15 trillion of total retail sales last year.
The market potential of lower-tier cities was on display during this year's Global Shopping Festival, 11.11, in late October and early November, when spending by consumers in lower-tier cities and rural areas increased by 24.9% year-on-year between Nov.1 to Nov.3. alone.
Even luxury sales saw a significant increase in lower-tier markets, with the number of luxury buyers from lower-tier cities seeing close to 50% year-on-year increase in the first three days of 11.11 sales, from Nov. 1 to Nov. 3.
Distinct Shopping Habits
Residents of lower-tier cities crave affordable quality goods more strongly than big city dwellers and are increasingly turning to e-commerce sites to find deals.
"Online sales in lower-tier cities have been disproportionately strong," Daniel Zipser, a Shenzhen-based senior partner at consulting firm McKinsey, said in a recent interview with Alizila.
While residents in these areas are "increasingly brand-conscious" compared with their cosmopolitan peers, "at the same time they are more price-sensitive," he noted.
Consumers from lower-tier cities with plenty of disposable income are fueling luxury sales in China. Wu Yuan from Hengshui City in northern China's Hebei Province, a city with an average annual disposable income of around RMB23,000, said people from her hometown regularly indulge in luxury items.
"It is an unspoken rule that young women should have at least one or two luxury items that they can show to friends," she said.
She bought her first luxury bag in college, a designer Tote bag from Michael Kors. Soon after, she got another one while traveling in Hong Kong, this time a Gucci GG Marmont shoulder bag.
"Unlike our peers in big cities, we aren't under pressure to pay back housing or car mortgages, and the cost of living here is pretty low, making it easier for us to save money to buy a few luxury items."
Online sales lie at the heart of the shopping experience for many of these consumers. In Wu's hometown, a third-tier city in Hebei province nearly 500 km away from its provincial capital, few luxury brands' flagship stores can be found.
According to Tmall Luxury, in the first three days of this year's 11.11 sales, close to 400 cities in China placed orders on the platform.
Live streaming and short video formats offer viewers another channel to shop. Brands have turned their online flagship stores into virtual-reality showrooms and art galleries to create an omnichannel experience for users when browsing online.
"China is not an online country; it's an omnichannel country," said Zipser.
More than a Fad
The coronavirus pandemic forced many lower-tier city residents to explore digital buying options for the first time, and many shoppers are enjoying the extra convenience now that they are set up online.
Grocery shopping has changed forever, for consumers and for shop keepers, as Taocaicai's digitized solutions lower costs and improve last-mile efficiency, with 97% of orders delivered before noon the next day.
"Right now, China has an amazing basic infrastructure to support online grocery retail, in many cases through an omnichannel experience," said Zipser.
Taocaicai has regional distribution centers spread throughout the country, with Cainiao Post stations and Cainiao Rural stations helping it extend deeper into rural areas. To meet growing demand, the size of its distribution centers jumped more than 350% between March and September.
The grocery service's direct-from-farm procurement team and company majority-owned grocery chain Sun Art Retail, located in lower-tier cities, also means it can meet the rising demand for online groceries without major upfront investment.
"Only with innovation […], and alignment of business value and social value, can we tap into the huge potential in less-developed areas," Dai added.
Convenience store owner Fan is now busier than ever.
Every morning, she collects and inputs orders from residents in her neighborhood. Taocaicai delivers the goods in the afternoon, so she works into the evening sorting orders and sending them out to residents.
It's a full day's work, but Fan has no plans to take a step back. "I know if I don't jump on board for online groceries, I will be left behind in this rapidly changing market," she noted.
---