Cainiao Smart Logistics Network has teamed up with industry partners to launch a global logistics channel that expedites the delivery of medical-aid donations to areas in China hit by the coronavirus outbreak.
As of Feb. 3, the pneumonia-like virus had already claimed the lives of 362 people and infected more than 17,300 people globally, according to Chinese health authorities. Its spread is straining Hubei province hospitals at the epicenter of the outbreak and caused shortages of key medical supplies.
Cainiao, Alibaba Group's logistics arm, launched the so-called Green Channel initiative on Jan. 25 in response to surging demand for protective clothing and medical supplies, especially for frontline medical staff in Hubei. Governments, companies, social entities and NGOs can dial the 24-hour hotline – +86 400-900-5656 from China, and +86 5718-8158-333 outside China – to arrange free delivery of packages over 100 kilograms containing medical supplies, such as surgical masks, disinfectant, protective suits and safety goggles.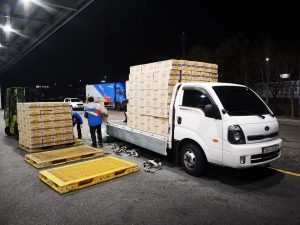 In the nine days since the channel's launch, Cainiao said it received over 7,000 calls and shipped well over 5 million pieces of medical supplies to Wuhan and neighboring cities in Hubei province.
"Every partner is dedicated to putting all resources available into this important initiative," said He Yulin, project manager of the Cainiao Green Channel. "When we pool everyone's advantages, the results are maximized."
Dozens of industry peers have signed on to support the initiative, including carriers and logistics companies, such as ZTO, STO, Best Logistics, Yunda Express, AirCity, DB Schenker, 4PX and Danniao. To ensure efficiency, Cainiao immediately follows up on every request made through the hotline, deciding which partner is best suited to handle that order, said He.
WATCH: Cainiao's Green Channel expedites thedelivery of medical supplies from around the world
While it typically takes up to a week to deliver cargo from New York to Wuhan, Cainiao worked with customs authorities to speed clearance at airports and ports, cutting the overall shipment time to under three days. It also developed an online system for donors to submit all the necessary documents, which greatly expedited the customs clearance process. Cainiao used this system in Seoul, for example, to speed up the time required to move 50 tons of face masks onto three Shanghai-bound planes, accelerating the loading time to five hours, down from the average of eight hours. It also uses big-data capabilities to monitor each link along the logistics chain to help carriers avoid accidents and delays. To facilitate the Green Channel's fast-delivery processes, Cainiao opened a 6,000-square-meter warehouse in Wuhan dedicated to storing and dispatching medical supplies.
So far, the Green Channel has delivered more than 5 million masks, 500,000 medical gloves, 40,000 sets of protective clothing, 20,000 goggles, 7,000 cases of disinfectant fluids, 30 tons of intravenous drips and over 40 tons of food to Hubei province from donors around the world, including Unicef, the Wuhan University Alumni Association in New York and other individuals and organizations from Japan, South Korea, Australia, New Zealand, Thailand, the Philippines, Spain, Germany, France, Belgium, Canada, the U.S. and U.K.