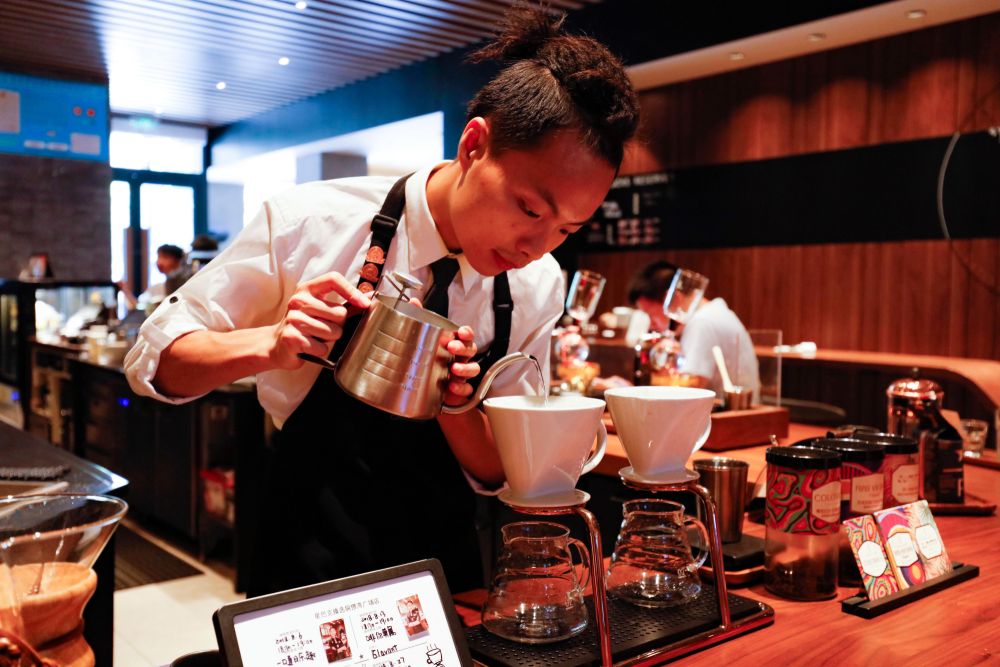 The Trend: Coffee consumption is rapidly growing in China, turning the traditionally tea-drinking country into the world's most-promising market for coffee growers and international coffee chains.
Why the China Market Matters
Hanging out at coffee shops with the newest drinks in hand represents a new lifestyle choice for urban Chinese consumers. As their living standards improve, Chinese consumers like to explore new products and experiences—especially from the West.
While China still ranks relatively low in coffee consumption on a per-capita basis (at three cups a year versus 250 cups in the UK and 363 cups in the U.S.), total consumption grew at an average annual rate of 16% in the last decade, significantly outpacing the world average of 2%, according to figures from the International Coffee Organization. International coffee chains like Starbucks are rapidly expanding their footprint: the company tripled its store count in China to 3,300 in 2018 from 1,017 in 2013. Online data shows a similar growth pattern: On Alibaba's e-commerce platforms, including Taobao and Tmall, more than 18 million Chinese consumers bought RMB 2.5 billion worth of coffee products in the past 12 months, up 18% year-over-year.
China is on track to follow Japan's path to becoming one of the largest coffee-consuming nations in the world. China's coffee-drinking craze today looks a lot like Japan's between 1963 and 1973, when a similar uptick started and then continued through the early 2000s. Now, Japan is the world's fourth-largest consumer of coffee, according to research from the University of Kentucky.
The world's second-largest economy offers a compelling growth story because of its fast-expanding consumer base and its increasing purchasing power. The population of China's middle class is on track to double to 600 million by 2022, while disposable income grew 8% a year in the past five years and is projected to grow at a compound annual growth rate of 9.6% from 2018-2020, according to studies by McKinsey and National Bureau of Statistics of China.
Notably, many of these middle-class consumers reside in third- and fourth-tier cities, rather than Shanghai or Beijing. They are still big cities, with populations surpassing 4 million people, or about the size of metro Los Angeles. That means they have a lot of untapped potential, as consumers take some of their lifestyle cues from their peers in China's more-established urban centers.
Starbucks already has plans to enter 100 new Chinese cities by 2022, while Costa Coffee is aiming for 1,200 stores over the same period, up from the 449 at present. International coffee chains are taking note: This year, the company announced another ambitious expansion plan to almost double its store count to 6,000 by 2022, implying a growth rate of 18% a year, or one new store every 15 hours. Tim Horton, its Canadian counterpart, unveiled a plan to open more than 1,500 stores in China in the next decade.
Millennials, too, are having a significant impact on China's coffee consumption. This group of 450 million consumers born after 1980, known to be the most-educated and well-traveled generation in China, accounted for 40% of total coffee sales on Alibaba's e-commerce platforms this year, the company said.
Brewing Better Coffee With New Coffee Experiences
And Chinese consumers want the good stuff: They are increasingly trading instant coffee for freshly brewed products, as quality and taste become more important. Sales of fresh coffee registered double-digit gains in 2017, while instant coffee products experienced sluggish performance, according to a report by Euromonitor. Data from Alibaba's platforms show sales of coffee beans and grounds grew 60% faster than instant coffee's in the past 12 months. Coffee capsule sales on Alibaba's platforms increased tenfold in the same period.
The upgrade for coffee comes in tandem with an increasing demand for novel experiences among Chinese consumers as a whole. Premium-brew bars in China have turned coffee shops from grab-and-go spots for a cup of Joe into coffee destinations. Starbucks operates brew bars at a third of its total 3,300 stores in China, where certified coffee masters show off their brewing craftsmanship.
Some consumers want to learn how to do it themselves, so brands are leveraging online channels to teach. Coffee manufacturer Davidoff uses its website to tell stories of coffee-making, post images of coffee plantations, videos of the coffee-production process and a detailed guide on how to make the perfect cup.
Starbucks and Alibaba partnered to take the coffee-drinking experience a significant step forward when they opened the Starbucks Roastery in Shanghai in December 2017, offering a New Retail experience through augmented reality. Nine months after it opened, customers are still lining up for hours to get in.
The Online-Offline Future
Similar to other consumer verticals in China, a digital transformation is taking place in the coffee industry. Coffee chains are looking into delivery partnerships to extend sales beyond their physical stores. The recent tie-up between Alibaba and Starbucks is a perfect example. The U.S. coffee chain will use Alibaba's food-delivery network, Ele.me, to fulfill online orders. Special "delivery kitchens" at Alibaba's Hema (now also known as Freshippo) supermarkets will support order fulfilment.
The Takeaway: China is on track to become a coffee-drinking nation, with upgrades in both coffee products and related experiences. International coffee brands are well-positioned to serve the market with offerings in both aspects. We will likely to see new international entrants and further expansion of existing coffee chains in the country, with competition concentrating in premium artisan products and novel experiential offerings.
Jing Wang is a Business Intelligence Manager at Alibaba Group. Based in San Francisco, she works as an in-house research analyst, providing insights to the company's various business units and managing industry analyst relations as part of the International Corporate Affairs team. She also contributes analysis about Alibaba to leading third-party research and consulting firms.