Alibaba Group released a report on consumer behavior during Chinese New Year last week, showing how a festivity steeped in tradition has evolved with new technologies. Here's a look at the highlights:
Virtual 'Red Packets'
Red packets, also known as hong bao, are a favorite part of the New Year. As the tradition goes, adults give out red envelopes containing various amounts of "good luck money" to kids (and in some households, unmarried adults). Today, however, everyone can use mobile-payments apps such as Alipay to give and receive red packets.
In fact, more than 251 million people used Alipay to collect RMB 500 million ($78.8 million) worth of red packets as part of the platform's New Year promotions. And the exchanges came from countries as far as Argentina and Norway, and from a total of over 2300 cities worldwide.
Alibaba's Mobile Taobao was a conduit for the annual giving craze as well, partnering with China Central Television to give away RMB 600 million in cash prizes to approximately 150 million users during the "Spring Festival Gala." The gala, a four-hour variety show seen by millions of Chinese viewers, is among the most-watched TV programs in the world. And that viewership expands outside of China, with Mobile Taobao users in 212 countries and regions getting in on the action.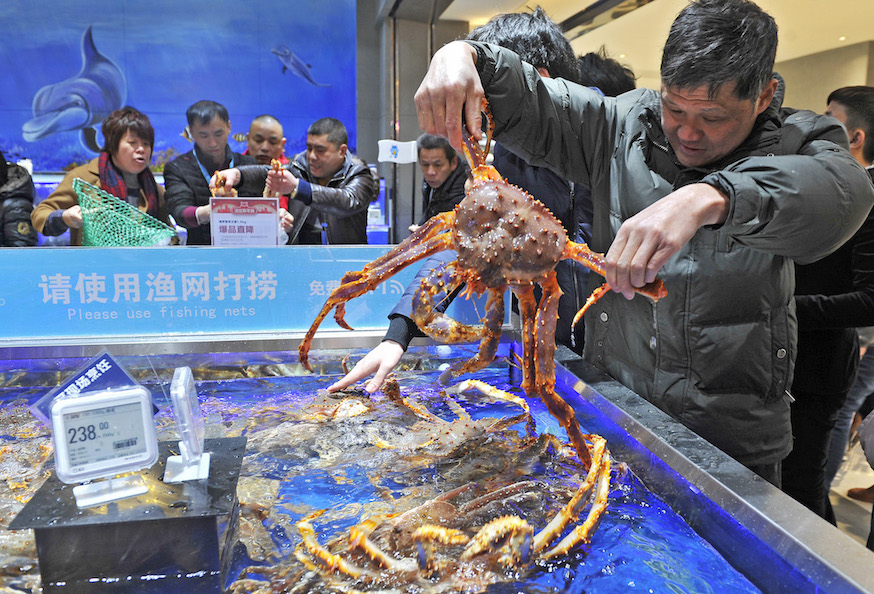 Grocery Shopping and Gifting
It wouldn't be a holiday without a little bit of shopping. This year smart-home products were among the top sellers on Alibaba's e-commerce platforms because, traditionally, the New Year is a fortuitous time to give houses a good cleaning to "sweep away the bad luck" gathered over the past year. According to Tmall, sales of steam mops, dish washers, robotic window cleaners and robot chefs increased by 320%, 188%, 169% and 145%, respectively.
Imported produce was also in demand, with purchases rising almost 300% over last year, while restaurant sales saw a jump as well. Koubei, Alibaba's local-services joint venture with related company Ant Financial, reported that sales for New Year's Eve meals on Alipay and Koubei combined increased 22% compared to the previous year, with diners spending about RMB 501 per meal.
Shanghai, Guangzhou and Beijing were the top three cities for dining out on New Year's Eve. For shopping during the holiday, the top five were Shenzhen, Guangzhou, Beijing, Shanghai and Jiangsu.

Travel and Entertainment
While most people return to their hometowns for family reunions, an increasing number of Chinese use the extended holiday to travel overseas.
According to Alibaba's online travel platform, Fliggy, the cities with the most residents traveling overseas for New Years were Shanghai, Beijing, Guangzhou, Hangzhou and then Shenzhen.
China's box office enjoyed another record-smashing Spring Festival this year, raking in more than RMB 1.3 billion on the first day of the New Year, Feb. 16, alone. That broke a single-day sale record in China, according to Chinese consumer-data company Maoyan. Alibaba-owned ticketing platform Taopiaopiao reported that more than 850,000 movie goers purchased three tickets or more, up 90% from the previous year, that day.