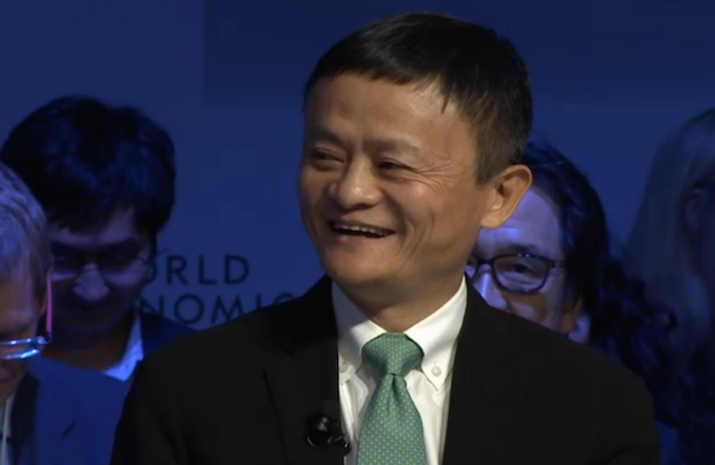 Globalization of business is good, but it hasn't been good enough so far, said Alibaba Executive Chairman Jack Ma on Wednesday.
"I believe globalization is good, but globalization needs to be improved," Ma told an audience during the second day of the 2017 World Economic Forum Annual Meeting in Davos, Switzerland. "Globalization, I think, should be inclusive globalization."
Probed by interviewer New York Times columnist Andrew Ross Sorkin, Ma said his goal is to shift the balance of power in globalization away from big companies and toward empowering small businesses. He said globalization was largely controlled by 60,000 large businesses over the past three decades.
"What if, in the next 30 years, we can support six million businesses across the board?" he asked.
Ma's appeal for more-equitable opportunities for success follow a commitment he made in a discussion with U.S. President-Elect Donald Trump earlier this month to facilitate creation of one million small business jobs in the U.S. over the next five years.
The Alibaba founder touched on that talk with Trump during his interview with Sorkin, saying he found the President-elect "open-minded, and (he) listened to what I talked about." The two discussed how to develop U.S. small businesses, promote U.S. agriculture products and more trade between the U.S. and China.
"He was very happy about the results we had," Ma said.
Asked by a member of the audience about some of Trump's prior negative comments on China's trade surplus with the U.S. and whether it might lead to a damaging trade war, Ma urged people to "give President Donald Trump some time. He has an open mind." More broadly, he said a trade war "would be a disaster for the two countries and the world."
"I would do anything to stop it," Ma said.
Sorkin asked how Amazon's business model stacked up against Alibaba's, specificially, whose model is right and whose is wrong.
"I hope both are right," Ma said. "The world can never have one model. If you only have one correct model, it's boring."
He said the two companies' differing business models derive from fundamentally different philosophies. Alibaba is about empowering sellers, services companies, logistics companies and others to build their businesses, rather than owning the entire sales chain and logistic network.
"Amazon is more like an empire,"he said. "Everything, they want to control by themselves. We want to be an ecosystem'ĶOur philosophy is to empower others to sell, to service, to make sure others are more powerful than us."
Ma said he's looking forward to the day when 10 million small business sellers can compete with a giant like Microsoft and "we can make every company become Amazon."
Discussing Alibaba's foray into Hollywood, Ma said the decision to go into movies came a couple of years ago during a periodic strategic review. He said Alibaba decided to enter show business as part of its so-called "2-H Strategy" – standing for happiness and health. He said movies are fun and enjoyable and that, as with all of its businesses, it's taking a long-term view toward its success. Asked what he hoped to achieve through investment in entertainment, he compared and contrasted Chinese and American movies.
"In China movies, the heroes are always dead. In American movies, heroes never die. In my movies, I want to make the hero live," Ma said, drawing laughter from the audience.
Ma again touted his company's efforts at weeding out fakes on its platforms using big data. He said Alibaba has made great strides at detecting and taking down counterfeit products and worked with law enforcement to make cases against hundreds of sellers of counterfeiters last year. He said Alibaba spends about RMB1 billion a year on anti-counterfeiting efforts.
"People criticize us. We are happy about the progress we make," Ma said.
Watch the full interview view here: