"It is the purest, most natural organic soap that you can possibly put on your body."
That's a bold claim. But David Bronner, the CEO of organic body-care and food-products maker Dr. Bronner's, relishes in daring pronouncements. After all, at this Vista, California-based company, CEO stands for "cosmic engagement officer."
"Dr. Bronner's delivers the best aroma therapeutic experience you're going to have with any soap," David says. "We use pure essential oils. We don't use compounded synthetic fragrances. And we use more than anyone else uses."
WATCH: Dr. Bronner's, a Merchant on a Mission, Joins Tmall Global
That commitment to quality has landed Dr. Bronner's at number one on the list of natural soaps sold in the U.S. A bottle of its Pure-Castile liquid soap is purchased globally every 2.2 seconds, the family-run company says. Since David and his brother, Michael, took the reins in 1998, Dr. Bronner's has grown from $4 million in annual revenues to $121 million in 2018.
Their success at home has prompted a push overseas to continue that growth, including a move into China. As a first step, Dr. Bronner's has launched a flagship store on Tmall Global, Alibaba Group's dedicated cross-border e-commerce platform, to reach consumers in the all-important market. The platform has been used successfully by international brands, from Costco to Kroger to Ocean Spray, because it allows them to sell to China without having a physical presence in the country.
Navigating an entry into China is no easy task. While the rising spending power of Chinese consumers offers a huge opportunity to international brands, the market demands not just the right platform, but also the right positioning, the right mix of products and the right way to market those products to a brand's target audience. That point was not lost on Dr. Bronner's.
"We've known about China for a long time. We just wanted to make sure that when we went into China, we could give it our full attention," says Michael, who serves as president. "It took a long time for us to do our research and find the right partner."
For help, Dr. Bronner's chose Export Now, an Alibaba-certified "Tmall Partner," which launches and grows brands in China's e-commerce market.
"U.S. brands often need help in China because it's a market that's so much different than what they're used to domestically," Export Now Marketing Director Joe Nora says. "You have complications around everything from language to customs clearance to logistics. You have an entirely new set of digital channels that are not relevant in the U.S. but are ingrained in Chinese consumers' lives."
And, most importantly, "How do you tailor your messaging in a way that will resonate with Chinese consumers?" Nora says.
This was critical to Dr. Bronner's, which tasked Export Now with carrying the company's socially conscious reputation, and its focus on all-natural ingredients, to China.
"At Dr. Bronner's, we're equal parts soap and soul," Michael says. "By soap, we're talking about our competency in making the best products and running the best company. And by soul, we're talking about using this company as an engine for good."
That mission has its roots in the company founder, and David and Michael's grandfather, Emanuel Bronner. Emil, as he was known, in the 1940s preached a message of universal peace and love ("We are All-One or None!") while selling soap on the side. After realizing that many people where coming to hear him speak only to buy the soap, he began to print his message on the label. The result: the now-iconic Dr. Bronner's bottle, complete with a 3,000-word sermon from Emil.
"We don't just sell soap. We have this brand story. We stand for something, so it really helped that Export Now can tailor that and distill it so that it would resonate with the Chinese audience," Michael says.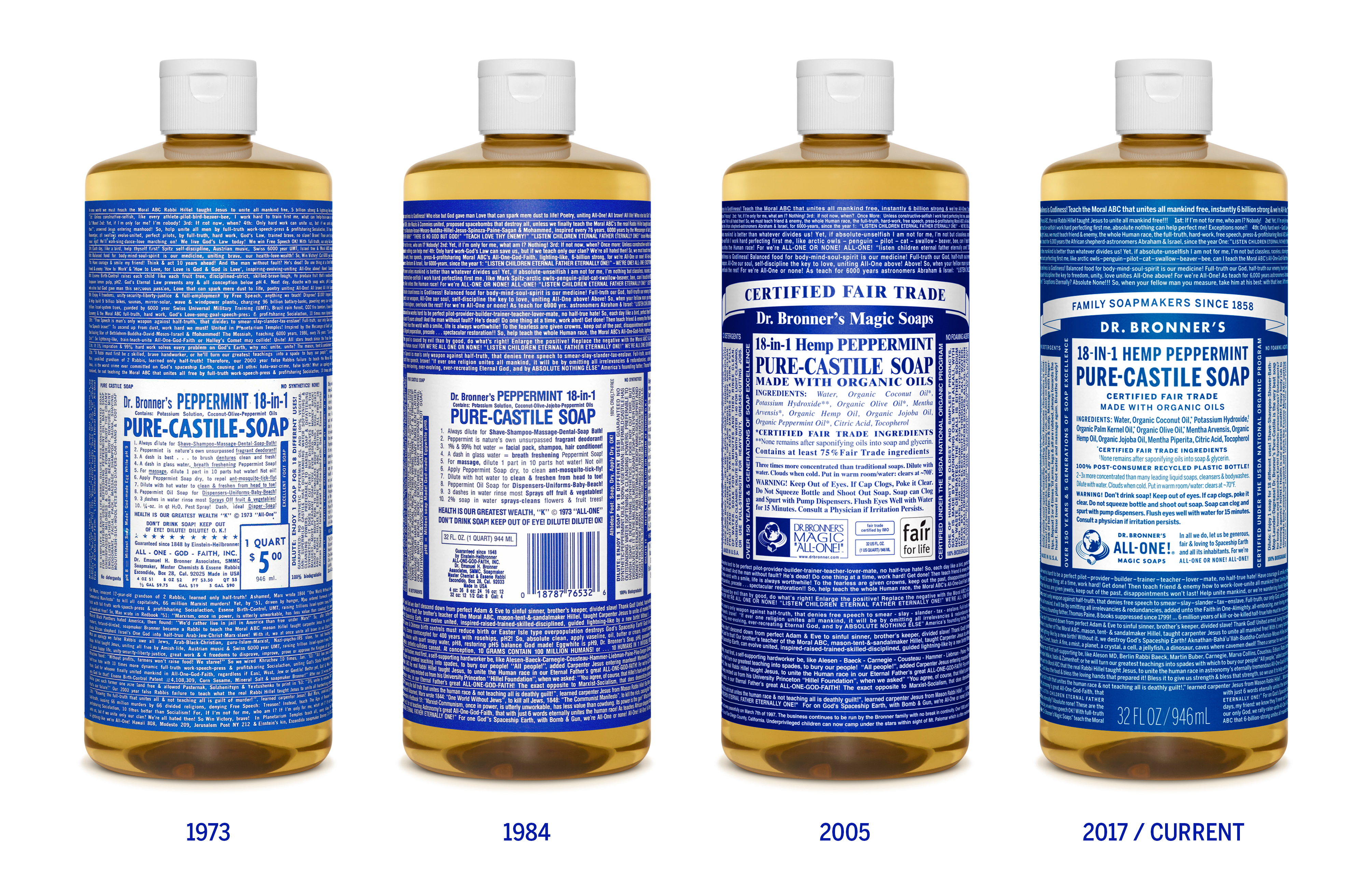 Dr. Bronner's is arriving in China at a tipping point for high-quality, all-natural items "because it aligns with safety and authenticity," Nora says. "And that's what [Chinese consumers] are looking for."
"The demand for organic and all-natural products is on the rise in China, especially with imported goods and anything that is applied to the skin," he says. "And organic is going to have particular appeal for young mothers, who tend to drive household purchasing decisions and prefer to shop online. These women aren't just placing orders for themselves but also for their child, husband, parents, and in-laws. In many instances you have all parties under one roof, which represents a tremendous opportunity for Dr. Bronner's."
In addition, Export Now has engaged key opinion leaders, or KOLs, providing them with samples so they have the chance to smell and feel the products and then share reviews with their audiences. The plan is to take that content, largely drawn from livestreams and blogs, and promote it on Tmall Global to amplify Dr. Bronner's marketing in China and get the brand in front of as many people as possible.
Part of the effort to target consumers is through the introduction of specialized products such as the cherry blossom-scented soap. "Cherry Blossom has been doing very well so far and we expect it to be a hero product," Nora says.
The focus at the beginning is on online sales, but the company says it would like to have brick-and-mortar stores in China in the future. "To really use our philosophy here [in the U.S.], where we're trying to do business so we can do good in this world, and really make that local and relevant in China by doing the exact same thing over there," Michael says.
Nora says he sees that as proof of the brand's long-term plans for the market.
"Dr. Bronner's is very committed to the China market, and they're committed to growing within the Alibaba ecosystem," he says. "They're looking at it as a marathon not a sprint. And we're very, very excited about it."