"Confidence." That was the first thing Emily Yu said when asked what makes a woman sexy. And that's how Yu wants every woman to feel when slipping on one of her creations.
"I want people who wear my designs to feel strong, beautiful and confident because that's the key to being sexy," said Yu, a soft-spoken yet sophisticated intimate-apparel designer who recently launched her namesake label on iFashion, a popular platform on Taobao for independent designers in China.
Sporting a pixie cut and vintage-looking round glasses, Yu exudes the confidence she evangelizes. With a list of impressive achievements under her belt, she has every reason to.
One of the most eye-catching accomplishments on that list is a literary one. At 24, Yu became the youngest person to translate the Russian-American Vladimir Nabokov's well-known novel, "Lolita," from English into Chinese. The Beijing-native, now in her early 50s, has also published nine books, including best-selling Chinese romantic novel "Love in the 1980s" and a collection of her essays and columns.
Poetic Designs
In 1996, Yu's love for iambic pentameter and prose brought her to New York University in pursuit of a graduate degree in literature. But a missed deadline for enrollment not only changed her education, it also redirected her fate forever. Instead of learning to compose plot twists, Yu ended up living one out. She landed at the New York Fashion Institute of Technology, where she studied the different curves of the feminine body and how to accentuate them with fashion.
Her talent for creating intricate, elegant designs and translating them into clothing was quickly noticed by several top names in the intimate-apparel industry. From 1999 to 2013, she designed for several leading brands, such as Maidenform, Victoria Secrets, Elle Sleep and even Vera Wang Princess. In 2013, her private label, Emily Yu, made its debut.
Yu, a big believer in simplicity and balance, insists her collection of lingerie and lounge wear is created and crafted with the highest-quality materials—delicate linen, pure cotton, intricate French laces, fine Chinese silk and embroidered ribbons from Japan.
Though Yu enjoyed being a rising fashion star in New York, China was always on her mind. So, in 2016, when a chance to work for a Chinese company in Shanghai emerged, she said yes right away.
WATCH: Emily Yu's Journey From a Translator to a Intimate Fashion Designer
China's Bare Necessities
China is the world's biggest apparel manufacturer, accounting for more than 30% of the total apparel production volume in 2016, according to research firm Euromonitor. And the figure is rising. Chinese consumers' evolving view on fashion, lifestyle—even sex—has also pushed up sales in intimate undergarment sales. Euromonitor estimates that China's retail underwear market will swell to $33 billion by 2020 from about $25 million last year, nearly double the U.S. sector.
The sustained growth is driven by "people trading up to more expensive products, as people became more interested in intimate wear as fashion items, coupled with growing spending power," said Matthew Crabbe, Asia-Pacific regional director for Mintel Consulting.
Data from Tmall, China's leading B2C online marketplace, echo the same trend. In 2017, over 90 million consumers bought bras on the platform, while 70 million purchased sleepwear. The sales growth of the undergarment division on Tmall maintained an on-year increase of over 50% in the 2018 fiscal year.
Chinese consumers' growing love affair with high-end bras and panties has also stoked global brands, such as Victoria's Secret, La Perla, Maidenform, Wolford, Aubade and Zimmerli, to open their own Tmall flagship stores in recent years.
Moreover, as with many areas of fashion, Chinese consumers are increasingly looking for new or niche brands like Emily Yu, better-quality products and more luxury items.
"This provides more opportunities for both niche local brands and for overseas brands to sell directly to consumers within China," Crabbe said.
Elevating China's Inner Beauty
Though China is Yu's childhood home and a booming market for intimate fashion, the transcontinental relocation was still a bold and risky move because bras and underwear are still appreciated mainly for their functions there and not for aesthetic value, she said.
"More Chinese women are putting more emphasis on what they wear under their clothes. I know my designs are not yet for the mass Chinese consumers, but I also know there must be Chinese women out there who would appreciate my products," said Yu. "Those are the women I want to design for."
But her start in China wasn't all silky smooth. Due to some differences, she had to end her working relationship with the Chinese firm that brought her back. As she was weighed a choice between staying in Shanghai or returning to the Big Apple, she kept thinking about the massive rolls of fabrics she recently bought from Japan and how much she wanted to use them to make some beautiful products before her next move.
Her decision was to stay, continue to work on her own private label and see how it goes. Fast forward to 2018: She now has an office in Shanghai with a team of five people. All her garments are designed in-house and made in China.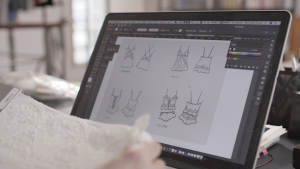 Gaining Customer Insights Via Taobao
Yu left China before Taobao became a household name. Her impression was that the platform was for young, fast-paced vendors who used flashy prose and constantly change their product assortment to satisfy the whims of Chinese consumers.
"I never thought I would be on Taobao because that's just not my style. But when someone told me about iFashion, and that it is a good way for independent designers in China to showcase their stuff, I got very interested in it," she said.
Since signing on with iFashion in early May, the Emily Yu label has garnered nearly 3,000 followers and revenue has doubled her original expectations. More importantly, she said, the partnership with Taobao has given Yu a unique insight into her customers and her target audience.
Based on the demographics and the shopping preferences of her followers and customers, as well as advice from Taobao, Yu realized that her some of her garments might be too pricey and too high-end for customers on the platform. So now, the challenge is to create products that appeal to these specific consumers while maintaining the original quality and intention of her designs.
"From the bottom of our heart, our goal is to dress as many people as possible. But this is a two-way relationship. The customers choose the designs they like and want to buy, and we choose what kind of customers we want to target," she said.
"We know this is just the beginning, but we are excited to see what the future brings," Yu said.