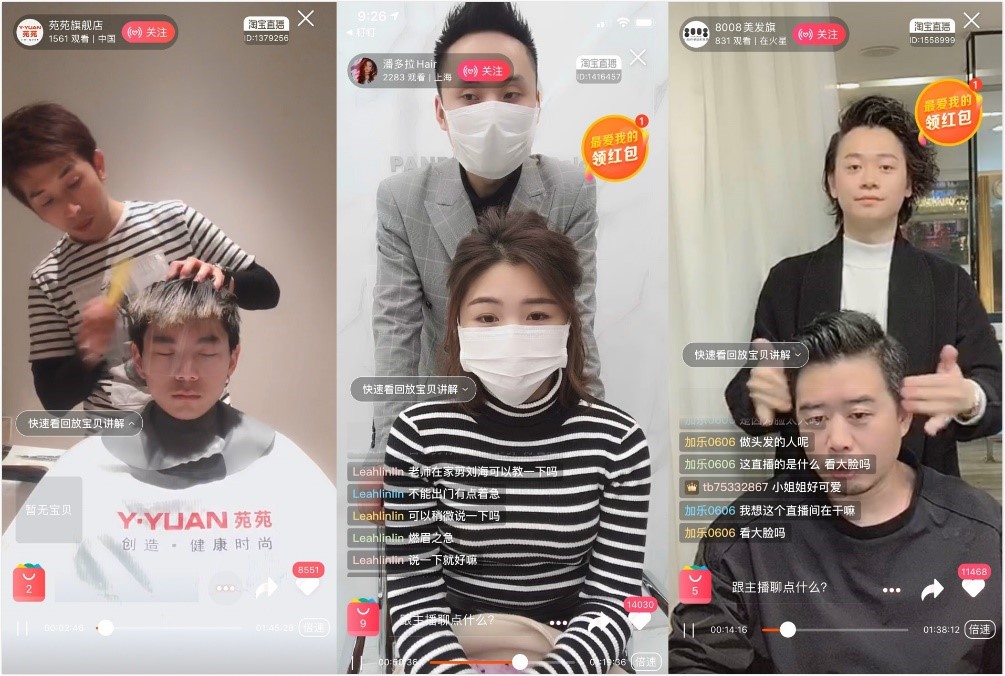 With concerns about the coronavirus keeping people off the streets across China, millions are finding creative ways to get back to their favorite activities while stuck at home.
Though many offline businesses and facilities remain closed or are cautiously reopening, the internet has become a safe haven for people to shop, work, socialize, exercise and even "visit" top tourist attractions.
Livestreaming, in particular, has brought entertainment, sources of information and a sense of community to many looking to avoid cabin fever. So it's unsurprising that, in early February, the number of livestreaming sessions on Alibaba Group's Taobao Live platform more than doubled from the same time last year.
To understand how Chinese consumers are making the most of their time at home, here are the top trends in livestreaming and e-commerce in recent weeks.
Eating In
Limited dining-out options have not dulled Chinese consumers' love for food. On Taobao Live, top Chongqing-style hotpot chains have been rolling out livestreaming sessions where viewers request hosts to eat their favorite hotpot items on their behalf. Such vicarious streams have attracted tens of thousands of viewers. At home, people are spending more time in the kitchen preparing fresh meals. Delivery orders for flour surged over 700% in China in the past week from the previous week, according to data from Alibaba's food-delivery unit, Ele.me. Millions of units of seasoning and sauces were also delivered in the same period. Responding to the increased interest in home-cooking, chefs from famous restaurant chains have been using Taobao's livestreaming channels to teach viewers how to make popular dishes.
Those with fewer culinary skills, meanwhile, have looked to Alibaba's New Retail supermarket, Freshippo, for pre-seasoned meal kits that can be easily put together at home.
In addition, as people slowly started to return to work following a prolonged Lunar New Year break, takeout orders for milk tea doubled week-on-week and office deliveries for popular lunchtime dishes such as hot-and-sour noodles grew 58%
Looks Still Matter
It's no secret that Chinese consumers are big on beauty, and the coronavirus hasn't stopped them from wanting to look their best, even at home. Many are taking the situation as an opportunity to create fun, thematic looks.
For example, a series of livestreaming sessions on how to create beauty looks while wearing surgical masks attracted 8.2 million viewers on Taobao Live on February 18. These looks focus on the uncovered, upper parts of the face, leading to a 150% month-over-month sales increase of eye shadow palettes in the last week ending February 17, according to Alibaba.
"Long-time-no-see looks" have also become hot keywords for internet searches in China for those getting ready to meet work colleagues for the first time since the virus outbreak. The number of consumers searching for face wash and shampoo products on Taobao grew 300% and 400% on February 17 compared to a month ago.
And since many brick-and-mortar hair salons remained closed for business, those needing back-to-work haircuts turned to Taobao Live, which streamed at-home tutorials hosted by hairdressers from top chains in China as well as professional stylists from brands such as Panasonic, Philips and Dyson.
Staying Active
At-home fitness equipment was another popular category that saw a surge in e-commerce sales as Chinese consumers looked to get back in shape after an extended period at home. "Looking slim" became the fastest-surging search key phrase on Taobao over the past two weeks. Sales of fat-reducing machines also surged 2,257% year-over-year, while demand for rowing machines and yoga mats grew about 250% on the online marketplace. Sales of accessories for Nintendo's fitness game Ring Fit Adventure also saw a near fourfold increase in the same period. To keep sports enthusiasts entertained at home, AliSports and Youku also hosted engaging livestreaming sessions of celebrity athletes teaching workout lessons.
Culture on the Cloud
In recent weeks, livestreaming has brought a wide range of cultural and leisure activities direct to consumers' homes.
On Valentine's Day, 21 top Chinese celebrities hosted a four-hour remote concert on Taobao Live that attracted 4 million fans. Less than two weeks later, close to 10 million online visitors participated in Taobao Live's virtual spring tour of eight national museums across the country, including the National Museum of China and the Gansu Museum.
Literature lovers have also been able to get their culture fix on the cloud as more than 200 bookstores across the country took to livestreaming. Popular chain Zhongshuge, for example, hosted seven livestreaming sessions this month, including storytelling streams for children and book recommendations for bibliophiles. Seeing high engagement from readers, the chain plans to hold livestreaming events across more of its stores in coming months.
Meanwhile, Alibaba's travel platform, Fliggy, rolled out a virtual travel plan that partners with travel influencers from over 30 countries to showcase destinations around the world through over 100 livestreaming sessions a day. Without stepping out of their homes, Chinese viewers have been able to enjoy experiences such as checking out top restaurants in Amsterdam, touring beaches in the Philippines and viewing oil paintings with local artists in Russia.
Sign up for our newsletter to receive the latest Alibaba updates in your inbox every week.