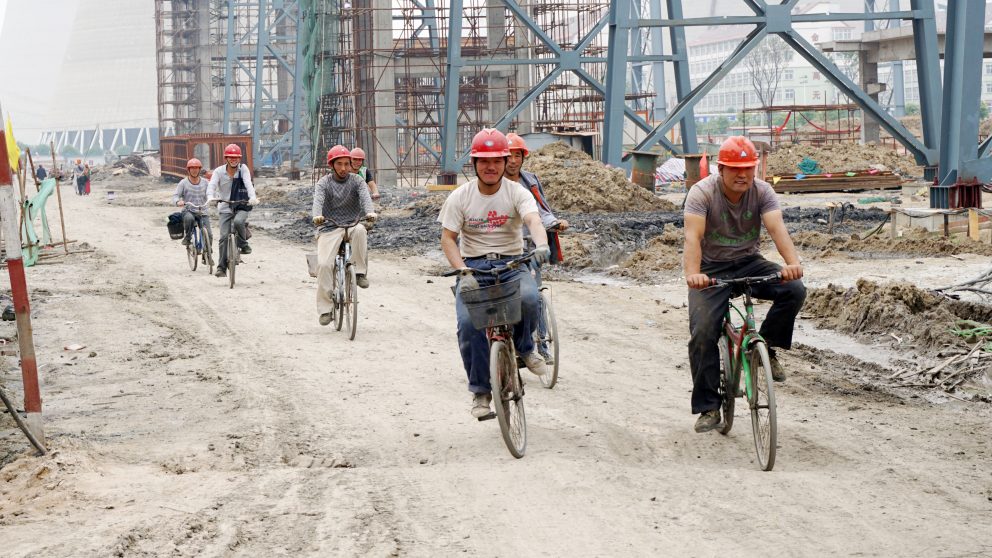 Salted pork and instant noodles. This RMB9 ($1.41) meal is a typical dinner for Dai Hui, a migrant worker who traded his village in China's Henan Province for a job 900 kilometers away in Shanghai.
The 34-year-old family man works on construction sites in Shanghai and turned to e-commerce platforms in June to keep his monthly expenses, including daily necessities like food, below RMB1,000.
When Alizila spoke with Dai, he had just placed an order for groceries on Taobao Deals, an app for bargains owned by Alibaba Group, and just a few days earlier, he had used the app to find a thick sweater to keep him warm on the construction site. It cost him just RMB39.
"I am saving every penny I can now because I want my family to lead a better life in the future," said Dai. "Now the platform is my go-to place for everyday items."
China had 286 million rural migrant workers like Dai as of April and many are turning to e-commerce apps to buy quality goods within their means. Most of these workers number among the more than 600 million internet users in China who have a per capita monthly income between RMB1,000 and RMB8,000 ($157 and $1,254).
To be sure, it's not only migrant workers using the bargain apps. Consumers in China's smaller cities and towns are increasingly turning to e-commerce to save money, as well as Millennials and Generation Z shoppers.
Since launching in 2020, Taobao Deals has amassed more than 240 million active annual users as of September. It was the fastest-growing smartphone app in China in terms of total user growth last year, according to Beijing-based internet business intelligence firm QuestMobile.
Shaking Up the Supply Chain
China's sheer size meant that until recently, commerce relied on a long and complex chain of distributors and wholesalers to deliver goods to consumers.
"The only way forward is to radically streamline and transform this inefficient circulation model," said Alibaba president of industrial e-commerce and community e-commerce, Trudy Dai.
Enter Taobao Deal's manufacturer-to-consumer (M2C) model, which connects factories with shoppers more efficiently and cheaply than traditional supply routes to bring affordable quality goods to market.
"There's direct connectivity going all the way along the value chain, which is exciting for the consumer and at the same time is attractive [to manufacturers], particularly around reducing inventory," Daniel Zipser, senior partner in the Greater China office of consulting firm McKinsey, told Alizila.
Wang Weiping, the founder of Changsha Jianbu Daily Necessities based in the central Chinese province of Hunan, originally sold his goods through an intermediary but struggled to gain traction before joining Taobao Deals in 2020. The platform allowed him to sell directly to consumers and focus on production whilst leaving marketing, customer service, logistics and storage to the platform.
"Compared to other platforms, it is much easier to manage operations on Taobao Deals, something that is very important to factories," he noted.
The entrepreneur cut his overheads by selling directly to consumers and also saved money by using bonded warehouses managed by Taobao Deals and Alibaba's logistics arm Cainiao Network.
Wang's first product on Taobao Deals was a bleaching powder, and he sold more than a thousand boxes in a day. One month in, the company has reported RMB100,000 in gross merchandise value on the platform and during China's largest shopping festival, 11.11, his business recorded RMB600,000 in sales in just eight hours.
Driven by Demand
Zhang Bo, general manager of Jin Ye Paper, a tissue-making factory in northern China's Hebei Province, said the platform helped him spot changing consumer trends and design the right products to meet them.
In one instance, Taobao Deals prompted him to switch to manufacturing tissues from paper towels, while data analytics steered him to produce tissues in packs of ten, rather than eight-pack bundles.
Product development can also occur in reverse. When the operations team at Taobao Deals identifies a trend, they reach out to manufacturers to let them know so they can quickly change gears.
Products co-developed by the platform and manufacturers include a no-frills RMB14.9 electric toothbrush for value hunters, as well as a high-voltage charger designed for rural areas where power plugs are hard to find.
"More and more manufacturers are embracing Taobao Deals," said Dai, the industrial and community e-commerce president.
Annual M2C orders for direct-from-factory products reached 1.1 billion, and for agricultural products, 180 million for the twelve months ended Sept. 30.
A Lifeline Home
Construction worker Dai spends nearly all the year in Shanghai, far from his family. Dai's 5-year-old daughter spotted a princess-themed bag earlier this year, which the father dutifully saved up for and had delivered to his village.
Dai regularly makes small purchases on Taobao Deals for his family. Sometimes his wife will also share links to items she's been eyeing — most recently an RMB90 bottle of perfume — and he is quick to take the hint.
Platform statistics show that a typical Taobao Deals user buys value-for-money items and places small but frequent orders up to four times a day. Fast-moving consumer goods, food, and household items are among the bestsellers on the platform, like the RMB170 rice cooker Dai bought for his wife on Taobao Deals — his most expensive purchase to date.
"We incentivize sharing and interaction among users to increase conversion and repeat purchases," said Alibaba's Dai.
But more than just orders placed and fulfilled, the platform gives Chinese families a way to share everyday experiences, even if they are thousands of kilometers apart.
In his most recent phone call with his wife, the worker heard that his kids had just fallen in love with a creamy mushroom sauce — his fingers were soon flying across the touchscreen to order some for himself and more to send home.