Cainiao Smart Logistics Network wants to speed up the digitization of China's shipping industry and work with industry partners to create RMB 50 billion ($7.25 billion) in value for the industry over the next three years, the Alibaba Group affiliate said on Tuesday.
The plan is to roll out advanced technologies and services, such as a newly developed Internet of Things platform, across the country to enable that digitization, Cainiao said. The platform allows partners and developers to share information and establish standard protocols to help logistics firms deploy IoT solutions at scale. Cainiao aims to connect 100 million smart devices to its IoT technologies in three years, including its connected devices, warehouse and delivery robots and algorithm-backed management systems.
"Only through building the digital infrastructure for logistics can we truly enable and push the industry forward," Daniel Zhang, Alibaba Group CEO and chairman of Cainiao Smart Logistics Network, said at Cainiao's annual industry summit in Hangzhou.
While the platform's e-shipping labels have helped partners digitally manage the flow of parcels, the real opportunity lies in digitizing all components of the logistics value chain, Zhang said.
"Digitizing parcels is not enough," he said. "We are working with partners to digitize warehouses, equipment, transportation vehicles [and] warehouse pickers' handheld devices."
WATCH: Cainiao's Smart Warehouse Powered by Robots, IoT
The improvement of consumer services is also critical part of its RMB 50 billion goal. Cainiao wants to leverage its package-tracking and shipping-services app, "Cainiao Guoguo," to enhance the ordering and delivery experience. The app allows consumers to automatically fill out shipping details and track parcels in real-time on their smartphones. They can also book package pickups for shipping, with couriers, on average, arriving in an hour.
Cainiao Guoguo benefits couriers, too, sending them alerts when consumers near them process shipping requests. The more orders the couriers deliver, the more commission they earn from express-shipping companies. And the easier it is for consumers to send and receive goods, the more likely it is that these companies will see an uptick in business, Cainiao said.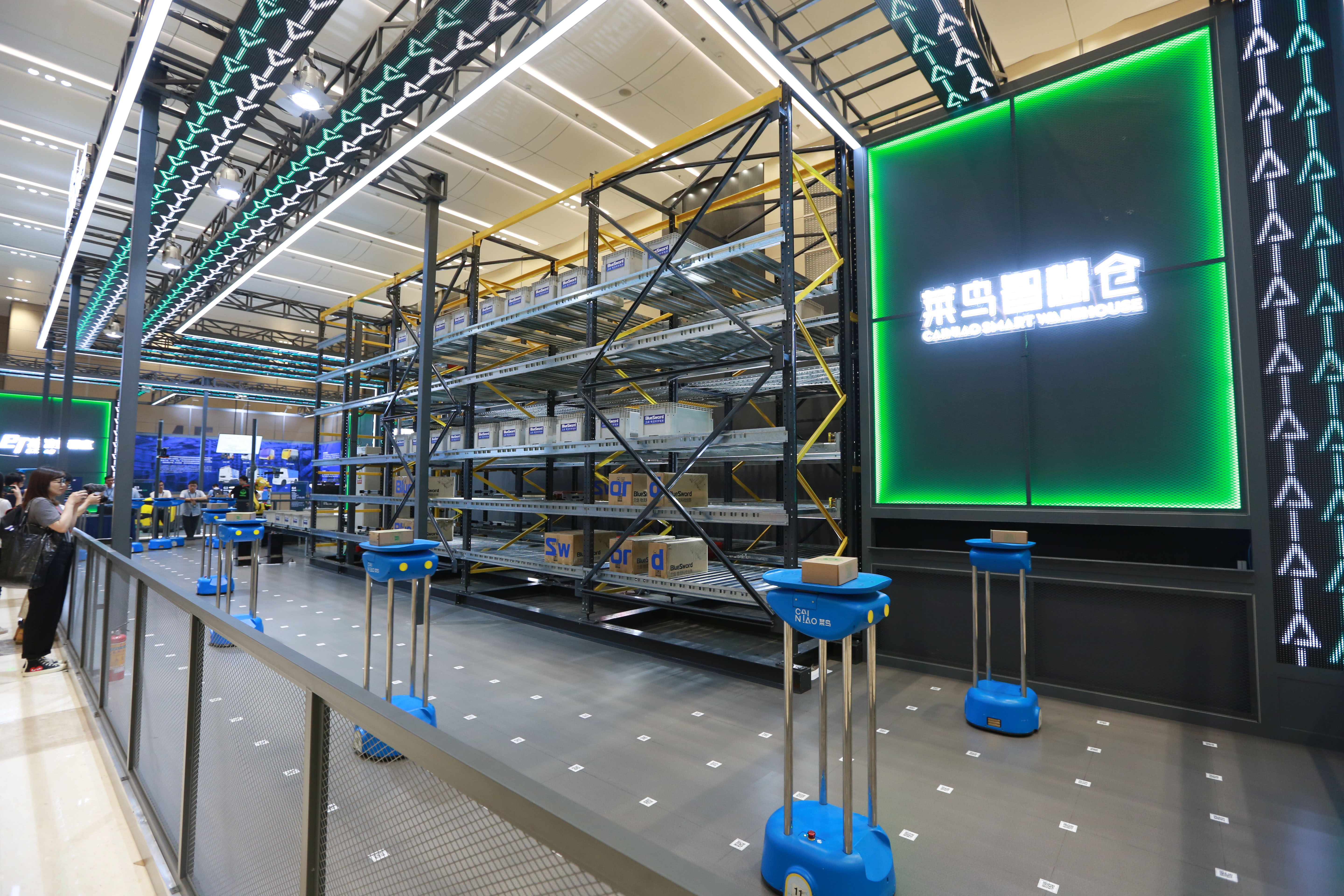 "Innovation drives exponential growth. This can include the innovation of business models, services or technology," said Wan Lin, president of Cainiao.
"By further enhancing our consumer services, last-mile and IoT technologies and capabilities, we hope to help China's logistics sector to deliver on a larger scale while reducing costs and impact on the environment," he added. "This will not only benefit the logistics industry, but also offer an enhanced customer experience."
In three years, Cainiao and its partners expect the Guoguo app to serve Chinese consumers more than 1 billion times a year, Wan said.
Cainiao will also continue to expand its "Cainiao Post" pick-up stations, jointly rolled out with express-delivery partners, to cut down last-mile delivery costs. Embedded within communities – with some located in schools and residential areas, while others are attached to convenience stores and China's ubiquitous fruit shops – the pick-up stations offer free storage and make package pick-up as easy as a click on the Guoguo app. Cainiao Posts currently processes about one in every 10 packages generated on Alibaba's e-commerce sites Taobao and Tmall each day. Cainiao said it would expand the pick-up station to 100,000 locations in three years.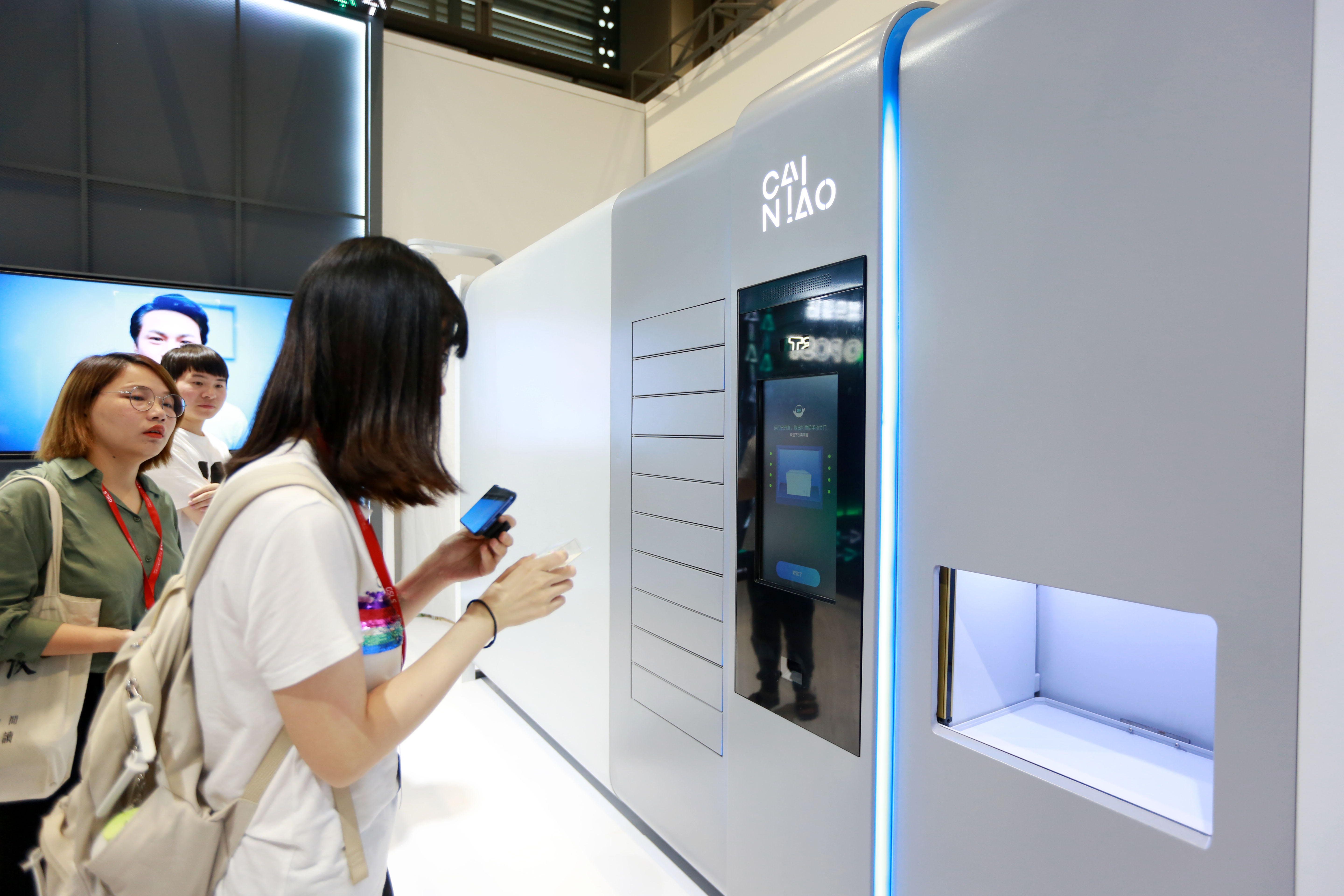 At the summit, Cainiao also showcased prototypes of new technologies it has been testing, including artificial intelligence-powered pick-up lockers that automatically shift their storage space based on the size of parcels. The unit housing the lockers can accommodate up to 60% more parcels in the same space than previous pick-up locker units, the company said. Consumers can activate the service via entering a code or facial recognition, and have parcels brought straight to them, instead of needing to find and walk to the designated locker.
Cainiao also displayed its new unmanned helicopter, which last Friday completed a 32-kilometer test flight between the southern provinces of Hainan and Guangdong in about 25 minutes.
Separately, Cainiao pledged to continue expanding its sustainability efforts, announcing plans to set up another 50,000 recycling stations for unwanted shipping boxes at its delivery points across China by the end of the year. Through partnering with leading express delivery companies, including STO Express, Yunda Express, YTO Express, ZTO Express and Best Express, it expects the program to prompt couriers to reuse over 100 million boxes a year. According to its latest figures, as of November, Cainiao has installed 5,000 recycling stations in 200 cities, with more than 13 million boxes recycled since it launched the program in 2017.