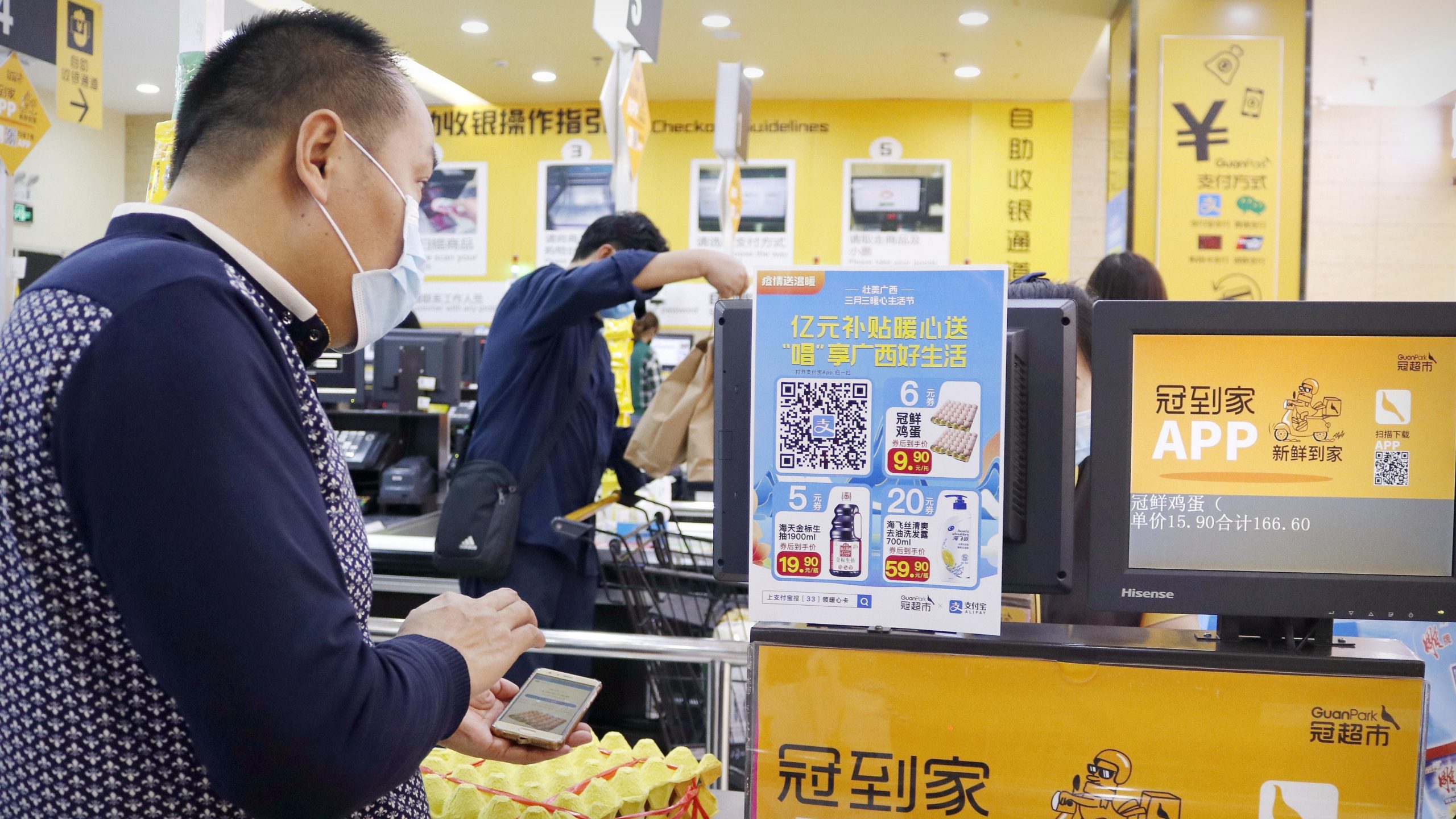 China is taking a novel approach to revive its economy, seeding digital coupons with consumers to encourage spending on everything from groceries to luxury goods.
Since the worst of the Covid-19 outbreak passed in China, the country has issued over RMB5.6 billion ($788 million) in such incentives.
Using coupons of some sort to stimulate economic growth has been a popular strategy employed by policymakers around the world. Unlike cash stipends, which encourage people to save or invest, coupons drive people to spend – something of the utmost importance in a post-crisis world. More than a decade ago, Hangzhou issued paper coupons around the city to blunt the economic downturn from the 2008 financial crisis. While the program showed that coupons could effectively stimulate consumer spending, young people didn't want to wait in line to collect them, meaning they were mostly favored by the middle-aged and elderly.
This time around, many local governments have turned to coupons once again, but in digital form. For example, the Hangzhou government launched an economic-stimulus initiative on Ant Group's mobile payment platform, Alipay, offering users digital coupons on a first-come, first-served basis.
On Alipay, coupons' release times and dates are announced a few days prior, leading families and friends to set alarms and reminders as they try to outpace one another in a real-time lottery system to claim these digital rewards. This all helps to heighten excitement around and demand for coupons, which in turn fuels consumer spending.
The digital-coupon model is especially effective in China, since the country's internet and mobile penetration ranks among the highest in the world. It helps that Chinese consumers are also well-versed in using digital wallets – in 2019, more than 81% of the country's smartphone users used mobile payment apps.
While the coupons are digital, they can only be used offline, and consumers must spend over a minimum amount for them to be valid. The minimum spend, as well as the overall coupon value, is usually quite low to encourage their use at small and medium-sized enterprises – the largest sector of China's economy. To bolster this sector, coupons are time-sensitive, so you either use them, or you lose them. Such stipulations have resulted in what economists refer to as the multiplier effect – the proportional amount of increase in final income that results from an injection of spending. In the Chinese city of Zhengzhou, for example, 75 million coupons have yielded RMB550 million in spending.
As of May 20, more than 100 cities around China have issued digital coupons through Alipay, exemplifying more characteristics of the stimulus plan: It's fast and efficient – and China can scale it in a big way, when it wants or needs to. Rather than waiting for checks to arrive in the mail, as has happened with stimulus programs in other countries, beneficiaries can tap Alipay to receive their coupons, providing they can snatch them up in time.
Thanks to their flexibility and easy-to-implement nature, digital coupons are being used to stimulate recovery by players in different industries across public and private sectors. During the extended Labor Day holiday from May 1-5, many of Alibaba's platforms, including Taobao, Fliggy and Ele.me, issued coupons, covering everything from takeaway food orders to travel and hotel stays. Such coupons are also set to become a key part of Tmall's upcoming 6.18 shopping event.
In economic circles, the debate about whether coupons or cash subsidies yields the best stimulus results still rages. Many experts believe that cash still reigns supreme but in the wake of Covid-19, China has provided a real-time test of the efficacy of digital coupons and how economic policy can greatly benefit from financial technology.
Daniel Rosenberg is an international communications manager at Ant Group's Luohan Academy. At Luohan, he spearheads thought-leadership efforts exploring the impact of digital technology on the economy and society.