This story originally appeared on Forbes.com.
Six years ago, the writing was on the wall for brick-and-mortar retailers in China.Consumers were changing the way they shopped, increasingly turning to their mobile phones,and physical stores lacked the convenience and engagement offered by online marketplaces.
Xiaodong Chen, CEO of Chinese department-store chain Intime, chose to heed the signs.
In 2014, Intime agreed to a $629 million investment from Alibaba Group as the companies sought to merge the best aspects of online and offline commerce. Three years later, Alibaba purchased a majority share of the company and delisted it from the Hong Kong Stock Exchange for another $2.6 billion.
Now, Intime has 62stores in 33 cities in China and leads the charge among brick-and-mortar operators in what's being called New Retail. In partnership with Alibaba, Intime leverages cutting-edge technologies and consumer analytics to bring old modes of shopping into the future. And, Chen says, the company is far from done.
Coresight Researchspoke to the CEO about Intime's New Retail transformation and the many innovations that Intime is delivering to the market. Read ourinterview withChento find out more:
Take us back to2012. What were the challenges for brick-and-mortar retailers in Chinathen?
First,there was an oversupply of shopping malls. And,the supply chain was very inefficient in China. Most importantly,thedemographics were changing—fast.For the first time, consumerswere spending more than fourhours on their phone every day.These three reasons combined put the retail industry under a lot of pressure.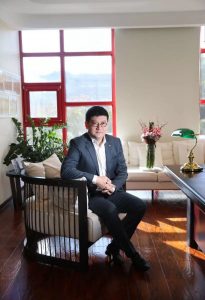 All retailers, especially department stores like us, faced a long-term structural problem, which was how tobetterengage withconsumersdirectly.As consumers spent more timeon e-commerce,shoppinginmallsand department storeswas no longer a must.The old model ofaone-way broadcast toconsumersno longerworkedbecauseconsumers simplyhadtoo many optionsto choose from. Retailers needed to figure out how tocreate two-way interaction and transform how theyengagewith consumers.
What's the main difference between your business before the Alibaba acquisition and now?
Now, everything is digital.Digital technology is the infrastructure of the whole operation. So, e-commerce is the operating system of our stores. E-commerceused to be just a sales channel, butnow it underlies everything we do. It allows us to bring online and offline together into one comprehensive offering for both customers and suppliers. So,nowit's all one. That'sthebasis ofNew Retail.
Andsales are up as a result?
Wecouldn'tdisclose thosenumbers, but I can tell you thatprior to the Alibaba investment, we were already the leader in the domestic retail market. Now, we're even better. Lastyear,foot trafficduring the11.11 Global Shopping Festivalgrew over 50% year-on-year. At one point we had 30,000mobile devicesin our storesat the same time. Everyone was on their phone browsing, paying, or looking for products. And the12.12 shopping festivalwas even better. The International Women's Day event in March was better than 12.12, and6.18 in Junewas even better than that.One of the best results of the Intime-Alibaba partnership has been this increase in foot traffic.
What are some of the elements of New Retail that you've put in place to drive that growth?
Over the past few years,we've usedAlibaba's technology and infrastructure to innovate ina lot ofdifferent areas,from membership to paymentsto logistics. Forexample, we were the first department store chain to use Alipay in China. We werealsothe first department store chain todoe-commerce at scale.
There's also theIntime mobile app,Miaojie. We designed it to solve two problems. One, in most physical stores, you can't get detailed product information while you shop. Andtwo,when you're shopping online from home, you don't get the experience of being in a store and seeing a product up close.That's where we came up with the idea of integrating the best of both worlds.
With the app, though,you can scan the things you might want to buy, get all the information you could possibly need about them, plusget the benefit of touching them, feeling them, seeing how they work while you're there. After customers have left, the app keeps them connected to new products, sales, even what celebrities are buying at Intime.
You see that mix of online and offline at work? It's seamless.Increasingly, there's no difference between the two. They become one channel. Again, that's New Retail.Miaojieis not just a mobile app. It'sbecome the infrastructure forIntimeto engagewith consumersdirectly and digitize its operation.
One of the most interesting New Retail innovations happening in China, I think, is the use of stores as fulfillment centers.Does Intime do that too?
Yes. We have what we call an Order Processing Center. Orders go through the app and the OPC decides which store is closest to the delivery location,rather than shipping from a warehouse. Or, if customers want, they can pick up their order at the closest Intime. That way, when the package is delivered to you, it's clean and not a dirty, beat-up one from the warehouse. We're able to deliver orders within10 km intwo hours with this system. And we were the first department-store chain to offer this same-city, two-hour delivery.
In order for that to work,though,online and offline need to be perfectly synched up.So,we've fully integratedthe inventory of the physical mall and the mall online.What you see on the phone is what you see in the store.
You are also experimenting with different New Retail services and experiences for your customers too. Tell us about those.
Sure.We are experimenting with pop-up stores,smartnurseriesfor moms, smart ladies'roomswhere you canuse a "Magic Mirror"try on make-upvirtuallyand get samples from vending machines,andthere's now aTmallService Centerwhere you can book an appointment using your Tmall app to get your clothes tailored, your handbag cleaned or your watch fixed right in the store while you shop.These are allinnovationsto better serve our customersand enhance the shopping experience.But thesedon't tell the whole New Retail story.New Retail is about understandingcustomerdemandsand using technology tomeet them. It'saboutusing e-commerce,digital commerce, asthe storeoperating system,having thatsupportyourphysical stores andthenusing thatdigital upgradeto betterservecustomers.
What about membership? You talked about the importance of creating the two-way interaction. How do you achieve that?
Intime had its own membership system in the past, but it was very rudimentary and not digitized at all. Members usually signed up through text messages and it was difficult for us to continue to engage with them whether online or offline.In 2017, we started integratingtheIntime membership systemwiththat ofAlibaba. Customers can easily choose to link their existing account with their Alibaba (Taobao or Tmall) membership. This means that Intime is now an integrated partoftheircomplete shopping journey, whichallows themto enjoyfullypersonalized services. Within 12 months, nearly 3millionmembersjoined thedigitized systemthrough the linkage of Intime and Alibaba.
Talk about your paid membership program. You were the first in China to have one?
I'm a bit reluctant to talk about our membership program becausecompetitors are always copying us.[Laughs.]But, yes, we have one,theINTIME365Membership. Andwewere the firstdepartment storein China tooffer one.Members pay 365 yuan ($54)and geta10%discountall year long, with access to exclusive services and merchandise.For example, to celebrate the 20thanniversary of Intime, we took a select group ofINTIME365Members to Antarctica for a free three-week trip.Our approach is,if you're profitable,you need to sharesome of that with your loyal customers.We reinvest RMB 1.5billionevery yearintobenefits for our paid members.That's real money. And we do it because we want better services, faster delivery,betterdiscounts.This best-in-class consumer experience is winning loyalty among our paid customers.And we know that's true becausetheir average spending and number of orders are more than twice of regular members.
You have successfully transformed Intime from a traditional brick-and-mortar mall operator to a technology-driveninnovator. What's your advice for other retailers in this fast-changing digital era?
Our success is deeply rooted in our company culture and our spirit to innovate. Take the introduction ofINTIME365Membership as an example. It was a difficult decision, but once we realized this was a good opportunity, our organization went all in. Changing the physical stores is just one aspect of the transformation. More importantly, you need to changepeople's mindset. One way to do is to empower young employees to share their ideas, since they are the most familiar with young customers.
Another key learning is the importance of data-driven decision-making.Big data in the future will know you better than you know yourself. It can help you predict the best locations for physical stores, inform product selection based onyourlocal customer base, and even tell manufacturers what they should be producing. For example, 30% of the inventory in the women apparel category quickly becomes obsolete due to fast-changing consumer preferences. In the future, data can solve this issue.
This transition to New Retail is obviously still playing out. How far along are you?
Jack Ma says it takes 12 years, and we're two years in. I think too many people will overestimate what we can change inoneortwo years but underestimate the changes possible ina decade. A lot of peoplechasemeevery month, every quarterfor updates,but it'sjustnot realistic.
Here's an example: A supermarket has just 5,000 SKUs. A department store like Intime? 50 million SKUs—per season.And there are four seasons a year. Think about everything we need to do to digitize that. It's a huge challenge, but we're working to figure it out. We think the supply chain is the most important thing to work on.
Some people may doubt you can.
Well, it's true thatnot everyone believes in New Retail.Our goal is to have 400 stores in five years, anda thousandin 10 years. We're only at 60 right now.But it's like Jack says,for most people, theyneed to seethe futurebefore theycanbelievesuch things are possible.But for us, webelievein the future and make it happen.
To learn more about new retail, see our Coresight Research reportsIntime Retail—The Roadmap To New Retail with AlibabaandNew Retail—The Key To Unlocking Pent Up Chinese Consumer Demand.