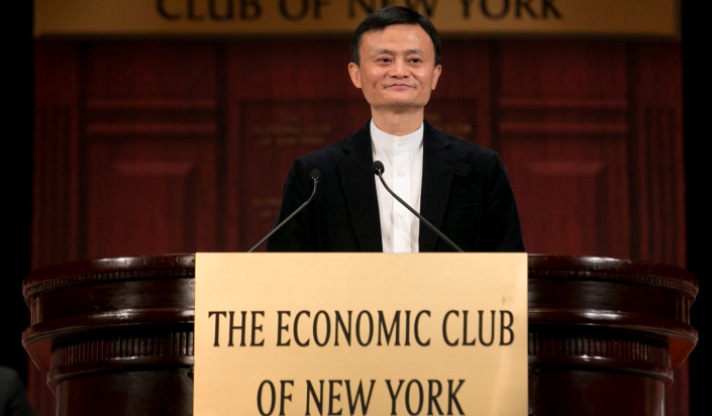 China's dominant e-commerce company Alibaba Group is looking to expand outside of its homeland, but it's not planning to take on Amazon and eBay in the U.S., Executive Chairman Jack Ma told a New York audience on Tuesday.
While Alibaba is frequently compared with Amazon, "We are different," Ma said at an Economic Club of New York lunch. As the operator of giant online marketplaces that host third-party sellers, "the difference between us and Amazon is we don't buy and sell. We help small businesses buy and sell every day. We do not deliver our packages ourselves, though we have two million people who help [deliver] over 30 million packagesper day'Ķ we don't hold inventory, but we do have 350 million buyers."
Ma said he is often asked "When are you coming to invade America? When are you going to compete with Amazon, when are yougoing to compete with eBay? Well, I would say, weshowgreat respect for eBay and Amazon, but I think the opportunity and the strategy for us is helping small business in America go to China, sell their products to China" by opening storefronts on Alibaba's Tmall.com, China's largest online B2C marketplace.
"We're not coming here to compete," he said.
ReadJack Ma's Wall Street Journal op-ed here.
Ma is speaking in the U.S. this week to help dispel misconceptions about Alibaba, which went public on the New York Stock Exchange last year in a $25 billion IPO, and to explain Alibaba's global strategy. While the company currently makes less than 5 percent of its revenue outside of China, Ma said its goal is to eventually have half of its revenue come from overseas operations.
For that to happen, the company is pushing for more "cross-border" online sales—with China's rising middle class leading the way by buying directly from American companies through Alibaba's marketplaces. As China transitions from an export-led economy to one drivenby more domestic consumption,"We need more American products to go to China," Ma said.
Now watch highlights of Ma's speech:
ON HELPING U.S. COMPANIES SELL TO CHINA
MA SAYS E-COMMERCE INFRASTRUCTURE NEEDS TO BE GLOBALIZED
HOW ALIBABA IS DIFFERENT FROM AMAZON
MA SAYS ALIBABA IS COMMITTED TO FIGHTING COUNTERFEIT PRODUCTS