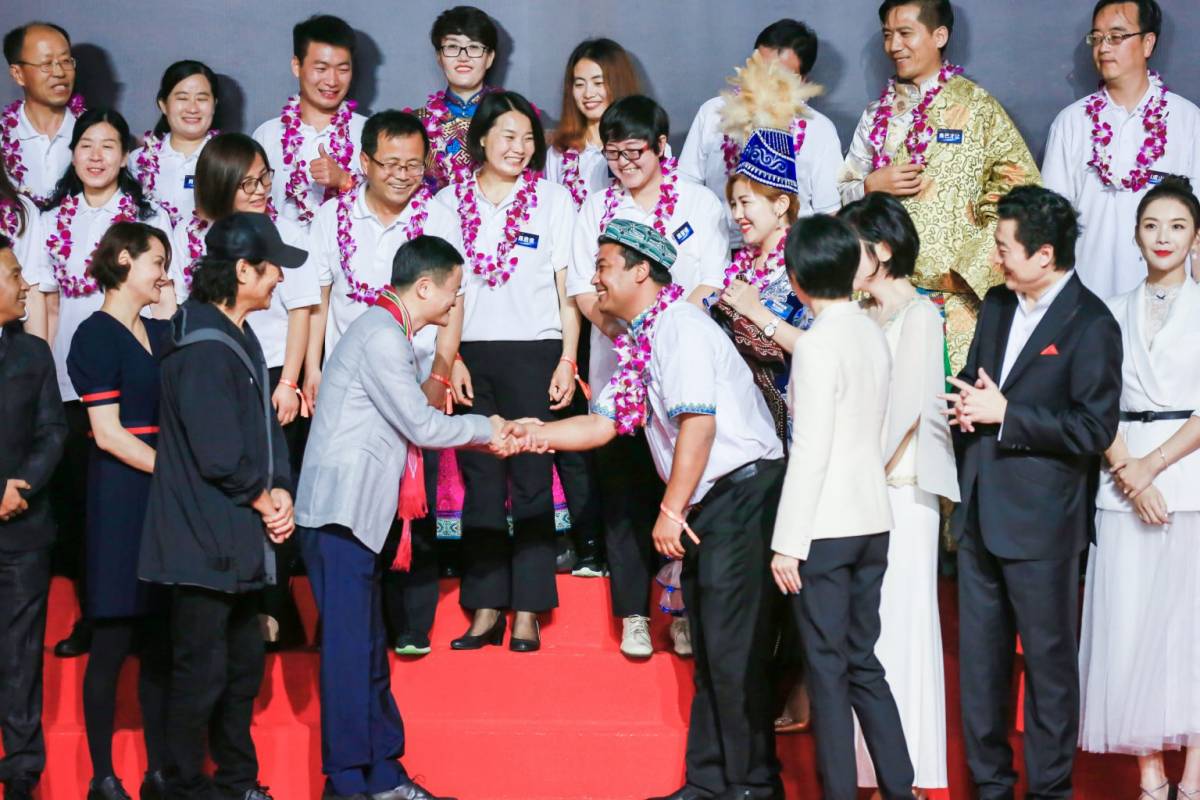 The Jack Ma Foundation on Monday awarded 20 school headmasters and 100 teachers RMB20 million ($2.85 million) in financial support as part of its 10-year commitment to uplift rural educators and close China's education inequality.
Announced at the foundation's Rural Education Summit, held on China's southern island of Hainan, winners of the Rural Teachers Award receive up to RMB100,000 over a three-year period, while winners of the Rural Headmasters Award receive RMB200,000 plus another RMB300,000 in training and trips to study overseas.
Ma said during a speech that a sense of urgency for education reform in China had prompted him to create the awards in 2016.
"[Education reform] is not only a national challenge but a human challenge for every individual and household," said Ma, who was a teacher for six years before founding Alibaba Group in 1999.
Education in China has vastly improved over the past four decades. From 1982 to 2018, the country's literacy rates among those over the age of 15 rose to 96% from 65%, according to statistics from UNESCO. Still, these gains have been uneven as the quality of rural education remains one of the biggest challenges for China.
To address the country's urban-rural education gap, Ma emphasized the need to "train the trainers." There are currently more than 200,000 school headmasters working in countryside villages, and providing them with proper training could be the key to improving education for the estimated 60 million children living in rural areas, he said. The former Alibaba chairman and CEO also drew parallels between running a school and managing a company.
"When I was a teacher, I behaved like an entrepreneur. I believe principals are the CEOs of their schools. They are the entrepreneurs of education," said Ma.
Headmasters in rural areas face unique challenges compared to those working for schools within cities. For Banma Duojie, a headmaster based in the western province of Qinghai, daily duties include improving student retention through home visits, which sometimes involve riding four to five hours on horseback to persuade nomadic families to keep their children in schools.
"The purpose of our school is to help our students find their passions," said Banma, who plans to use this year's award to achieve his goals of redesigning curriculums and boosting student interest in subjects such as Chinese and math.
Aer Wuge, a 25-year-old teacher from Sichuan province, continued her education while many of her peers quit school to work.
"I'm luckier than most girls. I insisted on finishing primary, junior high, high school and even college to fulfill my dream of becoming a teacher," she said.
She passed on better opportunities to teach in city schools but chose instead to stay near home, collecting less than $300 a month while teaching a class of 70 kids. Aer said her dream is to achieve a zero drop-out rate in her class and to dedicate her career to teaching children left behind in villages by parents forced to leave home in search of jobs in bigger cities.
To aid in training these headmasters and teachers, the Jack Ma Foundation has launched initiatives such as the Rural Education Academy, an online learning community aimed at China's countryside communities. Zhang Xiaoqin, who won a Rural Teachers Award in 2017, later joined the Academy to share her teaching methods and ideas, reaching 10,000 rural teachers and principals throughout the country via livestreaming.
According to a Jack Ma Foundation report released Tuesday, 500 teachers, 60 principals and 200 students have benefited from the organization's work over the past five years. In 2019, the foundation organized training programs and overseas travel opportunities for 930 rural educators and also tapped livestreaming to provide 69 independent online courses to support teacher development.