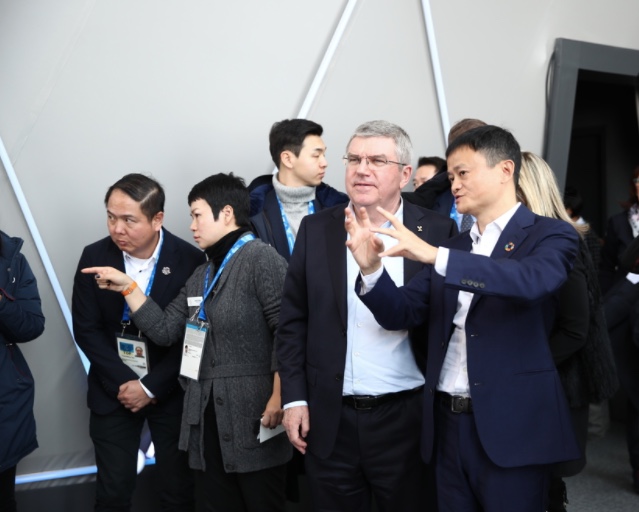 The following interview with Jack Ma was originally published by the Xinhua News Agency.
Q: You've traveled all the way here. What's your overall feeling about the opening ceremony of the Pyeongchang Olympics?
Jack Ma: I was very touched by the opening ceremony yesterday. First of all, I was very moved when I saw North Korea and South Korea entering the stadium as one team. I'm sure there has been a lot of effort behind it to have made this happen. Secondly, there are a lot of African country delegations, who perhaps are financially challenged or have never seen the snow. They came all the way to participate. Thirdly, the Korean Olympic Committee shared their culture and their vision for the Olympics in various ways, including prosperity, ecosystem and high-tech, which demonstrated continuous progress for the Olympic Games.
Q: It was quite difficult for Alibaba to become a global partner with the IOC. Lenovo used to be the only Chinese company as an IOC partner, and it only did one winter Olympics and one summer Games. What's your thinking behind Alibaba's longterm deal with IOC?
Jack Ma: First of all, the competition was indeed quite heated. Because there's rarely a top company to set up such a longterm relationship. Our partnership will last until 2028. Secondly, we are very different from other companies. We don't have products to sell, whereas other companies are selling mobile phones, soft drinks, outfits. But we hope to help the Olympic by leveraging the technology power from China to enable more young people and more small countries to participate.
A lot of people asked me, 'how much did you pay?' To be frank I really don't know the answer. But I do think that this partnership itself is quite significant. There are a lot of rich companies out there, but not a lot can demonstrate their shared vision with the Olympic Games by using technology. Alibaba hopes to showcase the beauty and 'greatness of small' and how we can level the playing field by using technology. I think we can do it today, and this is our purpose and intention.
Q: I heard that you reached an agreement for the partnership soon after your meeting with International Olympic Committee President Thomas Bach. Did Alibaba impress the IOC, or did the IOC convince you to be onboard?
Jack: When I first met with President Bach, I thought it was a meeting for courtesy. It was a Saturday, and President Bach was originally planning to go back to Germany. He changed his schedule for our meeting. We talked for about 20 minutes, and all of a sudden, we felt like we were "falling in love." He liked me, and I liked him. I didn't pay much attention to sports before our meeting and I never had in my mind that the Olympics could be such a big thing. But within the short 20-minute conversation, we became very good friends. And every time we met afterwards, we felt like "soulmates" to each other. This feeling is very special. In fact, he had never talked about money, and I have never talked money either, but we believed we share the same values and vision. And both teams had pleasant experiences in our collaborations. So, who's attracted to whom? I believe President Bach and I share the same vision for the future, and we trust each other. His thinking goes beyond me, and my understanding may be exceeding his expectations, too.
Q: What do you have in common with President Bach?
Jack: Looking into the future, we must have forward-looking vision, a global mindset and a holistic view. I believe we need to provide an integrated and future-driven platform to enable young people to participate. What should the Olympic Games look like in the digital age? I think both of us have very similar opinions. Alibaba believes in young people in the past 19 years. We believe in "small." Of course we don't exclude "big," but we prefer to help small guys and young people.
Q: You just mentioned that small can be beautiful, small can be great. Alibaba has recently released it's television commercials on "To the Greatness of Small" for the Olympics. It's very powerful. Why did Alibaba, a technology company, decide to make the ad campaign focusing on humanity? Is it because it is more aligned with the Olympic Spirit?
Jack: I think this is definitely a key part of our shared value with the Olympics. When Alibaba was first founded, we hoped to use internet technology to help those small guys (companies and individuals), this has never changed. Small can be beautiful, small can be great, I don't think we have just landed on this vision. We have not forgotten our purpose for the past 19 years. I have been asking myself this question, we had such a strong vision back then when we didn't have money; now that we have the money, if we no longer hold up our vision, what's the purpose for the company to exist? The money we have should be used to help people to achieve their goals, and our vision is to help more people to achieve their dreams. We can't stop just because we have achieved our dream. Yesterday, at the opening ceremony, I saw that a lot of African delegations were only one person. We should be helping these guys to achieve their dreams and supporting more young people like them. That's the purpose of technology and money.
Q: We will enter the "Beijing Time" after Pyeongchang. Hosting the winter Olympic Games in China will get a lot of attention. Without this partnership, as a Chinese company, you can contribute to the Beijing Winter Games. Now that you are a global partner with IOC, the platform is much bigger. What do you think Alibaba can do for the Beijing Winter Olympics?
Jack: First of all, Alibaba is not an advertising company. We have nothing to sell. Secondly, the Olympic Games is a very big platform for showcasing the brand. But to us, what matters most are the changes we can bring to the Olympics. For the Beijing Winter Olympics, one must ask the question – what's the difference from the Beijing 2008 Olympic Games? What's the difference from the Tokyo Olympic Games? What's the difference from the Pyeongchang Winter Olympic Games? I think both Pyeongchang and Tokyo will represent the continuous development of East Asia. In the past Olympics, competition has been the focus. Now, it's more about showcasing the culture of every host country, and at the same time, how to share their passion, culture and vision using the latest technology.
For the Beijing Winter Games, we hope we can be more proactive in participating. We are not a sponsor, nor are we an advertiser. I'd like to elevate the Olympic Games to a different level by using our internet, big data and AI technologies. I think this is something the Beijing Olympics should bring to the future host cities, athletes and fans. Whatever product you sell, somebody will do better than you someday; but it'll be different if you are part of the process of changing the history. This is very important.
Q: Let's talk about sports. We all know that you like Tai chi and Kung fu. None of the Olympic sports originate from China. But there are sports from Korea and Japan in the Olympic Games. A lot of people from China are trying to get sporting events, such as Kung fu or dragon boat racing into the Olympics. If you had a vote, what would you choose?
Jack: I've never said that we promote any Chinese sports getting into the Olympics. To Alibaba and myself, we'd be happy to see any Chinese athletes doing well in any sports. I don't have the right to choose. But to myself, to be part of the transformation of Olympic Games and to make the future Games different from today, is much more important than promoting a new sport into the Games. In addition, in the past few years, there's been some progress in promoting Chinese sports in the Olympics. I think we shouldn't be shortsighted to just push one or two sports into the Olympic Games. We should be patient, and there's plenty of time.
Q: E-sports is quite popular among young people, and there's a very big market for e-sports. Even the IOC now has acknowledged e-sports as a sporting event. Hangzhou, your hometown, will host the 2022 Asia Games. The Olympic Council of Asia has announced that the next Games will include e-sports in the official competition. E-sports, video games, are quite controversial. What's your point of view on this?
Jack: First, I think for every sport getting into the Olympic Games for the first time, there will be people who support it and people who object. Second, e-sports is different from video games. I think we should enhance supervision over video games. There must be a high standard if we promote e-sports into an official sporting event. We should ask a lot of questions around e-sports becoming an official event for the Olympics. What value and spirit does it bring to the Olympics? What's the standard and equality it represents? I'm not saying it is good or bad. I'm just curious. I'm definitely against indulging in video games, and I'm furious to see video games have destroyed so many families and the future of kids. I think it'll be great if e-sports can find a healthy way to embody the true spirit and value of sports. I am also paying a lot of attention to this. I'm not an expert, but I do think it should promote the spirit and value of sports.
Q: One last question, there has been a lot of discussion these days online that China has Jack Ma and Pony Ma. And there's another famous "Ma" – Elon Mask (Family name translated as "Ma" in Chinese) in the world. He has successfully shipped his racing car into the space by his own rocket. Who do you think is better, Jack or Elon?
Jack: I think there's difference between competition and fighting. We want to compete, but we don't necessarily have to fight against each other. Internally, I would also encourage everybody to compete, but not to fight against each other. In terms of Elon, I think he is really a great entrepreneur. We focus on different things. If you have to compare apples to bananas, then there's no right answer. As an entrepreneur myself, I really admire his vision, determination and courage. And I congratulate him. But I don't think it's necessary to compare us or to compare with Pony Ma. He has something that we don't have and vice-versa. But we respect each other. I think the world is beautiful because of the differences. Everyone should be different. There are some people who want to explore the sky and some people interested in the ocean. Some prefer the east, some prefer the west. Some people like technology and some enjoy doing business more. I like to use technology to transform the way we live. For many years, my life's passion has never changed. I really hope technology can improve the way we are living.