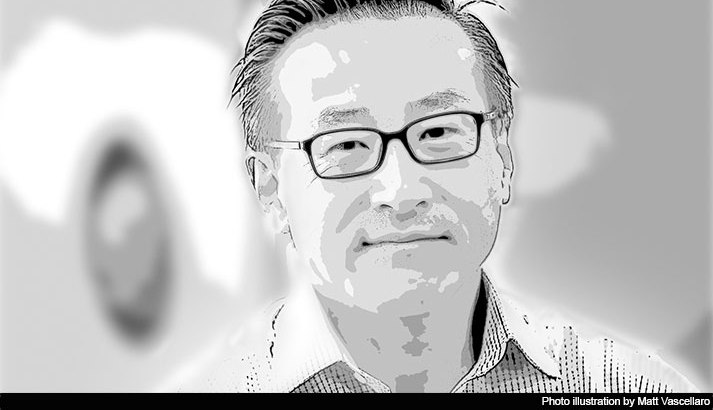 The following interview was originally published by The Information, a news website and community for technology industry professionals. Click here to subscribe.
Alibaba has been on a roller coaster since going public two years ago. U.S. investors haven't quite known what to make of the crown jewel of China tech that is worth a whopping $258 billion. Will Chinese consumers continue to shop even as the economy slows? Why is the company being investigated by the SEC? Why on earth is the company investing in Snapchat and Magic Leap?
Executive Vice Chairman Joe Tsai is the company's explainer-in-chief, an executive as comfortable in Palo Alto as in Hangzhou. After a tumultuous year, the even-keeled businessman always appears pretty calm. That's partly because the company posted a surprise 59% increase in revenue last quarter. It's getting easier to believe that Alibaba can make money outside e-commerce.
"Last year at this time, I told the market that we would grow revenues at a much higher rate than GMV [the measure of total sales in Alibaba's marketplace]," he said in an interview with The Information after a day of meetings with some of the company's biggest investors in New York. "Nobody believed me, but now we did."
He has similarly rosy views of the slowing Chinese economy and going head-to-head with Amazon in India, where Alibaba has opened a large new office. He was quick to tout one key advantage Alibaba has over the most valuable company listed in Asia, Tencent, whose WeChat app has rewritten Chinese consumers' behavior. And he discussed plans to make Alibaba more social.
Edited excerpts below:
You tell people not to think of Alibaba as just an e-commerce company. Why?
The opportunity really comes about because of mobile. The behavior of users on a mobile platform is very, very different from a PC. The biggest difference is that people have fragments of time, when they're waiting for the bus, or sitting in a cab or having dinner with friends. These fragments of time are opportunities for them to just whip out a mobile phone and start to engage. Because of that, engagement goes way up.
Daily active users spend, on the average, 28 minutes per day [with Alibaba's Mobile Taobao]. For reference, that's higher than the amount of minutes spent on Twitter, Instagram, Snapchat and Pinterest [each individually]. It's very, very powerful.
Which new areas—cloud, media and entertainment—do you think will benefit the business the most in the future?
The thing that we're most excited about is the underlying theme that is common among all of our business units, which is data. In every business we have, we're collecting tons of data about people, about users.
To give you an example, we are taking consumer data, not just in the shopping context, but also in social media. We get data points from investing in companies like Weibo. We take data from entertainment, the video site Youku. We take data from logistics, delivery addresses. We are taking all that data set, and developed that into a credit score.
Effectively, this is the FICO score of China. With enough data, with enough robust risk modeling, you can basically run a lending business, a consumer finance business. That's very, very exciting.
In the U.S., what you just described would raise privacy concerns. How is the Chinese consumer different?
When you use Facebook, Google, Amazon, they're collecting data on you. If you use a mobile app, they basically have the identification number of your device. They can track where you are. It's actually very, very personal, very intimate. People just normally don't think about it.
The key thing is what the companies do with that data. Today, I have no doubt that the large-cap internet companies are being very, very responsible, and they're being very ethical.
How is competition with JD.com?
JD is really not a competitor. We're about six or seven times bigger than JD. They have been very inconsistent in telling what the real JD story is. Last year, it's about gaining market share.
Then, when their growth started to decelerate, they changed the story. This year, it's about making profits, except that if you listen to the conference call last time, the CEO of JD said, 'We're going to make huge investments in [fast-moving consumer goods] categories, and also the next big investment area is going to be cloud computing, none of which will be cheap.'
They're going to be losing money. How is that consistent with the promise to investors of increasing gross margin, and making profits? Their biggest problem is themselves.
They kept making inconsistent promises to the market that they cannot deliver. We don't really pay too much attention to them. We're very happy to compete with them.
What about Tencent? It's hard to underestimate how much WeChat has captured some imagination in consumer tech products.
Tencent would be a much more formidable competitor. WeChat is a very powerful product. The thing about Tencent is, if you think about it, their ability to collect data and their data set is not as rich as what we have.
Because it's primarily gaming and communication?
It's primarily communications, gaming, a little bit of social. They've made investments in a number of interesting companies, like Meituan and JD, but they don't have access to that data. They're at a disadvantage when it comes to, for example, financial services. They're not going to be able to offer the same kind of risk products that we can, utilizing our data.
BABA stock has been pretty volatile, at one point almost doubling from its IPO price, then falling way below and now back above. Why?
That round trip is very easy to explain. It's the initial euphoria of people very excited about Alibaba, and China, and all that e-commerce. Then the biggest reason for the turn, for the downside, was people became very bearish on China, which is something that's a little bit out of our control.
The recent runup is attributable to a few things. Number one, we're communicating better to the market. Just in terms of the frequency of communication, and also the quality of what we are communicating to investors, it's much better now.
Number two, we have become even more transparent when it comes to financial reporting and disclosures.
Should we be bearish or bullish about macro China right now?
I would be very optimistic about China. People worry about China's economy, because ultimately, if China's economy is bad, there will not be as many consumers that will buy products from America, from Europe, from all over the world.
From our vantage point, that's not the case. We look at how much net cash is in the household balance sheet in aggregate, it's $US4.6 trillion. In contrast, if you look at American households, the aggregate mortgage debt is $US11 trillion. That's the size of the entire Chinese economy.
We're also seeing that the economy is shifting from manufacturing to services, which plays to our strengths. The service sector is about retail, restaurants, logistics, banking. We have very strong positions in those sectors.
Some people, particularly in the U.S., tend to read the influence of the government in a lot of things Alibaba does. What does the government tell you to do, or not do?
The government doesn't tell us what to do from a strategic standpoint. The government fulfills the role of a regulator. They would say, "Hey, you know, as the regulator, you should clean up your counterfeits, for example."
Obviously, [we] comply with government regulations. That's our relationship with the government. For sure, they don't tell us what to do. They're not involved in our strategy.
I wanted to ask about India, where we're seeing U.S. and Chinese companies compete head-to-head, and where Amazon is spending a lot of money. Can you beat Amazon in India?
It remains to be seen. Amazon is very aggressive in India, burning literally billions of dollars a year on the Indian market. I don't think that's sustainable. I don't think buying GMV is the right thing to do.
I can understand, from a tactical standpoint, Amazon wants to create the perception that they're dominating the market. There are going to be opportunities in the long run in India. I'm not going to get too much into India, other than just to say that today, in India, we actually have two very strategic assets. One is UC Web, which is the mobile browser. That's even bigger than Chrome. The other thing is Paytm. They're both very strategic, and they're going to give us a good, solid advantage in India.
How do you want to expand Alibaba's business in the U.S.?
The opportunity right now is to help U.S. businesses to access the Chinese market. Small businesses or brands. Just yesterday, we opened Target on the Tmall platform.
Why did you shut down 11 Main [a U.S. e-commerce site that Alibaba folded last year]?
It was a test. Ultimately, it didn't get any traction. In business, you win some and you lose some. It wasn't a huge strategic initiative for us. There were some legacy reasons why we went into 11 Main, because we acquired this company. It didn't work. We accepted that, and we walked away from it.
You're invested in Lyft, Snapchat, Magic Leap and other private tech giants. Do you want to do more or fewer of these deals?
We want to be consistent. The principle in the U.S. market is to back entrepreneurs to invest in innovative technology products. We'll continue to do that.
Do you feel like private tech markets are overheated?
There is a withdrawal generally of venture capital. That's what we're seeing right now. There are only a few survivors, the uber-unicorns, no pun intended. That's what we're seeing right now.
Does that make you more cautious?
No, because America is a place of innovation. It's a place of great entrepreneurs. We want to continue to engage.
Lastly, do you think Facebook and Google can have a shot in China?
I hope so. China needs to have a little bit of competition. In the e-commerce world, we've always faced full competition. When we started Taobao, eBay had 90% market share. Amazon acquired a company locally in 2004.
The American companies in the e-commerce space were never restricted from entering the market. That's different in the case of search, and also social networking. We all know about the history of Google. Facebook has not been able to enter the China market. Baidu and Tencent need a little bit of competition, just like we have always been subject to.
Any sense of whether it will happen, or should happen?
It should happen. Whether it will or not, I don't know. It's hard to predict.