Alibaba Group last month attracted media attention when it took a passive, minority stake in U.S.-based Groupon, the online daily deals marketplace. Overlooked in the coverage surrounding the investment was the fact that Alibaba since 2010 has operated a popular Chinese daily deals marketplace called Juhuasuan (literal translation: gather for cheaper deals) thatsaw traffic ofup to30 million unique daily visitors in the second half of 2015. To get some insight into the site's current strategy, Alizila recently caught up with Liu Bo, a veteran Alibaba marketing executive who since 2013 has been Juhuasuan's chief. Here's what he had to say in an edited Q&A translated from Chinese:
How is Juhuasuan different from Alibaba's big online retail marketplaces, Taobao Marketplace and Tmall.com?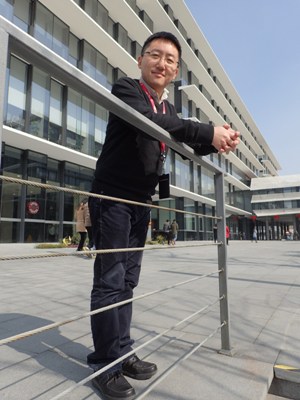 Taobao Marketplace and Tmall.com are like martial arts masters. Juhuasuan is like a sword that empowers those two masters. We're a marketing platform that helps merchants on Taobao and Tmall achieve better results. We drive new shopping trends among consumers, and our unique special promotions give Taobao and Tmall merchants a great way to build brand awareness and launch new products.
For instance, Juhuasuan helped Costco to sell about 20,000 jars of mixed nuts in a single two-day promotional campaign, something that could not be achieved through Costco's Tmall Global store operation alone. By themselves, ordinary day-to-day transactions may not be sufficient to drive the success of merchants on our platforms. Merchants also need explosive growth facilitated by promotional campaigns to remain competitive.
How do flash sales deliver consistent growth?
Joining a Juhuasuan campaign can be a source of massive traffic and new customers, and provides a better conversion rate than online advertising. This can be particularly helpful to merchants who have just opened storefronts on Tmall or Taobao and lack experience and expertise. By joining our campaigns, merchants get exposure to new traffic and new customers in addition to the traffic they receive through their regular businesses. Leveraging both the marketing capacity of Juhuasuan and regular operation on Taobao and Tmall is a parallel approach that helps merchants grow faster.
So how fast has Juhuasuan been growing?
We've grown GMV by more than 100 percent since April 1, 2015. The key drivers have been the addition of new users, and increases in daily transactions per customer, which is up more than 50 percent since April. Customers now shop from more categories every day, and buy more items from each category when they shop. We're also seeing that most of our new users are younger customers, who tend to spend more online.
What's the attraction? What's Juhuasuan's value proposition for consumers?
We offer certainty on low prices and quality service. Every merchant on Taobao and Tmall can apply to sell on Juhuasuan, but we only choose the best products based on their historical sales and service records. Each product is displayed and sold for only two days on Juhuasuan, and participating merchants must guarantee a product's promotion price is the lowest it will be for 30 days in advance of the promotion and 30 days after.
Plus, because we introduce some 450 products and 25 brands on the platform daily, there are always new reasons to come back. About 70% of the products on Juhuasuan are new or hot products; excess inventory only accounts for a small proportion. And we maintain high standards in after-sales service and delivery.
How many customers are browsing as opposed to buying?
Our conversion rate and engagement of customers is very high because people who use Juhuasuan come to the site looking for bargains and have strong buying intent. We have some 30 million unique visitors every day, and they are only exposed to 900 products and 50 brands displayed on the site any given day. This is a completely different business model from that of Taobao and Tmall, which have millions of products on offer from thousands of brands. On Juhuasuan merchants can more easily stand out from the crowd, either by promoting individual products or by joining a campaign for a particular type of product as a brand and listing batches of items.
Give us an example of a Juhuasuan promotion that you thought was particularly innovative.
We're good at providing merchants with a platform to launch new products that have never been seen in China before. Last year we became aware of how Asian carp had invaded the Mississippi River in the U.S., and how the fish were being killed to control their population. The fish were being wasted. American people don't eat carp, but this is a favored fish among Chinese people. So Juhuasuan reached out and lined up fishing company, a logistics company and fresh seafood suppliers in China so we could fly in freshly caught, frozen carp for a special promotion in May. It took just 72 hours to bring the carp from Mississippi River to the tables of Chinese customers. Juhuasuan sold RMB5 million ($767,000)in carp in the two-day promotion.
That's just one unusual example. Over the past two years, Juhuasuan launched about 50 promotions under a special program to promote local specialties from various provinces in China and countries worldwide, including three rounds of campaigns selling fruit, rice and latex pillows from Thailand. The sales went very well and even the Thailand government became a partner.
What do you have planned for 2016?
For one thing, we will continue to make cross-border e-commerce a priority this year. We want to be the biggest and best channel for foreign merchants to enter the Chinese market, launch new products and reach the first batch of new customers. For overseas brands that are new to the China market, we take the brand's influence in the global market into consideration and give them priority for selling on Juhuasuan.com.
We launched a dedicated channel last April to sell selected imported goods including wine, cosmetics, baby formula, health supplements, clothes, and many other items, most of which are already being sold on Tmall and Tmall Global. This year we're encouraging merchants to use Juhuasuan promotions to test the waters for their products among Chinese consumers. Like last September, we held a fashion show in Seoul to promote clothes from about 100 apparel merchants in Korea, whose products were simultaneously sold in a special promotion on Juhuasuan. Following the fashion show, many of these merchants started to explore opening a shop on Tmall.
Juhuasuan will continue to promote products from different countries among Chinese customers, usually by themes, for instance Canadian seafood and fruit, Korean apparel, and Japanese snacks.
What other ambitions do you have?
We are already strong in mobile. More than 70 percent of our GMV comes through orders placed on smartphones. This year we'll continue to refine the mobile experience for consumers, tailoring the shopping experience for each individual customer through mobile pages customized to their particular wants and needs.
We also plan to make it easier for merchants to find new customers and convert them to regular customers. In January a local apparel brand named Peacebird achieved GMV of RMB 40 million ($6.14 million) in a two-day campaign, and 77 percent of the buyers were new customers. This year, we'd like to convert new customers into regular customers through follow-up targeted marketing campaigns, for instance by giving away coupons to new customers to encourage repeat purchases.
I want to stress that we differ from our competitors because on competing platforms, merchants have no idea who they are selling to because the platforms control the sales and shipping data. On Juhuasuan, we consider customers and their associated data to be a shared resource, one we share with our merchants. This information is very helpful for retailers who want to build their brand profiles and develop new products by connecting with customers directly. They can do this because they have access to customer data.
For me the bottom line is, Juhuasuan aims to become the most influential and powerful marketing platform among Alibaba's retail marketplaces.