Six years ago, as Lazada watched Alibaba conclude yet another record-breaking 11.11 Global Shopping Festival in China, its management decided to bring the concept to Southeast Asia.
And with that, the region's leading e-commerce platform started an "Online Revolution," its own annual shopping festival held on Dec. 12.
"We launched 12.12 in 2012, with about three weeks of preparation, after we saw the success of 11.11 that year," said Lazada CEO Max Bittner. "We thought, OK. Let's see if we can replicate something similar."
Scroll ahead to 2017. From its impromptu start and a focus on a single day, Lazada's 12.12 (Alibaba has its own, separate, 12.12 event) has grown each year to become a monthlong event that focuses on customer engagement and deals, as well as opportunities for brands and merchants to get closer to customers in the six countries where Lazada operates: Indonesia, Thailand, Singapore, Malaysia, Vietnam and the Philippines. Now, 12.12 has become the revolution Bittner envisioned from the start, when Lazada was still part of the Rocket Internet stable of companies.
"We are literally driving the online revolution across Southeast Asia, because we believe we are revolutionizing the way both brands and merchants sell," he said. "We really see this month as the opportunity to reward our merchants and reward our customers and really give the whole ecosystem a big bang."
Lazada's 12.12 last year, themed "Brands for All," notched gross merchandise value of $40.5 million on its final day and saw participation by over 1,000 brands and 55,000 sellers. This year, over the event's three-day grand finale, GMV more than doubled to $250 million from a year earlier.
This year's event, which kicked off to coincide with Alibaba's 11.11 Global Shopping Festival, features 3,000 brands across the six countries. Included are some of China's top brands in the Taobao Collection, which has been available to Lazada customers since March.
One big change in 2017: Instead of being on the outside looking in and being influenced from a distance, Alibaba's $2 billion worth of investments and 83% stake in Lazada mean it is now part of the Chinese technology giant's much-bigger ecosystem—and starting to benefit from it.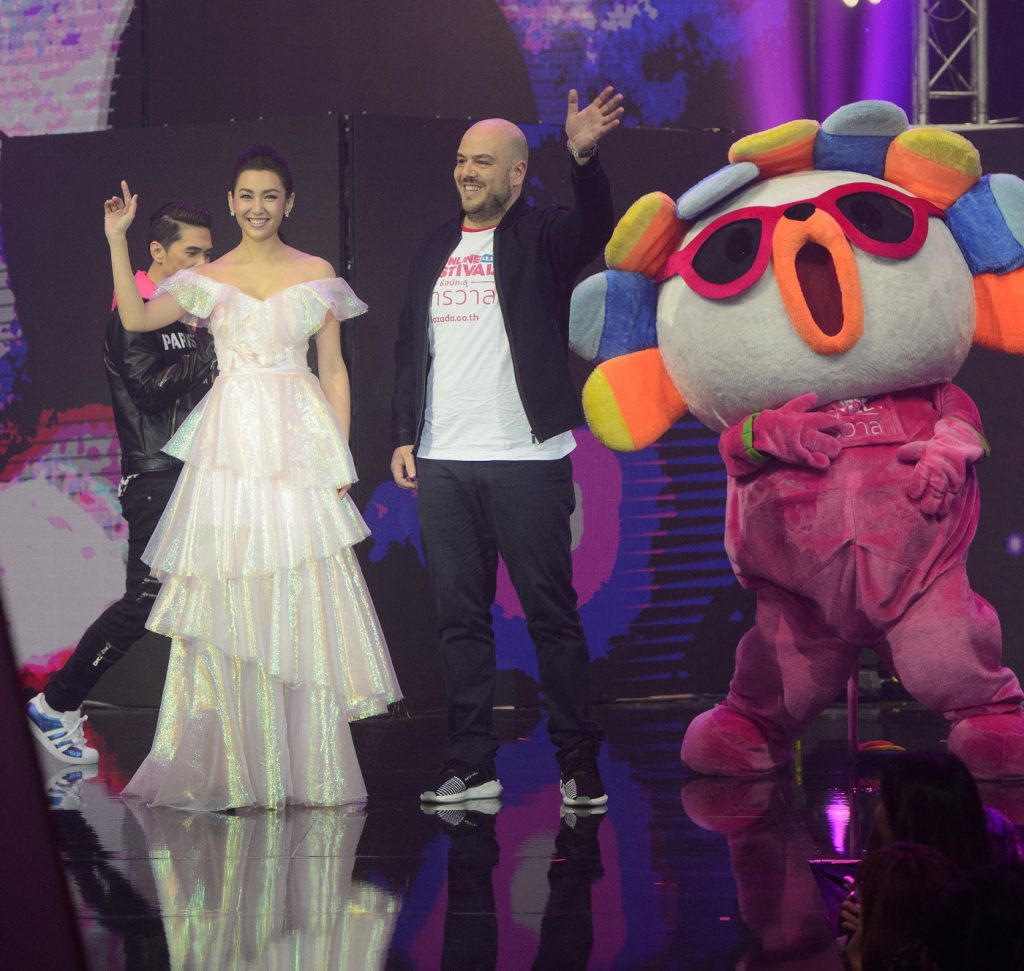 On Nov. 10, Lazada took a page out of Alibaba's playbook and held a live variety-show event both televised and live-streamed in Thailand. The 90-minute show featured interactive games, music from top artists, performances by comedians and a fashion show with some of the country's top models wearing and showing off products available to buy. The event was tied to deals and flash sales for the upcoming shopping festival. As part of educating and informing consumers about 12.12 and available deals, Lazada held hourly livestreams shortly after the gala. Lazada plans another live event in Indonesia as a grand crescendo for 12.12.
Overall, one of Lazada's key goals is to find the best and smartest ways to integrate the parts of Alibaba's ecosystem that best fit it into its own. It's mostly a matter of focusing and prioritizing, Bittner said.
"It's very dangerous for us, in a market which is less-mature, at a company which is much younger and much smaller, to see all of these amazing things at Alibaba and start behaving a bit like a kid on a sugar rush running through a candy store," he added.
Lazada has begun to tap into Alibaba's search technology and data-driven tracking capabilities, however, ultimately to provide a better experience for customers and more intelligence to merchants and brands about their customers' desires. The company has also worked with Alibaba to deploy artificial intelligence-powered chatbots on its platform to better serve consumers.
Being influenced by and part of Alibaba doesn't mean flat-out imitation or exact cookie-cutter solutions will work. For example, the disparate nature of Lazada's six-country market makes logistics challenging and means its approach needs to be innovative.
That has meant forging individual agreements with more than 100 local and crossborder logistics partners, setting up a warehouse model influenced by Alibaba unit, Cainiao, establishing its own last-mile delivery system and otherwise figuring out the logic behind the efficient delivery of goods everywhere in its retail footprint.
"Because we really see logistics cost as one of the challenges across the region," said Bittner, "we see that our active involvement in guiding those logistics challenges is required across the board."
Payment is also a challenge in countries where credit cards are rare, and even bank accounts are not as prevalent as they are in other regions. Lazada uses everything from e-payments to cash-on-delivery and is working with Ant Financial on building out e-wallets for Southeast Asia.
While 12.12 is an exciting and lucrative time for Lazada, the company's CEO said he's even more excited about the broader future of online retail in one of the world's fastest-growing regions. He estimates only about 3% of retail conducted there is done online and sees a massive opportunity there, not least because of the an exploding middle class. He's not alone in recognizing what that means for Southeast Asia.
"Having seen the success of China, the success of e-commerce, the role Alibaba played, every government in the region has woken up to e-commerce being a real enabler," he said.