Welcome to Enercare Centre in Toronto for Alibaba's Gateway Canada conference. On Monday, Sept. 25, some 3,600 small businesses and entrepreneurs will gather to learn about business opportunities in China. Alizila will keep you on top of what's happening with regular updates throughout the event. Check back regularly!
Monday, Sept. 25
4:02 p.m.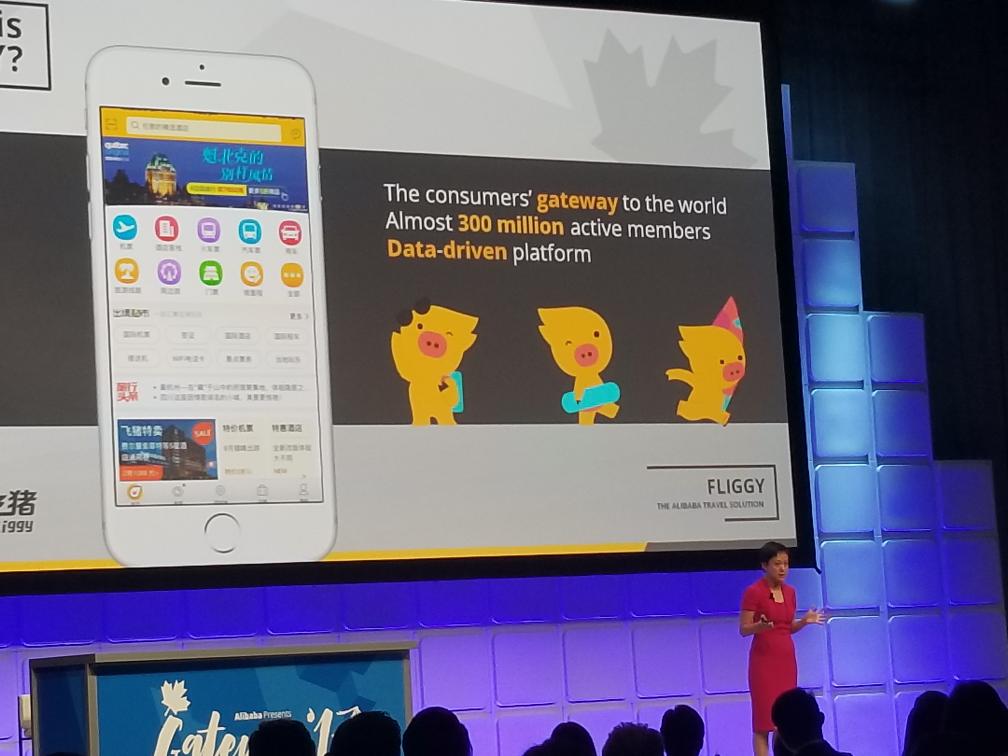 With a base of 1.5 million Chinese émigrés, Canada is no stranger to the desires of Chinese visitors. How to tap those desires was the focus of an afternoon breakout session at Gateway Canada. Aimed at service providers, the session centered on Alibaba travel platform Fliggy and its Alipay solution.
In both cases, the message was that travel agents and merchants who sign on are doing more than linking up with an app or service. Instead, they're gaining access to a gateway to hundreds of millions of Chinese consumers and data about their behavior that maximizes the effects of advertising, marketing campaigns and conversions.
Fliggy, said Head of International Markets Li Wang, has about a one-third share of China's outbound tourism market. She showed, using the Fliggy app on her own phone, how smart targeting creates both unique experiences for individual consumers and also increases the chances that ads and messaging resonate and increase the chances of a purchase.
One ad showed a family with a young child at a ski destination. She noted that she has a young daughter and recently purchased a ski suit for her. Another ad on the page was for a four- or five-star Club Med destination that is in line with the type of accommodations her family typically chooses on vacations.
A recent campaign with travel-industry heavyweight Thomas Cook resulted in 30 million impressions, 60,000 customer visits and $100,000 worth of packages sold in one week. And offering promotions to outbound Chinese tourists headed to Thailand helped L'Oreal become the most-popular brand shopped for by Chinese tourists in Thailand.
Fliggy offers both wholesale and retail services for travel companies, depending on their brand-recognition in China, investment level in entering the new market and their overall goals.
In touting the benefits of Fliggy, Li said its customer base skews young, is around 90% college-educated or better and hail mostly from tier-one and tier-two Chinese cities.
Souheil Badran, president of Alipay in the Americas, told a similar story about the ability of his company's platform to smartly target Chinese shoppers with specific offers and coupons throughout the travel process.
To 520 million Chinese consumers, who use the Alipay app for everything from applying for a marriage certificate, to hailing a cab, to paying for goods and services, it's a platform for anticipating and satisfying needs of customers, based on their previous experience and spending patterns.
2:31 p.m.
In 2012, Chinese travelers became the number one outbound tourists in the world, spending more than other tourists while they're abroad, too.
That's a huge opportunity for a market like Canada, said Sebastien Badault, managing director of France for Alibaba Group. Not least because 1.6 million Chinese already live in Canada, which means the language, culture and an understanding of China make the country an inviting place to visit.
Badault noted that there are currently 600,000 Chinese tourists heading to Canada each year, but that number is growing at 50 percent per annum. To capture that growth, Canadian businesses need to better understand these potential customers. He said there are 10 things they need to know:
Everyone Is Traveling
Business travel used to dominate in China, Badault said, but no longer. Now trips are split evenly with leisure. And it's not a singular demographic, either. The wealthy, the middle class, the young, the old—everyone is heading abroad.
Another point to keep in mind: When asked where they plan to spend more of their money, Chinese consumers said food (46%), fashion (37%) and travel (23%), putting tourism in the top three of all answers given.
Rarely Travel Alone
The day of the Chinese group tour isn't exactly over, but it certainly has changed, Badault said. Now, rather than traveling with strangers on a bus, Chinese consumers are choosing the people they travel with. Most often that's a spouse or partners, parents and/or kids, or friends.
Practicality Is a Factor
When it comes to travel, Chinese tourists want to know: Is it easy to get there? Luckily for Canadian businesses, the number of seats on flights to Canada from China grew 44% in 2016. And with more seats in circulation, the price of a ticket falls accordingly, which is important because Chinese consumers watch their travel costs as well. What are some of the other factors they prioritize? Safety, friendliness of the country's people and natural beauty.
"Canada scores super high on all of these factors," Badault said.
Venturing Further
According to data from Hotels.com, 82% of trips taken by Chinese tourists are to other places in Asia. But that figure is declining, down 14% y-o-y in fact. Meanwhile, trips to North America and Europe are on the rise. Canada was named a top destination, said Badault.
Searching for Experiences
Chinese tourists aren't all about budget travel. Badault pointed to Financial Times statistics that stated the allocation of money among those travelers for hotels, food and entertainment has climbed 50% in the last 3 years. Also, a fun fact: This year, China overtook Australia as second-largest source of travelers to Antarctica.
Personal Digital Travel Agent
Another interesting factoid: Chinese consumers start planning an average of 57 days ahead of an international trip, according to Alibaba data. And 75% of them book their trips via online travel agencies and marketplaces such as Alibaba-owned online travel platform Fliggy.
Preferences of Shopping and Leisure Activities Changing
The total spend of Chinese tourists is increasing, while the profile of those tourists is changing. Luxury items were once a main purchase while abroad, but with prices for those goods shrinking in China, Chinese consumers are now looking for goods they can't already find at home. Think cosmetics from Korea or Japan, or other niche products that are particular to a certain country. That, too, is an opportunity for Canadian businesses, Badault said.
Payments Are a Bigger Barrier Than Language
Sixty-five percent of mobile users in China user their phones as wallets, as mobile payments have caught on there in ways they just haven't in the U.S. and Europe. To emphasize the point, consider this: Chinese spent $5.5 trillion using digital wallets in 2016—50 times more than the U.S.
From the morning coffee to dinner with friends, Chinese consumers have turned to apps like Alipay to handle most of their transactions. "This is the way they engage with payments, and when they come here [to Canada] they want to have the same experience," Badault said.
Chinese Apps Influence Consumption
About 50,000 Chinese use an app from Alibaba every day in Canada alone, according to Badault. From travel bookings and payments to shopping and local discovery, they are living in and through these apps. He called it a "totally seamless" experience channeled through their mobile phone.
12:15 p.m.
China and Canada enjoy a special relationship, one that could pave the way for business success, Alibaba Executive Chairman Jack Ma told Canadian business people and entrepreneurs.
"You have a community of 1.5 million Chinese here. These are the ambassadors of your products," Ma told the capacity Gateway Canada crowd. "We should leverage that."
Alibaba is hosting the one-day event in Toronto to introduce Canadian small and medium-sized businesses and entrepreneurs to the opportunities offered by exporting to China and offering travel, payment and other services to Chinese visitors.
"For Canada, these past 50 years, the USA was the market. Today, China is the market. It has a middle class of 300 million people, bigger than the total American population, and it's just the beginning," Ma said.
Ma delivered his keynote speech shortly after one from Canadian Prime Minister Justin Trudeau. In their separate speeches, and again, in a joint, hosted fireside chat, the two emphasized the need for urgency in stepping up bilateral business ties. The two men seemed at ease with each other in their fireside chat, displaying a familiarity and rapport developed over five meetings in the past two years.
Trudeau said Canada's products are recognized for their good value, high quality and environmental responsibility, but the country needs to leverage that more. It's time for Canada to come into its own, with its companies displaying more confidence on the global business stage.
"As Canadians, we tend to be a little more modest, private. We need to get over that hump," Trudeau said. "The government is so focused on working with Alibaba, with e-commerce giants, to realize opportunities for entrepreneurs to succeed…create an environment in which people can take chances, dream, innovate, try something new."
With 2018 slated as the "Canada-China Year of Tourism," Trudeau noted that "tourism is going to be an amazing driver for services, for wealth and economic growth" in his country. "We love our country, we love to share it."
"It's a very important opportunity to showcase Canada to the growing market that is China, highlighting the deep connections and ties," Trudeau said.
While saying he also encourages Chinese to visit Canada, Ma urged the North American country to ease the visa process for Chinese.
"I want more Chinese people to travel around the world, to learn, appreciate and respect," Ma said. "I hope the Canadian government would give visas more easily. It's not easy for young people in China to get a visa. It's so complicated."
Ma suggested moving more of the process online, pledging to use Alibaba's infrastructure to smooth and speed up the visa process, noting it could have "a huge impact on tourism."
"And if they do something wrong, we will punish them, instead of you," Ma joked to Trudeau.
Overall, Ma advised Canadian small and medium-sized enterprises to be optimistic, not be afraid of change or failure. He said it wouldn't be unusual to struggle for three or so years before they taste business success in a tough market. Companies that stay focused, hire well and retain the passion for what they do are best-placed for success, he said.
Making it in China is a good barometer for global success, Ma said.
"If you can't do business with the Chinese, it's going to be difficult to do business with other nations," Ma said. "We say, 'today is difficult, tomorrow is more difficults, but the day-after-tomorrow is beautiful."
11:29 a.m.
An action-packed morning featured presentations from several of Canada's best-known brands. The CEOs of lululemon, Viva Naturals and Summerhill Pyramid Winery shared their experiences using Alibaba's e-commerce platform to reach Chinese consumers.
Laurent Potdevin, CEO at lululemon, said that rising spending power in China, especially among the 450 million savvy and engaged millennials, as well as a growing focus on lifestyle have helped to drive consumers to the brand's flagship store on Tmall.
"You've got a generation that's really passionate about designing a life they love," he said.
Sales on lululemon's Tmall store are on track to triple year-on-year, Potdevin said. He credited that in large part to Tmall allowing the company to communicate its brand story to consumers, rather than merely serving as virtual shelf space. But the information he is able to collect about his Tmall customers is also helping to fuel growth offline.
Potdevin said the company wanted to open stores in all of China's tier-one cities, and the millions of Tmall users who engage with lululemon online help the company to plan where the brand might be most successful.
"We can track the data in those cities and decide where to go next," he said, because "we have a holistic view of our guests."
Vancouver-based lululemon is also learning new ways of marketing from China. Potdevin said he planned to use live-streaming and key opinion leaders, both hugely popular marketing tools in the world's second-largest economy, to reach consumers in Canada, too.
"There's so much to learn in China that can be brought back to so many parts of the world," he said.
Summerhill CEO Ezra Cipes says his first connection with Chinese consumers came when they began to visit his family's winery in British Columbia's Okanagan Valley. The proliferation of wine lovers in China means the number of tour buses making stops at Summerhill is only growing, therefore the company focuses on building a connection with them while they're on the ground.
"That's how you build a real loyal customer, who wants to share their experience with friends back in China," Cipes said.
There's also another thing Summerhill is doing to grow its brand in China: It now accepts Alipay, the mobile-payments platform owned by Alibaba affiliate company Ant Financial. That allows Summerhill to follow up with consumers once they've returned home, driving them to Tmall Global, where the company is now selling some its most popular vintages.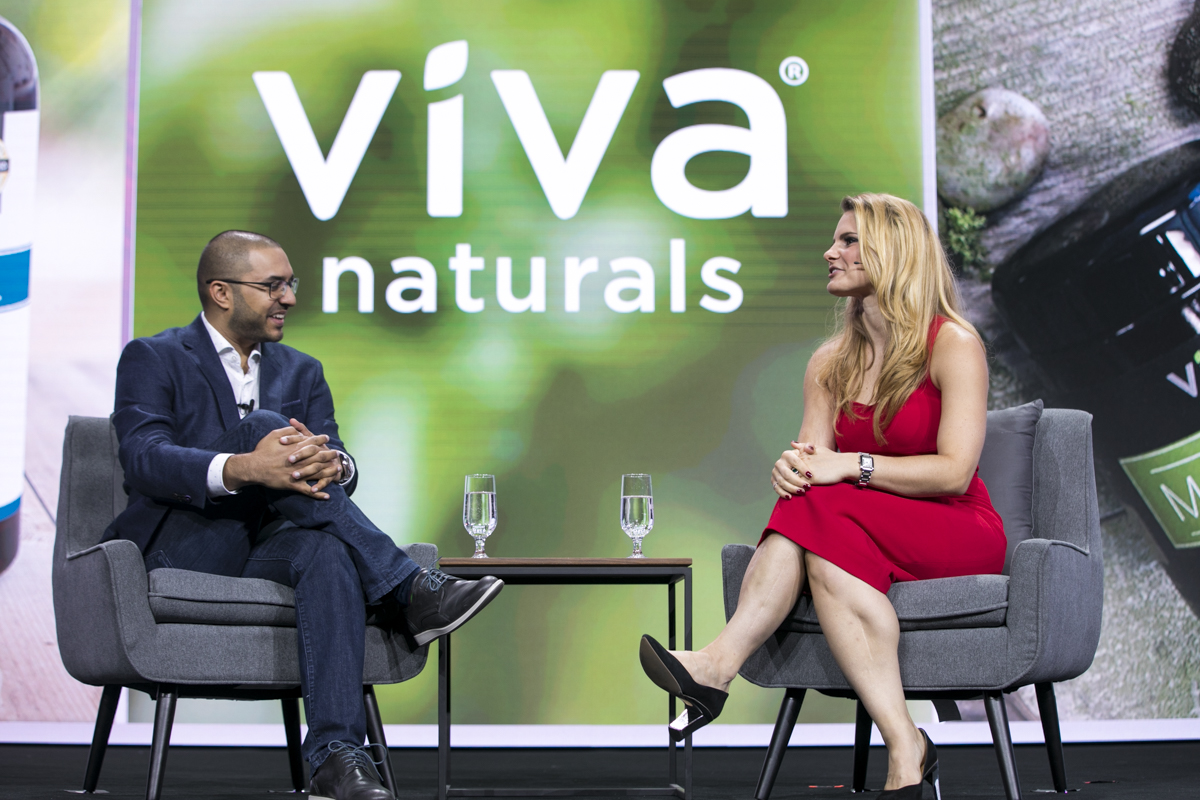 For Viva Naturals, a Toronto-based company seeking to make health foods and supplements affordable to its customers, Alibaba offers an entire ecosystem that allows brands to better target and serve their customers. Alipay allows for easier payments, Cainiao Network handles logistics, Juhuasuan is a flash-sale feature that helps to attract new customers to the brand.
Alibaba "has everything you need to grow and build your brand," CEO and President Husayn Remtulla said, helping Viva Natural to "build a connection with customers."
"Tmall's been the perfect partner to bringing our mission to life in China," he said.
9:23 a.m.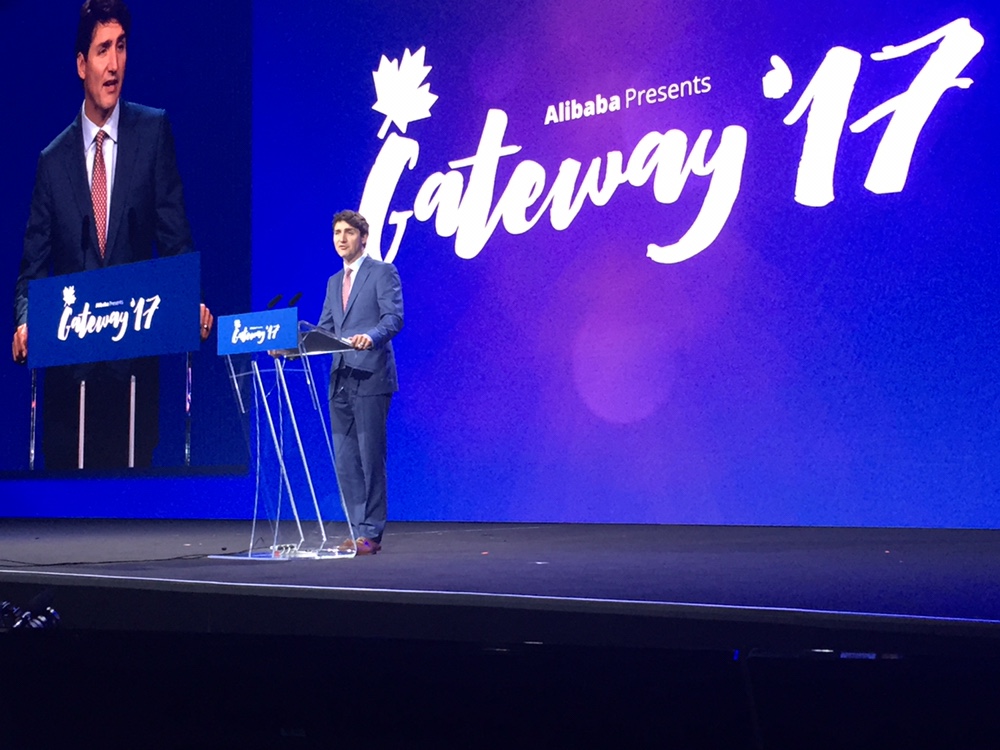 Words of advice from Canada's popular Prime Minister Justin Trudeau to the businesses attending Alibaba's Gateway Canada event in Toronto:
"Make the right connections today," Trudeau said. "Take advantage of it, aim high, be ambitious in your thinking."
The one-day event is aimed at helping Canada's small and medium-sized enterprises and entrepreneurs understand the huge opportunity presented by China's market — and the 500-million-plus customers who shop on Alibaba's e-commerce platforms. It's also focused on giving Canada's services sector a better grasp of visiting Chinese consumers and tourists, to the benefit of their companies and operations.
Trudeau cited the examples of "athleisure" wear company Lululemon and Lugaro, a small, but vertically integrated jewelry chain as demonstrating how Canadian companies venturing into China's consumer and e-commerce markets have already begun to succeed. He said he's more than just a cheerleader.
"It makes sense," Trudeau said, noting that when Canadian businesses are successful, that creates more jobs and "more security for working families."
He said it's important "to think big, beyond our borders. Let's see our businesses succeed, the backbone of our country succeed."
9:08 a.m.
Toronto needs to boost the export strength and capabilities of its local businesses "to finance our way of life," Mayor John Tory told a capacity crowd at Alibaba's Gateway Canada conference.
Tory said there's no shortage of innovation in the city — and cited a local "hot and spicy" food exhibition he attended a few weeks ago, where there was a "hot sauce hall" featuring 300 different kinds of hot sauce.
"The good news is we're good at making hot sauce in Canada," Tory said. "The not-so-good news: We haven't found a way to make sure that hot sauce is enjoyed in countries around the world. Our SMEs haven't gotten onto the need and opportunity represented by exporting."
Gateway Canada, he said, offered a chance for local businesses and entrepreneurs to lift a 5% export rate to a rate closer to what you see in other strong and developed economies.
Later, Ontario Premier Kathleen Wynne urged the assembled business people to spot the China opportunity and pledged to help them realize it.
"I've seen the opportunity that exists here because of the respect for this region and country the people have in China. The question is how to access that market and ensure we do everything we possibly can to make sure that happens for you," she said.
8:30 a.m.
Showtime! Gateway Canada is underway, with a welcome from Alibaba President Michael Evans. Evans said the room was filled with 3,600 people, including Canadian small and medium-sized enterprises and entrepreneurs. He said there's a strong demand among young Chinese consumers for innovative and authentic products, such as what they offer.
At the same time, there's also strong opportunity for Canada's service sector.
"Lots of Chinese are thinking of coming to Canada, to visit our wineries, shop in our stores, explore our natural wonders," Evans told the capacity crowd.
He said Executive Chairman Jack Ma's intent was always to look beyond China with Alibaba's business. In this case, the Gateway Canada conference was tailored to meet the needs of Canadian business.
"Alibaba is your gateway to China," Evans told the capacity crowd.
8:20 a.m.
Earlier this morning, Alibaba Executive Chairman Jack Ma and Canadian Prime Minister Justin Trudeau toured the Marketplace and met with some of Canada's iconic brands on the show floor, even taking time to sample some Canadian maple syrup.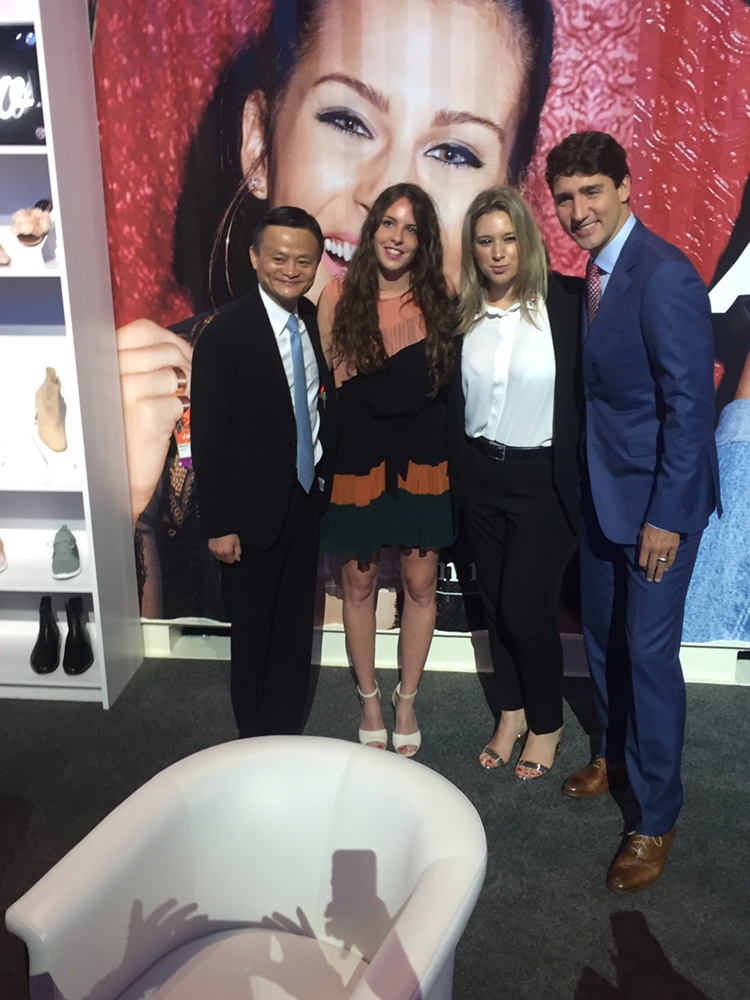 6:49 a.m.
Gateway Canada kicks off at 8:30 a.m., local time, with our keynote presentation. Don't tell that to the folks lining up outside the hall in anticipation of presentations from Canadian Prime Minister Justin Trudeau and Alibaba Executive Chairman Jack Ma.
5:47 a.m.
Tick tock. With Gateway Canada nearly upon us, Alizila's Tom Brennan offers a sneak peek at what to expect from the day.
Sunday, Sept. 24
11:00 a.m.
You're not here yet, but we are, getting everything ready.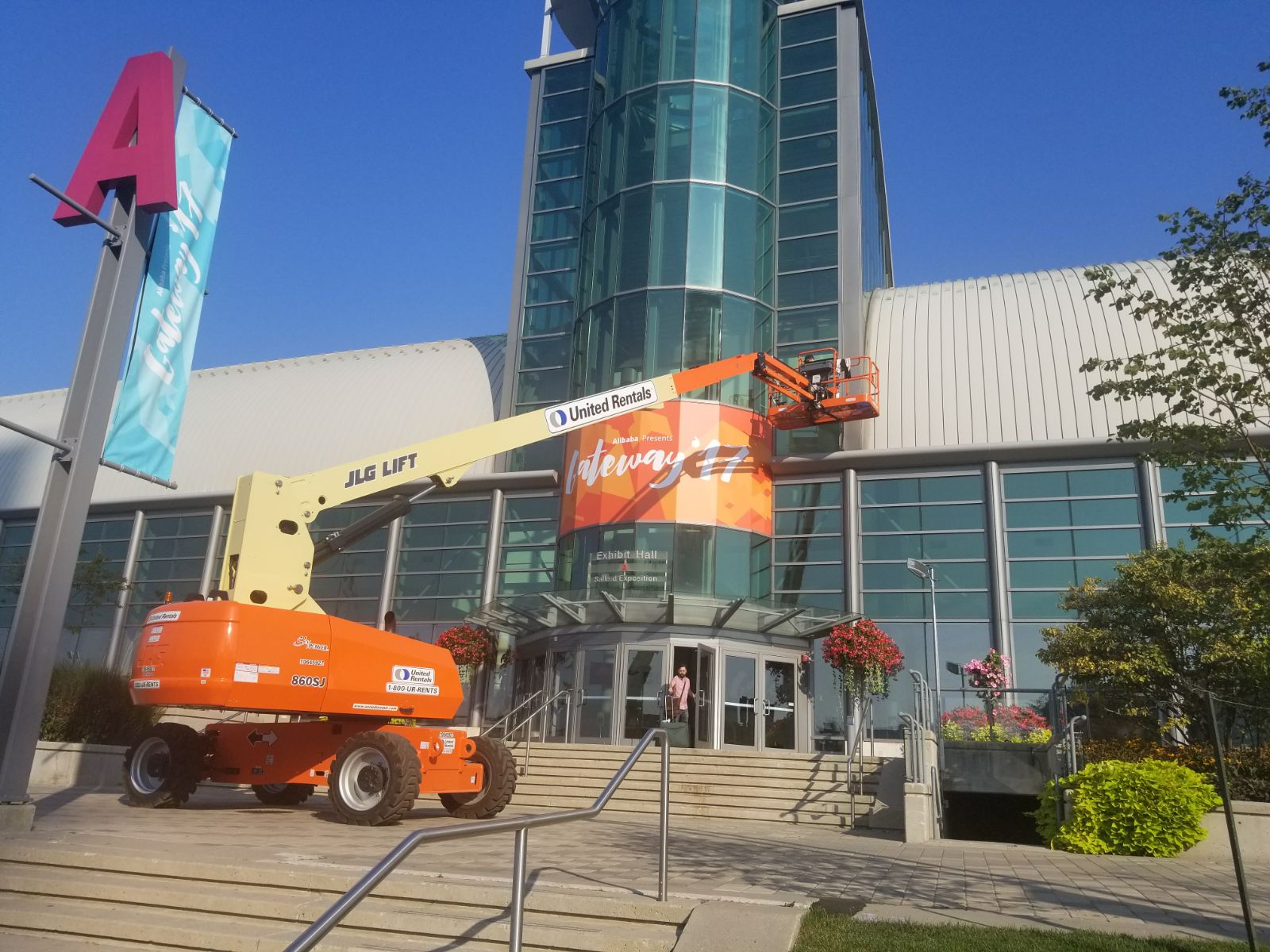 We expect a full house and have a full schedule planned from Monday, starting with breakfast at 7:00 a.m., keynote presentations, breakout sessions in the morning and afternoon and a closing reception.
Gateway Canada will feature keynote speeches from Canadian Prime Minister Justin Trudeau and Alibaba Executive Chairman Jack Ma, as well as a fireside chat with the two.
Breakout sessions will focus on exporting everyday goods and fresh foods to China, as well as a focus on China's outbound tourists and travel and payment solutions.