Welcome back to Hangzhou for the 12th installment of Alibaba's 11.11 Global Shopping Festival! Has it already been a year? As you've come to expect, this live blog will offer information, insight and color from the world's largest online shopping event. Bookmark this page for our take on the annual Countdown Gala and midnight kickoff, along with what brands are up to, insight from key figures, KOLs and experts, other interesting 11.11 fun facts & tidbits and – of course – the final results. You can also follow us on our social-media accounts: Twitter, Facebook, Instagram and LinkedIn. Media will find resources they may need here.
Thursday, Nov. 12, 2020
2:19 a.m.
Final GMV for the 11-day 2020 11.11 Global Shopping Festival was $74.1 billion. And that's a wrap for this year. We'll see you again, when November 2021 rolls around. Thanks for stopping by! Hangzhou, out!!
Wednesday, Nov. 11, 2020
9:29 p.m.
Here's another interesting example of how cutting-edge technology has really taken hold with Chinese consumers. Some 60 million consumers have used Tmall's 3D shopping feature since the start of the 2020 11.11 Global Shopping Festival. The technology allows you to browse an entire IKEA store from your couch. Watch the video below to see how it works.
9:05 p.m.
As we edge closer to the grand finale of Alibaba's 2020 11.11 Global Shopping Festival, we have an updated GMV figure to share. From 00:00:00 on Nov. 1 to 20:05:39 tonight, Nov. 11, total GMV has exceeded RMB467.5 billion.
6:53 p.m.
We want to again remind you to sign up for Understanding 11.11: Alibaba's Mega Shopping Festival, a live online event HAPPENING TODAY and tailored for Western audiences to learn about the opportunities of the Chinese consumer market and how to succeed there. The event kicks off at 10:30 a.m. Eastern Standard Time (7:30 a.m. Pacific Standard Time, 3:30 p.m. GMT, 4:30 p.m. Central European Time and 11:30 p.m. in China).
The agenda features:
Alibaba Group Executive Vice Chairman Joe Tsai and President Michael Evans

Founders and CEOs of major global brands
Small businesses new to 11.11
One of China's hottest livestreamers
LIVE results and behind-the-scenes access
Hope to see you there!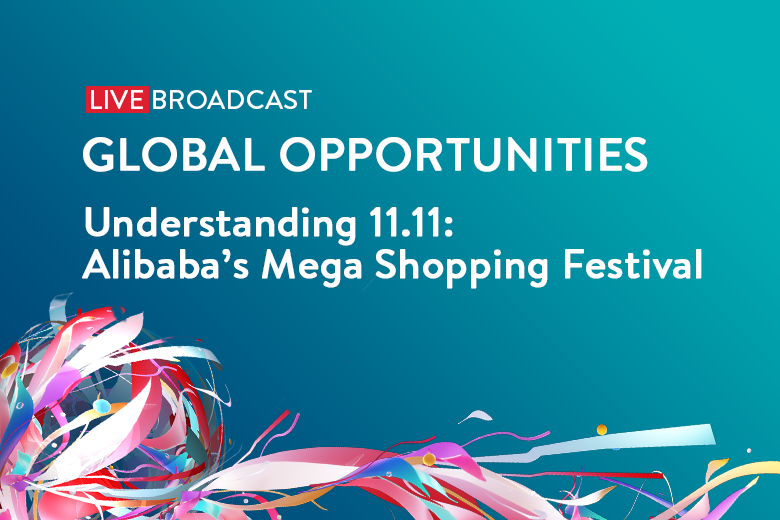 5:22 p.m.
Almost ready for dinner, which means it's time for more technology coolness from Alibaba's DAMO Academy. From the guys and gals who brought you the brains of Cainiao's XiaomanLV autonomous package-delivery robot and virtual anchors for livestreaming, we now have real-time translation capability during livestreaming. Seriously. Live streams on international e-commerce platform AliExpress feature the technology at this year's 11.11. It's based on a self-developed speech algorithm that cancels out ambient and irrelevant noise that can baffle some other AI translation algorithms. It's also a real pro at understanding slang, colloquialisms and industry terms. This next-generation, real-time technology works to translate Chinese livestreaming into English, Russian, Spanish and French. Check it out below.
2:44 p.m.
Behind every great shopping festival is great logistics. Such is the case with Cainiao Network, whose smart platform technology powers so much of the delivery magic behind Alibaba's 11.11 Global Shopping Festival. Every year, much is expected of Cainiao. And every year, Cainiao exceeds expectations. Last year, Cainiao arranged handling of a record 1.88 billion total 11.11-related parcels. Not content to rest on its laurels, this video shows how Cainiao has geared up early and "bigly" for this year's 11.11 – and we can't wait to see the results.
1:45 p.m.
If you follow Alibaba, you'll know that digitization of China's mostly offline factories has been a priority these past several years. With orders from around the globe drying up during the pandemic, this transformation of traditional manufacturing became an imperative earlier this year. And it's working. A shining example of a complete and successful digital remake comes from the Xunxi digital factory in Hangzhou, where cloud computing, Internet of Things and artificial intelligence technologies have helped foster a one-of-a-kind "New Manufacturing" production model. Xunxi is now able to move quickly and more-flexibly than before and can enhance the competitiveness of China's small and medium-sized enterprises who place orders. Xunxi is able to process orders as small as 100 pieces with a super-fast turnaround time of seven days from design to finish. You can read more about "New Manufacturing" here.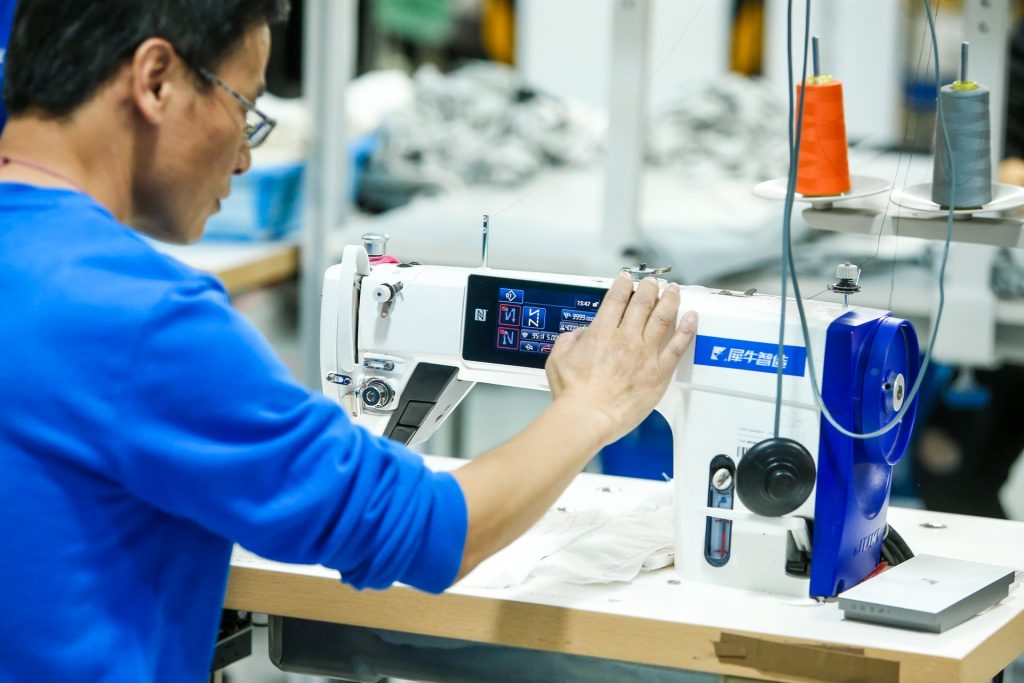 Fresh from Xunxi's production line, these brand-new T-shirts were made during 11.11 pre-sale period and were ready to ready within days of orders. Check out the production date on the tag.
11:00 a.m.
We promised lots of 11.11 technology-related eye candy, so here you go: Merchants are harnessing Alibaba's virtual anchor technology to keep their livestreaming going 24/7 on Taobao Live. The AI-powered avatars, developed by Alibaba's DAMO research and innovation institute, interact with audiences and answer their questions about consumer products using intelligent cognitive and perception technologies. The virtual anchors tap multi-module algorithms, including natural language processing and speech recognition.
10:07 a.m.
Not quite as bright and early as we had anticipated, but we're back. Some interesting brand-related data came in overnight that we want to share. From midnight on Nov. 1, when the first shopping window of this year's 11.11 opened up to 12:35 a.m. today, Nov. 11, 13 brands each surpassed RMB1 billion in gross merchandise volume. And 342 brands, including Apple, L'Oréal, Haier, Estée Lauder, Nike, Huawei, Midea, Lancôme, Xiaomi and Adidas each surpassed RMB100 million in GMV.
We'll have more to come throughout the day. Keep checking back with us.
1:52 a.m.
We're going to close out the night here in China, but rest assured we'll be back bright and early with more news, data and information about Alibaba's ongoing 2020 11.11 Global Shopping Festival and keep it going throughout the day. Good night!
1:26 a.m.
Here's something lighter, in case you wanted to know. Who loves Mahjong the most? The top 5 provinces/cities that bought the most automatic Mahjong tables since the start of the 2020 11.11 Global Shopping Festival are:
1. Guangdong
2. Jiangsu
3. Zhejiang
4. Sichuan
5. Hunan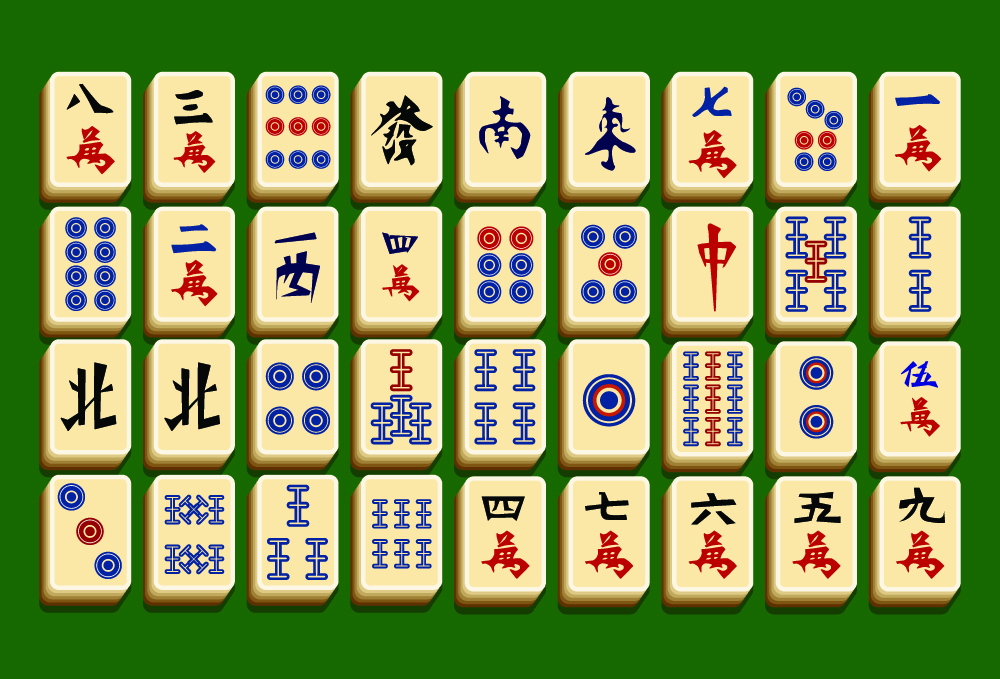 12:44 a.m.
The first key 11.11 data points are starting to roll in. Check this out: From midnight on Nov. 1, when the Global Shopping Festival's first shopping window opened to 12:30 a.m. today, Nov. 11, total GMV has exceeded RMB372.3 billion. Also, the number of orders created at peak was 583,000 orders per second. Stay tuned for more data and other updates.
Tuesday, Nov. 10, 2020
10:55 p.m.
For your viewing pleasure, and courtesy of Alibaba's Youku, here's a clip of Katy Perry's 11.11 Gala performance. Enjoy!
10:30 p.m.
Katy Perry just performed virtually at this year's star-studded 11.11 Gala. The American singer-songwriter sang a medley of three of her hits: "Never Really Over," "Not the End of the World" and "Roar."
This year's Gala is being held at Shanghai's Mercedes-Benz Arena.
9:00 p.m.
This year's 11.11 Media Center is a 10-minute ride away from Alibaba's Xixi campus in Hangzhou.
The 800-plus reporters and analysts attending the festivities are slowly arriving and will shortly be taking their seats in front of the main stage — currently streaming the Gala live from Shanghai.
Later tonight, reporters will hear and see Alibaba share some of its latest 11.11 information and stats, as well as popular products and trends the company has observed so far in the first sales window of the shopping festival. There will be a live show stream available online for reporters unable to travel to China this year. The so-called "energy booth" is now being stocked with chips, cookies and coffee. Across the venue are showcases from different business units, including Tmall Global, Taoxianda and others.
The Media Center features a showcase from Taobao Deals, displaying direct-from-factory wares.
Clothes made at the Xunxi Digital Factory are also being showcased.
And livestreaming booths have been set up across the venue for use by, well, media and livestreamers who will be onsite to bring the event to their fans.
8:35 p.m.
As we count down to midnight's 11.11 launch festivities, no reason why those at our Hangzhou media center can't have some fun while they wait. That's where the "human claw" machine comes in. The rest, well, it's self-explanatory.
8:18 p.m.
While we're on the subject of brands, here's Yann Bozec, president and CEO of Coach China, about how to connect with Chinese consumers, what it's like to collaborate with Alibaba and how it's helping to drive the global fashion brand's digital innovation ahead of 11.11.
7:59 p.m.
Shoppers expect to be surprised and excited by their favorite brands at shopping festivals, says L'Oreal China CEO and President Fabrice Megarbane. He sat down just ahead of this year's 11.11 with Alizila's Christine Chou to share his thoughts on how brands have to keep reinventing themselves to stay deeply engaged with consumers. L'Oreal is a highly popular brand in China and is active in Alibaba's 11.11 Global Shopping Festival. Watch what he had to say below.
5:30 p.m.
Every 11.11, Alibaba's ecosystem rolls out new and innovative technology to improve the experience for merchants, brands and consumers. This year is no exception. In this first of several 11.11 technology-related posts, we give you "XiaomanLV," the newest addition to the delivery fleet of Alibaba's logistics unit, Cainiao. The new delivery robot model, developed by Alibaba's DAMO global research academy, operates autonomously. It's able to wend its way safely and carefully through complex traffic conditions. XiaomanLV has been expediting package delivery at China's Zhejiang University since Nov. 1. The XiaomanLV robots are expected to deliver 30,000 package by the end of this year's 11.11. Watch the fun video below to see them in action.
3:15 p.m.
While we have our live annual Gala in Shanghai and huge 11.11 launch tonight in Hangzhou, we also have a cool – and highly useful – online show coming up tomorrow, Wednesday, Nov. 11. It will truly be worth seeing for those interested in the China market, brands and 11.11. If you want to learn more about the world's largest online shopping festival and what it means for brands big and small, please check this link out for details and to sign up for our virtual event.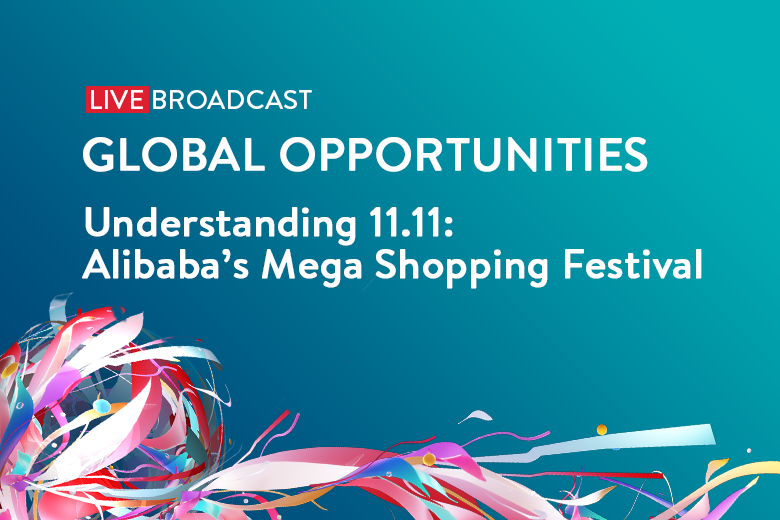 2:30 p.m.
11.11 is a time for brands to shine with consumers in the world's second-largest economy. This year, brands like Mattel, which has had a longstanding collaboration with Tmall and its Tmall Innovation Center, are working to heighten reach and engagement and drive conversions in China. Watch more about what the toy and family entertainment brand is doing to appeal to Chinese consumers during the world's largest online shopping festival.
12:01 p.m.
We're less than 12 hours away from the midnight launch of Alibaba's 2020 11.11 Global Shopping Festival. Alibaba staff from nearly every business unit in our ecosystem is getting fired up for the world's largest online shopping event. We've already seen a strong first shopping window from Nov. 1-3. When the second window opens at midnight, over 250,000 brands will be ready to go. More than 16 million discounted products are on offer, among them, over 3 million making their 11.11 debuts. Alibaba and brands have also ensured more than 1 million popular goods are in warehouses across China, ready to be sped to Chinese consumers as quickly as possible.