New Retail, which uses technology to combine the best of online and offline shopping experiences, shows promise and is already driving higher sales productivity than pure offline retail, said Mary Meeker Thursday.
The Kleiner Perkins Caulfield & Byers partner told an audience at the CODE conference that there's a long-term deceleration of sales growth in U.S. physical retail, at the same time we're seeing a rise in mobile shopping, product and price discovery being driven by social media, gameification and video.
The pickup in online activities is new for the U.S. market, but all have been core to China ecommerce market for some time now. As this recent, joint Boston Consulting Group and Alibaba report highlights, they are a possible roadmap for U.S. retailers and merchants to better understand how to help their businesses and deepen engagement with customers.
Specifically, New Retail is putting the right products in front of the right consumers at the right time, digitizing the retail industry, even transforming it, while also growing Alibaba's total addressable market. The overall consumer experience is vastly improved for consumers, and it also strengthens brick-and-mortar retail, which still accounts for up to 85% of China's retail market.
Meeker took a closer look at Alibaba's Hema (now also known as Freshippo) supermarket chain as an example of how New Retail is taking hold, highlighting its quality and convenience as a digital experience, along with sales productivity running above what its online peers are experiencing.
In her 294-slide Internet Trends Report, Meeker also did a side-by-side comparison of Alibaba and Amazon, seen in the slide below.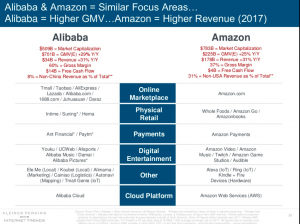 New Retail was but one of the topics covered by one of the investment sector's most-influential voices in her half-hour presentation.
China has stepped up its internet presence in the last five to 10 years, she said in her section on global internet leadership. China is now home to nine of the world's top 20 leading internet companies, and the world's highest penetration and fastest growth of ecommerce.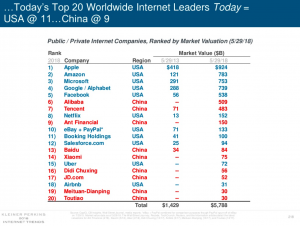 That's partially backed by rapid technological advancement and adoption in China and the accompanying increase in internet usage and consumer confidence.
Not surpisingly, that rise in ecommerce has also fueled rapid growth in mobile online entertainment, especially short-form video, and a rise in online payments and advertising.
On a macro basis, more use of the internet for ecommerce has helped push the domestic consumption contribution to GDP to 62% in 2018 from 35% in 2003.
In artificial intelligence, she touched on the momentum China has, citing former Google Executive Eric Schmidt's prediction that China could potentially catch up to the U.S. in AI in the next five years.