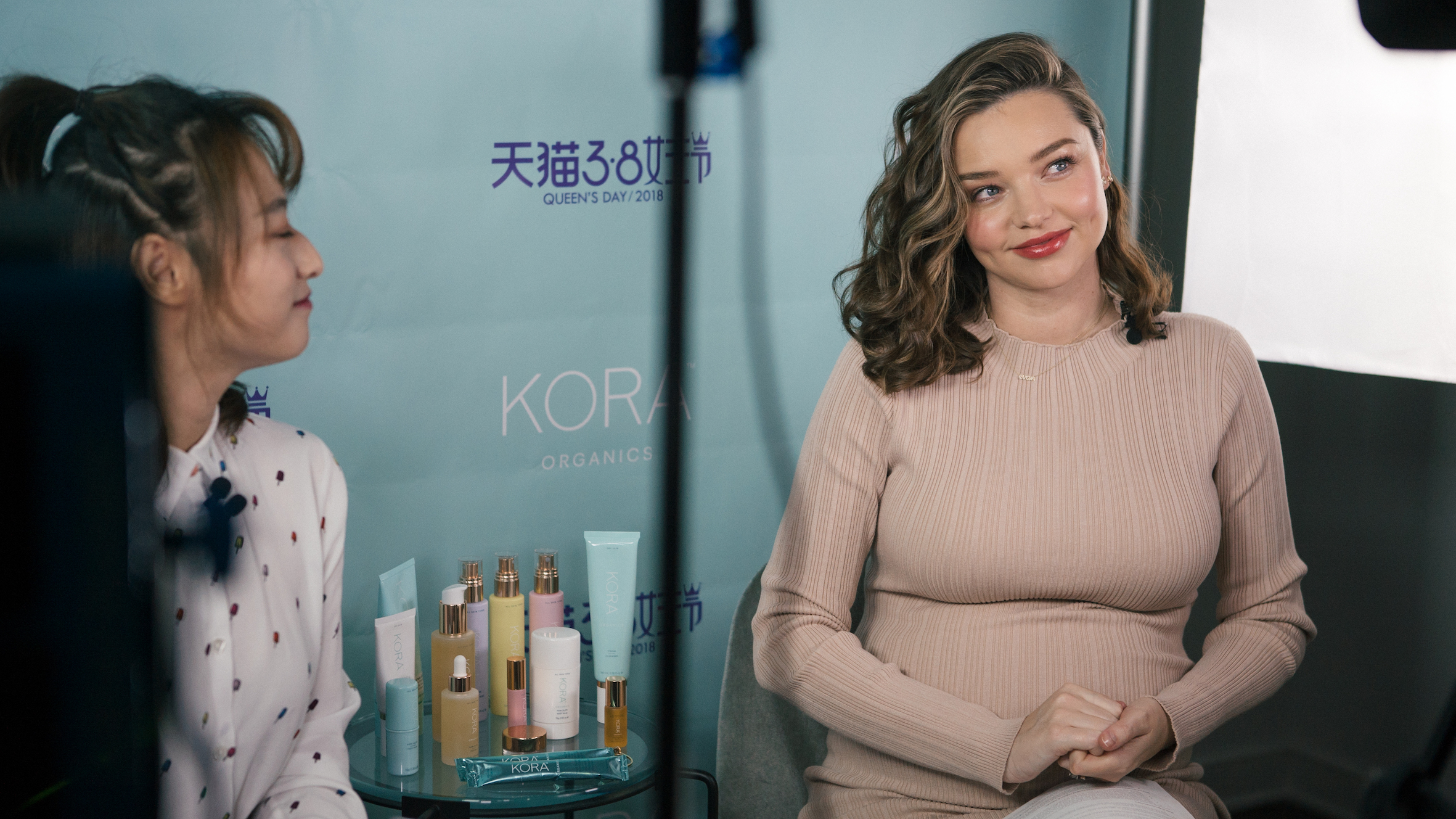 Australian-born supermodel Miranda Kerr is taking her skincare brand KORA Organics into the lucrative Chinese market, choosing to sell exclusively on Tmall Global, Alibaba Group's cross-border e-commerce platform.
The model and entrepreneur launched her flagship store during a 45-minute live-stream, broadcasting to more than 223,000 Chinese consumers from her home in California.
"Chinese consumers are some of the most advanced in the world when it comes to online shopping, especially for skincare and beauty," Kerr said. "Tmall is a well-established and trusted place for customers to purchase premium international brands via cross border e-commerce."
More than 14,500 international brands from 63 countries and regions currently sell on Tmall Global. The majority of which—about 80 percent, including Kora—chose to join the platform as their first foray into China.
"Our approach is to have very selective, high quality distribution channels for our products across the globe," Kerr said.
In less than 10 years since the brand's debut, it has expanded to more than 200 stores across Kerr's native Australia and the U.S., including through major retailers like the French cosmetics mega-chain Sephora. By the end of this year, KORA Organics aims to expand its footprint to more than 2,500 stores across 25 countries, the brand said in a statement.
The choice to live-stream makes sense for a brand just entering China, as it provides a good way to educate Chinese consumers about their story. Moreover, the country is the largest market for these online broadcasts, with live-streaming revenue in 2018 expected to reach $4.4 billion—up 32 percent from last year, according to a December report from Deloitte.
"We felt the Tmall live cross was a unique opportunity to connect directly with consumers in China, so that they can see and hear me personally speak about my holistic approach to nurturing mind, body and skin, and talk in detail about our range of certified organic skincare products, our key ingredients and the amazing results our products are achieving," Kerr said. "It was a huge success."
Kerr noted that the decision to sell through Tmall Global allowed Kora to stay true to its standards of being cruelty-free, bypassing China's animal-testing demands. "We are hoping to expand distribution into stores in China at a later point, when product registration will not require our products to be tested on animals," she said.
Global brands see Tmall Global as a great way to test the waters and probe interest among Chinese consumers, said Maggie Zhou, managing director of Alibaba Group Australia and New Zealand.
"When the time comes for them to open physical storefronts, our platform can offer them valuable consumer insights to help them better position themselves, as well as find the best geographical locations for their offline stores," she said.
The appetite for natural and organic products in China continues to grow, according to Zhou, including for skincare. Australia has become a top destination, both online and off, for Chinese consumers looking for these goods.
Kerr said that China had the potential to become Kora's biggest market over the next five years.
"We have some very innovative new products that I'm sure will be of great interest to customers in China, who are increasingly seeking healthier lifestyles, and cleaner, greener, cruelty-free products," she said.