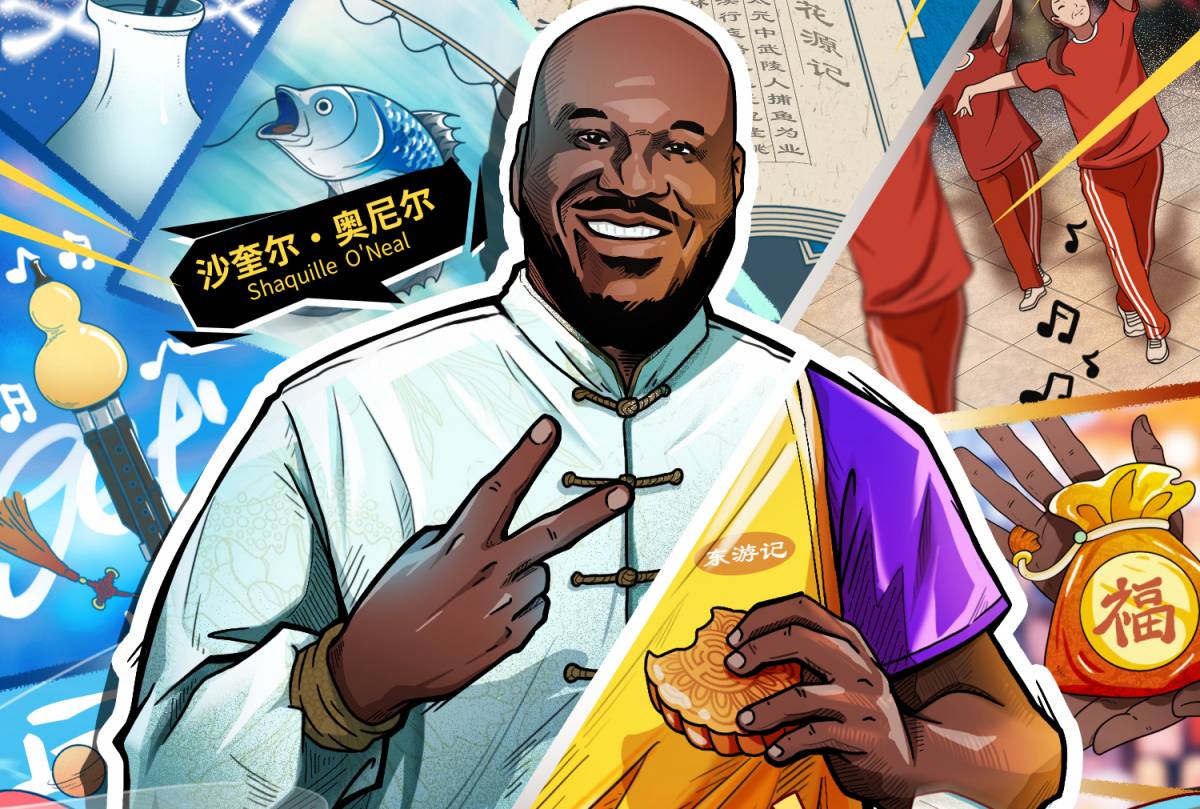 American basketball star Shaquille O'Neal, also known as Shaq, made his debut on Alibaba Group's livestream e-commerce channel Taobao Live on Wednesday.
Taobao Live offers Chinese consumers an interactive retail experience with a constant flow of video content from brands, influencers and other creators.
In his inaugural appearance, the Olympic gold medalist and 15-time NBA All-Star worked up a sweat juggling ping pong balls with table tennis champion Deng Yaping and challenged swimmer Fu Yuanhui to a dance battle.
The livestreaming session garnered over 2 million views (excluding all of those who watched replays of the action), according to the platform.
It's a change of pace after his 19-year career as a professional basketball player, which included stints with the Los Angeles Lakers, the Miami Heat and Orlando Magic, and coincides with growing demand among Chinese consumers for eye-catching content.
Shaq explored Chinese culture in a second livestream the following evening by trying his hand at the ancient board game mahjong and cooking traditional local dishes.
Content is King
The Taobao app is at the heart of Taobao and Tmall's strategy to win users and a key plank in that push is increasing media content this fiscal year.
Livestreaming, as one of the fastest-growing retail sales formats across digital marketplaces is playing a star role in strengthening consumer engagement.
"Beyond shopping, consumers want to find a broader range of more diverse content on Taobao, including shopping-related encyclopedic knowledge, lifestyle recommendations, and even interactive entertainment," said Trudy Dai, the Director and CEO of Taobao and Tmall earlier this year.
Taobao and Tmall is the largest business group by revenue within Alibaba, boosted by rising user engagement and quality content on its marketplaces.
The number of Taobao Live users soared 70% year-on-year between April 1 and May 8, 2023 while the number of people who entered online shops via livestreams nearly doubled.
More brands and influencers are streaming without blatantly selling products, rather placing emphasis on education and entertainment. In one high-profile example, Apple product experts livestreamed tips on making movies or using your Apple Watch during the 6.18 shopping festival.
International athletes like Shaq are big draws as they share their specialized sports knowledge and engage in challenges live on-air.
In June, Argentinian footballer Lionel Messi appeared on a Taobao livestream to the delight of Chinese fans, who flooded the platform with searches for jerseys, shoes and other merchandise.