China's rapidly emerging online-to-offline (O2O) market was a significant contributor to the growth of the country's e-commerce industry in 2015, according to Internet market research firm iResearch.
Online-to-offline GMV grew 38% last year to RMB 335 billion ($51 billion) as Chinese consumers became increasingly enthusiastic about using their smartphones to book and pay for taxi rides, food delivery, movie tickets and other local services, iResearch said in a new paper, "2015 China E-commerce & O2O Summary Report."
Also driving e-commerce were strong gains in online shopping GMV. Despite being a more mature sector than O2O, online shoppingsales grew 37% to RMB 3.8 trillion ($578 billion). The research firm noted that Singles Daypromotions provided a boost to online shopping GMV.
China's Internet giants such as Alibaba Group last year invested heavily in O2O commerce, trying to build market share as China's economic engine shifts from investment and exports to domestic consumption of goods and services. Growth in the country's services sector overall was one of the few bright spots amid the country's slowing GDP growth last year.
Meanwhile, O2O commerce and smartphone-enabled local services became a hotly contested battlefield driven by "an expanding mobile user base, numerous industries integrating offline shopping with online, and the growing popularity of the mobile-shopping sector," said iResearch.
The O2O sector last year was marked by mergers as companies sought to scale quickly: "Four mergers in the market occurred in 2015 including those between Kuaidi and Didi, Meituan and Dianping, 58 and Ganji, and Ctrip and Qunar," iResearch reported. "Many O2O segments are facing a new round of M&A and reorganizing in preparation for 2016." The research firm is predicting China's O2O sector will over the next three years nearly double to RMB 626 billion ($95 billion).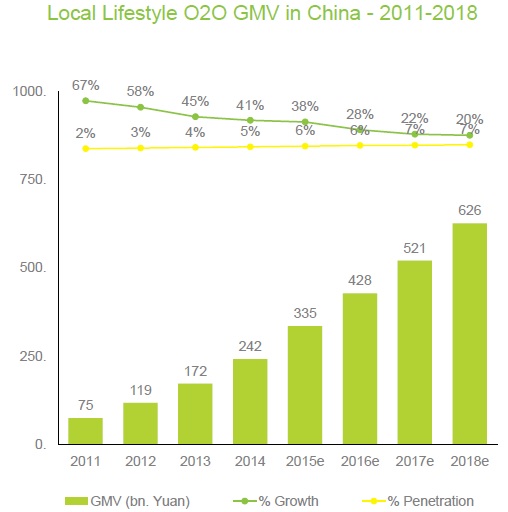 Other noteworthy findings in the iResearch report:
Sales by all of China's B2C shopping websites (such as Alibaba's Tmall.com) in 2015 reached RMB 2 trillion ($304 billion), accounting for 52 percent of the country's total online shopping GMV. This marked the first year in which B2C sales surpassed sales by the country's C2C websites (dominated by Alibaba's Taobao Marketplace). B2C e-commerce grew by 58.3 percent in 2015, far surpassing C2C's growth rate of 12.6%.
China's mobile shopping GMV reached RMB 2.1 trillion ($319 billion), up 123 percent, a growth rate "much faster than the overall online shopping market," said iResearch.
In 2015 more money was spent by online shoppers using their smartphones than by shoppers using personal computers, a first. Shopping by mobile devices accounted for 55 percent of total online shopping GMV last year, according to iResearch.