Alibaba held its inaugural Taobao Maker Festivalin Shanghai last weekend, drawing attention to China's young entrepreneurs and the uniquely Chinese products they're creating. Check out the photos below for a look at these "millennial makers."
1. Blue Sky Labs
Simon Kubski (left), Ann Wang and Ted Xiong of Blue Sky Labs show off some of the accessories available for their personal, wearable air purifier. Garden-variety face masks are commonly worn China to fend off air pollution, but Blue Sky Labs wanted give consumers a more effective solution, along with personalized ways to carry the device, such as in a specialized purse, plush toy or sports armband. After taking some ideas to the street for random testing late last year, they came up with a line of accessories they believe have public appeal.
2. Bamboo Bicycles Beijing
Beijing-based entrepreneur David Wang shows off one of the two-wheelers he creates and sells through Bamboo Bicycles Beijing. Wang, 29, took to Taobao to expand a business he started two years ago, charging customers to come to his workshop where they can build the bikes themselves for RMB 2,000 ($300) and up. All the parts, from the bamboo to the individual components, are purchased through Taobao. Wang chose bamboo because it's easier to work with than steel, which requires welding skills most people don't have, he said.
3. Cool Labs
Gene Zhang, 27, from Cool Labs, flies one of the company's camera-equipped drones at the Taobao Maker Festival. Cool Labssells prepackaged DIY kits for drones and fighting robots so users can build their own. "Everything's in the box to promote the DIY spirit," Zhang said. The companyis working on the next generation of the product, which will be programmable, allowing consumers to designthe drone's operations themselves.
4.Qiang Embroidery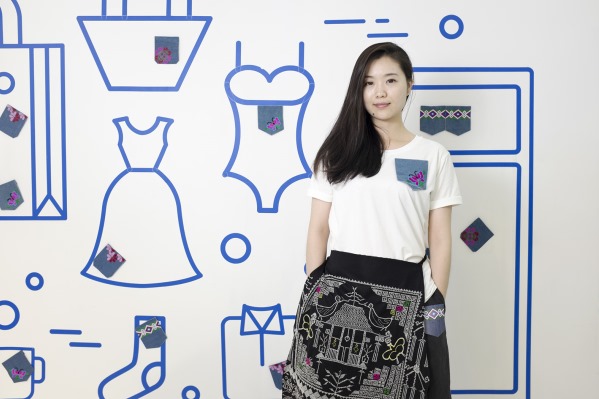 Wu Fangyan shows off her apron made with traditional embroidery fromthe Qiang ethnic minority, who live in the mountainous areas of Sichuan Province.Wu's social enterprise is part of the BottleDream shop on Taobao, which brings together young entrepreneurs who work to solve specific social problems. Sichuan, of course, was hit by a massive earthquake in 2008. So, in addition to keeping alive the traditions of the Qiang through her business, some of the proceeds from Wu's store go to support the women who make the embroidery.
5. Viken Plan
Beijing-based Viken Plan makes socks, which sounds dreary, but this is fashion footwear. "Socks are a category that has been ignored for too long," said company founder Viken Xu. "There is fashion about clothes, bags and accessories, but nobody designs socks." Xu, who does, says 90 percent of his customers are under 30 years old. "They are more tolerant and look for diversity to show their attitudes," he said.
6.Shibazhi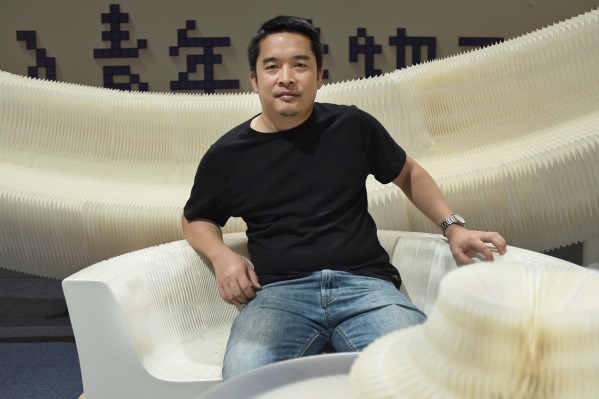 Liu Jianghua, co-founder of Shibazhi (literally translated as "18 paper"), sits on a paper couch flanked by a paper coffee table and lamp. After winning several awards for their paper-based home products designs, Liu and his wife launched Shibazhi in 2013. Thefurniture that can be reconfigured for different uses and spaces and collapsed for easy storage. The companymakes a paper stool that can be folded to the thickness of a book.
7. TheCoin Qian Collection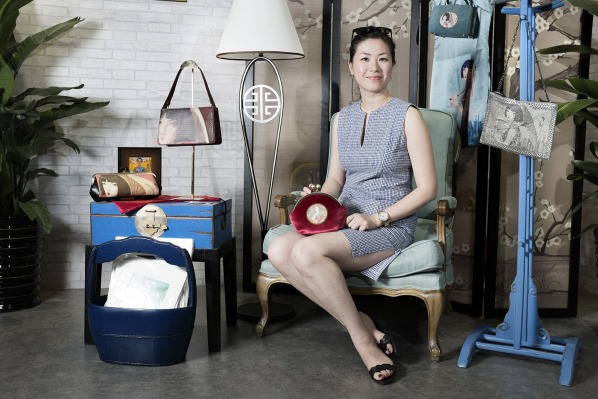 Painter Coin Qian poses with designer accessories adorned with her artwork. Qian started selling her paintings in Shanghai to expatriate art collectors about 10 years ago but, dismayed that her reach was limited to museum and art gallery stores, switched to Taobao. "Previously we were in an art area, and a friend said we're in a nice fish tank. 'If you want to sell more, you need to go into the ocean.'" Now, she says, 60 percent of her sales are to Chinese buyers.
8. ALP Guitars
Attendees play foldable, lightweight guitars made by Hangzhou, China-based ALP. After designing the portable instruments with his father, ALP founder Lin Zunyi and his family last year raised RMB 208,000 (about $31,000) from 70 orders in a Taobao crowdfunding campaign. Initially ALP's product line was "hard to sell to regular stores because no one knew our guitar yet," said employee Rachel Hu. "So it was good to put our story on Taobao."
9. Rebag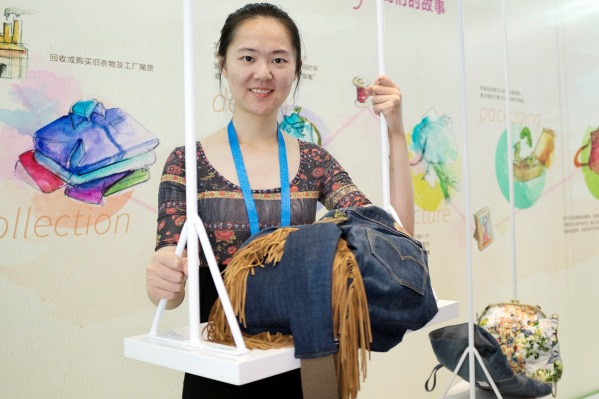 Wang Yi poses with a one-off backpack she designed using denim from a pair of jeans from pop star Momo. Her brand, Rebag, takes old clothes and turns them into new accessories, a process called "upcycling." The Momo backpack will be auctioned off on Taobao.
10. DF Robot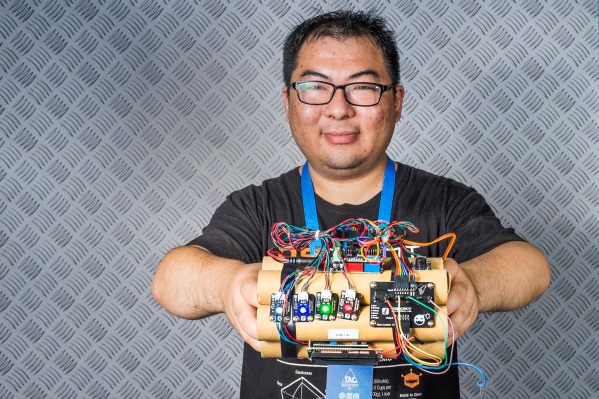 Lee Guo, marketing manager at DFRobot, holds out the Hurt Locker, a bomb-disposal game that challenges players to defuse the device before it "explodes." Guo said the game, developed in partnership with a customer who created a prototype by purchasing parts from DFRobot's Taobao store, garnered some unwanted attention from Chinese authorities. "They asked us to come and talk to them, because on the outside it looks like a bomb," Guo said. "But it's a toy." DFRobot works with robotics enthusiasts to create offbeat products like Hurt Locker that are sold as DIY kits.
11. Mishan
Chinese fashion brand Mishan might be best known for its qipao, a traditional Chinese woman's dress known for its tight fit, high neck and slit skirt. The designs are inspired by the expeditions of Ming Dynasty-era admiral and explorer Zheng He, and company founders Kate Han and husband Feng Guang combine the dress' classic elements with a contemporary style that resonates with a young Chinese clientele. Australian supermodel Miranda Kerr recent posed in the China edition of Italian women's magazine Grazia wearing a Mishan-designed Chinese robe.
12. Qizhen Formula 1
Paul Zheng poses with his team's 2015 model Formula 1 student car. The Zhejiang University students produce one car a year for annual races. This one, was the lightest in its class, can go from 0-100 kmph in 4 seconds. Zheng's job is to perfect the steering wheel for the team's vehicles. The students, which race under the name Qizhen, which loosely translates to "inspiring people to search for truth," got a booth at the Taobao Maker Festival not to sellproducts but to show what they've made as customers. Zheng estimated that 70 percent of their parts are sourced from Taobao.
13. Malianghang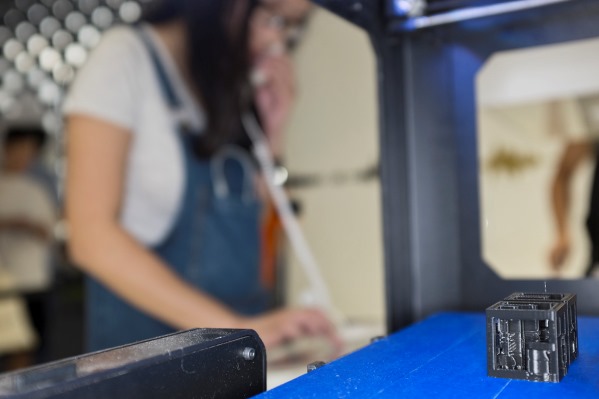 A woman (background) speaks into a phone to record an audio file that will be used to personalize jewelry at the booth for Malianghang 3D-printed jewelry. The brand's founder and CEO Bill Hu believes jewelry is more than a piece of accessory; it can carry stories and emotions. The company takes the audio files to make custom, unique jewelry for each customer, who are also able to add words or other special meanings to be printed into the items. The 3D printer sits in the foreground.