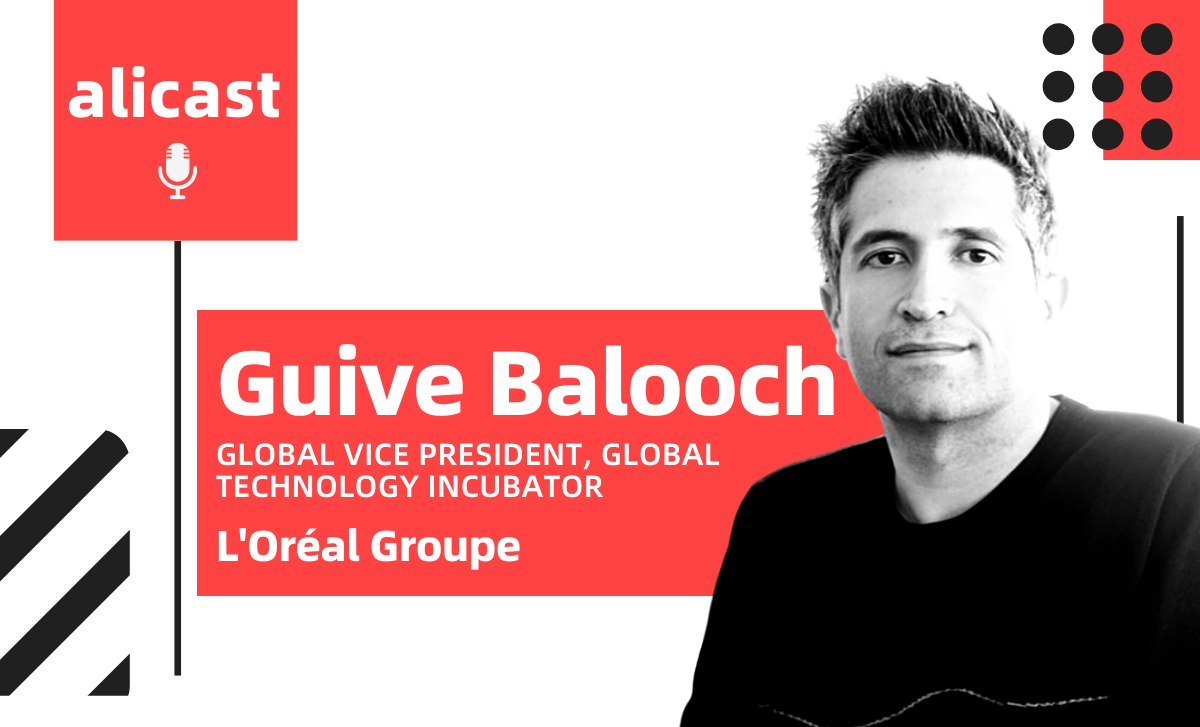 ---
Listen and follow Alicast
---
Podcast Open:
You're listening to Alicast, a deep dive into innovative and emerging trends in e-commerce, online payments and digital entertainment, brought to you by Alibaba Group.
In this conversation, Alizila's Managing Editor Alison Tudor-Ackroyd talks with Guive Balooch, Global Vice President of the technology incubator at the world's largest cosmetics company, L'Oréal.
They discuss how the brand embraces augmented reality and blockchain to enhance consumers' experiences. You will also hear about the latest beauty trends, personalization best practices as well as L'Oréal's sustainable initiatives.
Balooch has worked for the French beauty giant for 15 years and leads a team in Shanghai.
Below is a transcript of this Alicast, edited for clarity and brevity
Alison Tudor-Ackroyd:
I'm going to kick off with a question about China. Why is the China market so important for L'Oréal?
Guive Balooch:
Thank you for having me today. What's really exciting about the China market, to me as a tech person, is the appetite and desire of the Chinese consumer to try technology and their willingness to see if they can take beauty to a new level.
It's a very exciting ecosystem for an entrepreneur like me because the Chinese consumer loves tech and beauty. Globally, of course, China's a very important market for L'Oréal, but in addition to that, it's an incredible place to incubate, to learn and to bring our innovations to market first.
Alison Tudor-Ackroyd:
And you have a team there.
Guive Balooch:
I have a team of about 15 to 20 people based in Shanghai. We also have a number of partners in China and Shenzhen that we work with when we're doing engineering. We have project managers, engineers, and industrial developers, so we have a really great team in China today.
Alison Tudor-Ackroyd:
Turning to the trends that you see in the industry. How does the increasingly seamless customer experience of online and offline play into what L'Oréal is trying to achieve?
Guive Balooch:
I think that the link between online and offline is one of the most important ones when it comes to tech's contribution to beauty. When we look at digital services and physical objects, in the past, a lot of it was developed in a decentralized mode where you had hardware products that were separate from digital products.
Now, you see an increasing need for consumers to have a 360-degree journey where they can go to a retail shop, get information about their skin and hair, go home and monitor and adapt their products. Based on that, they can go to professionals and get an even more in-depth analysis.
So I think our approach to the Online-to-offline (O2O) strategy has been to build services that can speak to each other, no matter where our consumers are trying to experience beauty. Looking ahead, O2O may become O2O to O, that is, we will have a third area where we have the metaverse.
In the end, it's just ways our consumers want to experience retail and enjoy connectivity between everything to make their beauty regimens smarter and more adaptable over time.
Alison Tudor-Ackroyd:
Research shows that Asian consumers are among the most eager adopters of sustainable products, but the barrier to buying has been lacking of information and availability. Can you talk to me about how L'Oréal is meeting this need?
Guive Balooch:
We have a large number of sustainability initiatives within L'Oréal, but the best way for me to maybe explain to you our conviction is to give you an example of a project.
L'Oréal Water Saver is a very important project for my team. Until now, when people go to salons for different services, the water has been turned on from the moment that the light is on to the moment that the light is turned off in the salon. In addition, when you're at home, you want to continue to have joy in the process of taking a shower and to rinse your product out easily.
A lot of times, what hotels and others have done is to reduce the flow of the water. This makes the experience not so positive for people.
Similarly, electric cars had challenges 10 years ago, where the technology was available, but the batteries weren't good and so people couldn't charge effectively. So adoption was lower, and this is what we're seeing with water saving.
We've worked with a Swiss start-up, called Gjosa, who re-thought how to make water savings in a way where consumers don't have to suffer the consequences in terms of experience. They decided to use a technology similar to rocket fuel, and basically how it works is, instead of the droplet being slowed down, the droplets hit each other and collide and become smaller and smaller before they come out of the showerhead.
And now you have tiny micro droplets of water that are 10 times smaller than a regular droplet. The speed at which they come out of the showerhead is the same as a strong flow. So, as I'm taking a shower or rinsing my hair, I feel no difference in the ability to rinse the product and no difference in the force of the water, but you can save 61% of the water consumption.
So this is real true breakthrough. We are putting that in 15,000 salons this year, which will save 1 billion liters of water per year for the salons. Next year, we'll have it at 40,000 salons, which will save 2.8 billion liters. The sky is the limit and we really hope that the entire industry will start to adopt this type of water-saving technology so that we can really save our precious resources.
Alison Tudor-Ackroyd:
Looking into the future, how are augmented reality and blockchain enhancing consumers' experience and being adopted by leading companies such as the L'Oréal?
Guive Balooch:
We're at a very interesting junction right now when it comes to technology innovation. The new buzzwords are things like metaverse and blockchain. What's most important for our teams is understanding what consumers need, understanding where they want to experience beauty and making sure we can add value.
So this is a lot more challenging than just following the trend, but that being said, it's obvious there's more and more desire to experience services in the metaverse and in augmented reality. We were one of the first in 2014, to launch Makeup Genius, the first real-time, augmented-reality makeup app that led to our acquisition of ModiFace. Now, we see AR being used pretty much by every makeup brand to help people virtually try on products.
We'll see the same innovations when people experience services in the metaverse. Then we will have to watch and learn about how society shifts and discover ahat are the true added benefits of the next two to five years around these kinds of innovations and to be there with services that we think can truly help consumers have better choices for their products and better beauty experiences. So it's a very exciting time for sure.
Alison Tudor-Ackroyd:
It's not technology for technology's sake.
Guive Balooch:
Exactly. You got it.
Alison Tudor-Ackroyd:
How are you personalizing services for the consumer?
Guive Balooch:
Personalization has been around for 30 to 40 years, but it's interesting because it started with customization — people writing their names on shoes for example. Now I see a shift towards a new era of personalization, which for me is more (about) precision beauty. Precision beauty means I personalize a product with data, so it's truly about me.
I'll give you some practical examples. First, when it comes to foundation, 50% of women can't get the right shade. So we're building some digital services and diagnostics, as well as actual machines that can personalize products. We unveiled at the China International Import Expo last year Le Teint Particulier, which is a shade matching technology. Out of 22,000 options it gives you the perfect shade.
Guive Balooch:
So personalization based on skin tone data. Another example of that is our Rouge Sur Mesure Perso device.
When it comes to lipstick, it's not about having a thousand choices, it's about personalized coaching to find the right one. To do that, there are a couple of things. First, I don't want to buy a tube of lipstick every time I see a trend. Second, the trends come late to the high street.
Today, we live in a world where we use WeChat and Facebook and trends catch on in milliseconds. So how can companies adapt to the fact that people are creating trends so quickly?
The third is the fact that if I want to be able to match my dress or to match my skin tone or my hair, how can I do that with the right product for the evening or the day? So all of these are needs that need to be met – we have backfilled with technology. We have a service that is called Perso which works when I spot a trend created today by an influencer. I click dispense, it goes to the machine, it brings the right amount of each color from the cartridge and I make that shade right there and apply it.
I can do that 250 times with just three cartridges. I can create a shade, I can share it with my friend. So I become an influencer, whether it's within my community or a larger community, it's my choice. It's about connecting the dots of sense of community, of empowerment, of courage, to try things without having to buy a large supply of it.
Alison Tudor-Ackroyd:
In China, we are seeing huge demand for personalized niche perfumes. Again, L'Oréal is at the front of this trend and taking it to the next level. Could you talk to me about that?
Guive Balooch:
Sure. Today we have a couple of insights when it comes to fragrance. The first is that our noses and olfactory sensors can only smell six fragrances before they become unable to smell more. So when I walk into a fragrance shop with hundreds of fragrances, I hope that the six I can smell are going to take me to the one that I truly desire. That's not a great consumer experience and needs to be reinvented.
The second is that I would love to have a fragrance just for me. These are two different insights. I can tell you that it took me 40 years to know that the actual scent I love is neroli because I had never actually smelled it, but the moment I smelled it, I realized, ah, that reminds me of calm and it reminds me of my childhood with the desserts I used to eat when I was a kid.
These are things that it shouldn't take me 40 years to find out. So we partnered with a company called Emotive, a leader in neurotech headsets.
What they've done is taken cognitive science and neurotech headsets that were really more used in large laboratories and made them very consumer-facing. We allow consumers to come in, take an AI based questionnaire to help us understand what families of fragrances they like. We let them smell, based on their choices we measure their stress levels, excitement, concentration, their focus.
We have an algorithm that leads them to their top three fragrances. We found that we can get from 30% of people getting the right fragrance to 95% thanks to this technology.
We're continuously learning from what we do with these first launches, so that maybe in the future, we'll have customized fragrances to make people feel good about themselves in ways that were very difficult to do in the past.
Alison Tudor-Ackroyd:
30% to 90%. That is quite a jump!
Guive Balooch:
Yes. Thank you.
Alison Tudor-Ackroyd:
Handing it over to you. For our audience, are there any trends that you think are exciting? Something that I haven't covered already?
Guive Balooch:
Well, you asked many good questions and I'm very grateful for being able to speak with you about our team. We're super passionate. We love Asia because we see such an appetite for beauty and technology.
In terms of trends globally, I'm very excited about the future of beauty wear, where maybe the barrier of our fingers and our hands to achieve the dream result we have for beauty can be augmented.
Thanks to technology, think of AI and miniaturized devices where one day we can do incredible things with makeup that maybe we couldn't do with our fingers alone. We could maybe fill individual wrinkles that we couldn't do just by putting a finger in our cream. And so I think that today we see trends like personalization, precision, mental wellness, health, but tomorrow we will have even more when it comes to achieving things.
So stay tuned and we're cooking some really fun things around that. And I think that we will probably be showcasing them in Asia very soon.
Alison Tudor-Ackroyd:
We will stay tuned. Thank you so much for your time. It's been a pleasure and inspiring.
Guive Balooch:
Thank you so much. Thank you very much for your kind words.
---
Listen and follow Alicast
---

"Alicast" is a production of Alizila, the corporate newsroom of Alibaba. It's produced by Yashan Zhao and edited by Alison Tudor-Ackroyd. If you're in a podcast app already, please follow "Alicast". If you're listening on Alizila's website and want each new episode of "Alicast" delivered to you as they're published, download any podcast app, then search for "Alicast" to follow the show. Thank you for listening.