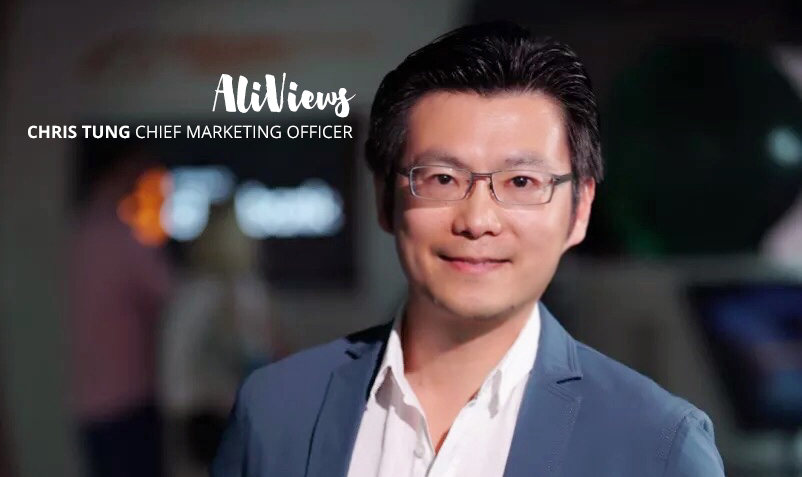 A year ago, Alibaba Group entered into a long-term, strategic partnership with the International Olympic Committee through 2028, joining its TOP program as the official "Cloud Services" and "E-Commerce Platform Services" partner and a founding partner of the Olympic Channel. Just ahead of the Olympic Winter Games Pyeongchang 2018, Alibaba's chief marketing officer, Chris Tung, spoke with Alizila about how transformative the partnership promises to be for both Alibaba and the Games, putting the Chinese technology giant on a global stage to showcase its innovation and cloud-computing prowess.
Alizila: Why is this IOC partnership significant for Alibaba Group and why do you describe it as partnership rather than a sponsorship?
Tung: This partnership is a defining moment for Alibaba. Just 19 years ago, Alibaba was a company of 18 people operating from Jack Ma's apartment in Hangzhou. What each person shared was a commitment to a singular vision – to make it easy for even the smallest of businesses to succeed on a global stage. And today, we are proud to stand alongside some of the world's most iconic brands as part of The Olympic Partner (TOP) Program as the official "Cloud Services" and "E-Commerce Platform Services" partner and the founding partner of the Olympic Channel.
Alibaba's partnership with the IOC goes beyond sponsorship. We have a shared vision for the role that technology can play to digitally transform the Games and this partnership covers a broadening set of innovations that you will see at future Games.
Over the next 10 years, the infrastructure of hosting and operating an Olympic Games will run on Alibaba Cloud which will increase the efficiency, effectiveness and security associated with hosting the Olympic Games.
With deep experience in e-commerce, Alibaba Group can create an online sports hub for the IOC, offering a destination that combines e-commerce, content, Olympic Games news and information about various Olympic sports and athletes.
Also, it's important for the IOC to make the Olympic Games and the participating athletes more appealing to a younger generation. That's where the Olympic Channel project comes in. As a founding partner of the Olympic Channel and owner of various media assets, such as Youku video platform, Alibaba Group can help make the Games more appealing to a younger generation year in and year out, especially in China.
Alizila: As CMO, you are the expert on how to build the Alibaba brand globally. Do you think this Olympic partnership is an effective way to build the reputation of the company around the world?
Tung: I think the real value lies in our ability to showcase Alibaba's technology and innovation to a global audience. We've enabled small and medium-sized enterprises and young entrepreneurs to succeed on our platform by leveraging our data and e-commerce technology. Through this partnership, and our work to transform the Olympic Games, we will showcase to SMEs, start-ups and businesses all over the world how Alibaba Cloud can help transform their businesses. And, yes, we are proud to put the Alibaba brand on a global stage and continue to internationalize the company.
Alizila: As the official Cloud partner of the IOC, what is Alibaba Cloud doing to help the IOC?
Tung: We see a huge opportunity to help the IOC and Organizing Committees manage the costs of staging the Olympic Games. Cloud is proven to be most cost-effective IT infrastructure. As we migrate more core technology modules to the cloud, a lot of the technology and data can be more easily organized and reused by the next Organizing Committee. That's great from a cost and operational-efficiency standpoint. And it's a concrete example of how you can use big data and cloud computing technology to transform the Olympic Games, and there are many others.
We also think we can make the Games more engaging for fans through cloud-based technology. From facial recognition, to travel guidance, enhanced content creation capabilities for fans, athletes and the media, and re-imagined e-commerce capabilities for purchasing official merchandise, the future of the Games as imagined by Alibaba Group will be on display in Pyeongchang 2018 in our showcase.
Alizila: How can Alibaba leverage its role as an e-commerce powerhouse to help the IOC reach global consumers?
Tung: For us, e-commerce is just the starting point for building an online sports hub for the IOC. We see e-commerce as a way to engage people who love sports worldwide. Our vision is to create a destination that combines e-commerce, content, Games news, and interesting information about the sports and top athletes in the Games.
Alizila: Tell us about Alibaba's first Olympic advertising campaign.
Tung: Our core concept is "to the greatness of small." It supports and tells the story of what Alibaba has stood for from day one, which is to support the small guy, leverage our technology to help the underdog succeed in the global marketplace. We believe that technology can level the playing field, and that even small companies should be able to be global companies.
The first company Jack Ma and his fellow founders built 18 years ago was Alibaba.com to help small businesses in China export their best products to the world. Then we built Taobao – the largest online marketplace in the world, home to millions of small merchants who started businesses and built brands fulfill their own dreams. There are millions of people selling and half a billion people shopping on our platforms today. We have a vision to make it possible for any small business to be able to sell to consumers anywhere in the world seamlessly.
Our approach has a lot of in common with the Olympic Games. Before the Games start, every athlete comes in as an equal. Every athlete has a chance to compete and win on this global stage. We believe our mission is the perfect match with the Olympic spirit. That's the message we want everyone to hear, loud and clear, from us during the Games.
Alizila: What can people expect to see from Alibaba at Pyeongchang 2018?
This is our debut in what will be a long and fruitful partnership with the Olympic Games. In Pyeongchang, it's important for Alibaba to learn from the Organizing Committee. We need to understand what's missing today so that we can make tomorrow better. We'll take back what we learn, discuss the issues and find more innovative solutions for future Games. At the same time, we'll also share thoughts with the organizers and the IOC about how we think we can take them to another level with cloud technology and big data analytics.
Alizila: Can you tell us about your personal vision for Alibaba's Olympic Showcase? What is the impact that you hope it will have on partners, visitors, etc.?
Tung: Our showcase is our primary activation on the ground to show how we are bringing the games into the digital era. The core concept is the future of the "Olympic Games on the cloud." We want to showcase solutions to make the operations of the Games even more efficient, effective and secure while also enhancing the fan experience by leveraging Alibaba Group's cloud-based technology. That includes cloud computing, e-commerce, media content, management systems, content distribution, a media center, all of that. We have identified the opportunities and will use this showcase to demonstrate potential future solutions using our technology.
Alizila: Are you partnering with any other Olympic sponsors?
Tung: Alibaba is a platform for global brands to heighten their presence, to engage consumers. Yes, we're partnering with the IOC, but we are also embracing and working closely with other TOP Partners, both on building up the backend of the Games and the experience for their customers who use our platforms. We've been talking and working with P&G, Coca-Cola, Samsung and Intel to help them deliver on their Olympic-related projects, as well as getting their input on what future Games will look like.
For example, for consumer products makers like P&G, Panasonic, Samsung, we've been building campaigns on our platform to showcase their Olympic-themed products to consumers.
Alizila: As you work with the IOC to digitally reimagine the Games, how do you envision this partnership evolving? Fast-forward to Beijing 2022, what do you think we'll see?
Tung: Beijing 2022 will be a very, very critical year for us to demonstrate what we can do to transform the Games. We've been working with not only IOC, but also the Beijing Organizing Committee for the Olympic Games (BOCOG) to identify the key areas for transformation. The idea is really to make Beijing 2022 a cloud-based Olympic Games. Consumers will have a very different experience when they go to the Games, from buying tickets to locating meaningful events in the host city – everything from buying souvenirs to interacting with the Games on the spot, via mobile technology. We want people attending Beijing 2022 to walk away thinking, "wow, I never experienced anything like that before!"
We launched a storefront on our Tmall marketplace for BOCOG just a few weeks ago. That's the first time we've had our own flagship store online, and business is good. We are identifying which types of consumers are already showing interest in Beijing 2022 and can use this information to help drive more traffic for BOCOG. This is just one example of how we can leverage e-commerce and technology to help future Organizing Committees.