Alibaba Group and the government of Rwanda have agreed to multiple bilateral initiatives to promote the African country's economy through increased cross-border trade, capacity building and tourism.
The signing of three memoranda of understanding, witnessed by Rwandan President Paul Kagame and Alibaba Group Executive Chairman Jack Ma, took place on Wednesday in the capital city of Kigali.
First eWTP Hub in Africa
A major tenet of the agreements is Rwanda's admission to the Electronic World Trade Platform, the first in Africa so far. The eWTP provides small and medium-sized enterprises with operational infrastructure, such as commerce logistics, cloud computing, mobile payments and skills training. By doing so, the eWTP allows SMEs the chance to participate in the global economy when that opportunity might otherwise be available only to multinational companies.
This is Ma's second trip to Rwanda after his initial visit to Africa in 2017. During those visits, Ma had said he was impressed by the country's young entrepreneurs and local businesses and pledged to support the growth of the digital economy in Africa. The partnership is a step toward fulfilling that pledge.
"I am delighted that Rwanda is the first eWTP partner in Africa, and I look forward to the development of an innovative digital economy here," said Ma, Founder and Executive Chairman of Alibaba Group. "Entrepreneurs in Rwanda, and elsewhere in Africa, are ready to seize the opportunities offered by the digital economy. It is up to all of us to help them succeed."
"People ask me, 'Why Rwanda? There are so many countries in Africa,'" Ma continued. "When I first came to Rwanda, I was shocked by its ability to embrace change. If every country was like Rwanda, think how powerful Africa could be. My answer is, 'Why not Rwanda?'"
Helping Rwanda's Small Businesses
Rwanda's economy has seen growth thanks in part to coffee and tea exports, as well as support from the International Monetary Fund and the World Bank. In the first half of 2017, Rwanda's annual growth reached 6.1%, thanks to "improved export performance, revitalized agriculture and resumption of growth in private consumption," a World Bank report said. That figure is expected to grow to 7.2% and 7.5% in 2018 and 2019, respectively.
At the ceremony, President Kagame touted the eWTP's potential to open up new channels of trade for Rwandan entrepreneurs and businesses, especially in e-commerce and tourism.
"Rwandan producers will be able to sell directly to a much larger set of customers than before, while bypassing costly intermediaries," he said. "This improves productivity and profitability. There really are no downsides to doing business on a global scale."
As part of the collaboration, Alibaba also pledged to work with the Rwanda Development Board (RDB) and the National Agricultural Export Development Board to help the country's SMEs sell their products, including coffee and handicrafts, to Chinese consumers through Alibaba's online marketplaces such as Tmall Global, a platform of over half a billion consumers.
Several brands of Rwandan single-origin coffee are already on sale on the platform. In just a few days after the launch, over 1,000 bags of Rwanda coffee beans were sold.
Tmall Global is also running an educational campaign called "Tear Off the Label for Africa" — to strip away the traditional view on African and products from the continent — to raise Chinese consumers awareness of Rwanda products. The campaign has already boosted Chinese consumers' interest in Rwandan coffee by 200%, Tmall Global said.
More on Alibaba in Africa
Boosting Rwanda's Tourism and Digital Economy
Alibaba's online travel platform, Fliggy, and the RDB will together promote Rwanda as a tourist destination to Chinese travelers. Through the Rwanda Tourism Store on Fliggy, travelers can book flights and hotels and customize their travel experience. The so-called Destination Pavilion also lets Chinese consumers to learn more about Rwanda, a popular location for gorilla trekking.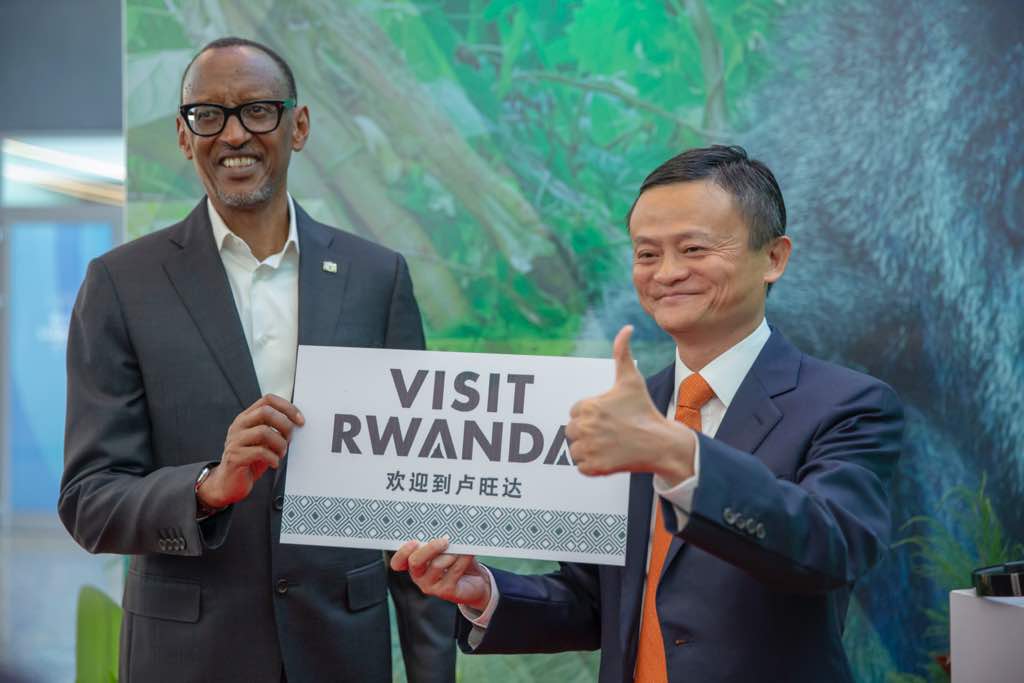 To improve Rwanda's payments infrastructure, Alibaba's affiliate company Ant Financial will share insights on inclusive financial tools, such as mobile payments, to support Rwanda's digital economy, Alibaba said.
"The partnership between Rwanda and Alibaba will change people's lives for the better. We are committed to leveraging the digital economy to support our exporters, local producers and artisans," said RDB Chief Executive Officer, Clare Akamanzi.
"We have already seen tremendous attention from Chinese consumers on Alibaba's platforms in high-quality Rwandan products such as our top-tier single estate coffee, and we are confident that local products and travel experiences will continue to receive interest and support from the more than half a billion consumers on Alibaba's platforms," she added.
Developing Rwandan Talent
Alibaba will offer capacity building for scholars, academics, policy makers and entrepreneurs to help empower a digital economy in Rwanda, the company said. One such program is the Global E-Commerce Program (GET), hosted by Alibaba Business School. By working with RDB and the Rwandan Ministry of Higher Education Council, the five-day course trains the teachers who will be responsible for fostering the next generation of talent in Rwanda. The first class was held in August.
For policy-makers, Alibaba plans to conduct a three-day workshop in January at its Hangzhou headquarters. The workshop will be attended by ministerial-level officials responsible for the development of Rwanda's digital economy.
For young entrepreneurs, Alibaba will continue to provide training through programs such as the eFounders Fellowship. In partnership with United Nations Conference on Trade and Development, Alibaba is training 1,000 entrepreneurs from emerging markets over five years. Two hundred of those entrepreneurs will come from Africa. Five Rwandan entrepreneurs have already graduated from the eFounders Fellowship program.