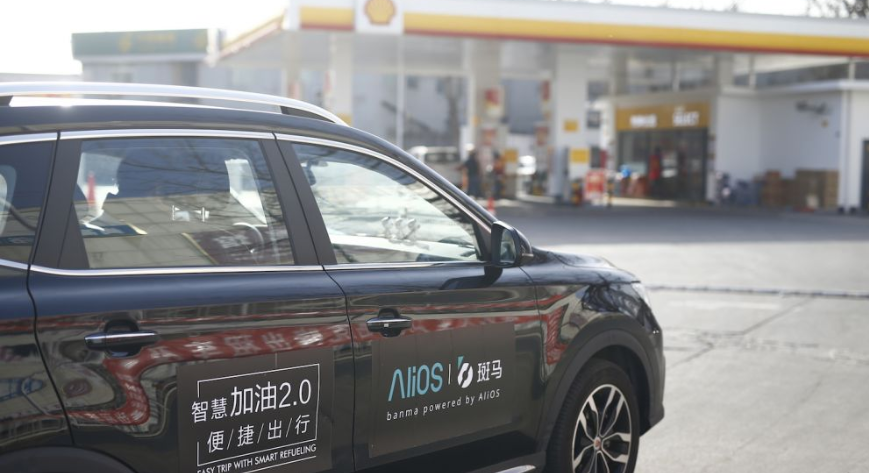 Imagine a gas station that can automatically detect when a driver arrives, and the entire process—from selecting fuel types to payment—can be done with just a few taps on the car's touchscreen display. No cash, credit cards or smartphones necessary.
A Shell station in Beijing is testing out that technology, through a joint venture between Alibaba Group and SAIC Motor Corp, called Banma Network Technology.
Banma said Wednesday it will launch the first "smart gas station" in China's capital within the first half of this year, and then further expand the model to other Chinese cities.
Leveraging its cloud computing technology, Alibaba's operating system for IoT devices AliOS uses geo-fencing algorithms to sense when a car pulls into a designated spot alongside the pumps, and automatically triggers the system.
The monitor then lets consumers pick fuel types, select the amount of gas they need, letting them choose to pay via Alipay or their Shell membership accounts. Consumers can even buy snacks and other items from the station's grocery store, and have the staff bring purchased items to the car.
The new model can cut the average 10-15 minutes spent at gas stations by up to 50%, according to Shell.
Banma CEO Alex Shi said the partnership is seeking a New Retail-driven business model for gas stations that caters specifically to cars that are connected to the internet.
"We want to realize the promise of connected cars to enable the entire car and travel industry. And through our collaboration with Shell China, we want to empower the energy sector—delivering exceptional commuter experiences to car owners and substantially improve work efficiency for gas stations," said Shi.
"The most important part of a journey—even more important than the destination itself—is how one reaches the destination. This is why we have strived to satisfy Chinese customers' desires for quality travel experiences," said Rebecca Chan, vice president of retail at Shell China.
The collaboration is Shell's latest move in the "innovation of cutting-edge digital experiences," said Chan. "We hope secure, accessible Internet of Things technology, paired with Shell stations' quality products and services, can bring customers delightful experiences and inspire them to keep exploring and discovering new everyday journeys."
Plans to include more customized services are in the works, based on analytics on consumer preferences and each gas station's product offerings, the oil company said. Also, in the near future, members of Shell's loyalty program who own an internet car powered by the latest version of AliOS will be able to complete the entire process in one click.
Alibaba unveiled its first internet car aimed at expanding IoT to the automotive sector in 2016. Today, close to 400,000 internet cars being driven in China are powered by AliOS. Shell owns more than 43,000 fuel stations in over 80 countries and regions, with about 1,300 stations in the Greater China Region, overseeing the biggest international station network in China.