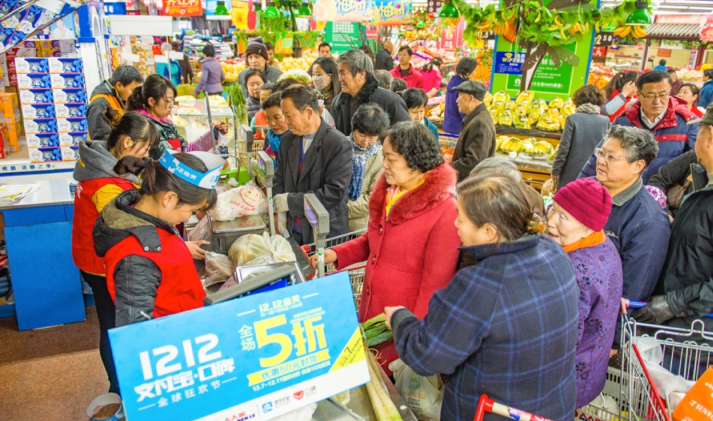 On Nov. 12 Alibaba held its annual 12.12 sale, an online promotion that in past years has been geared to help smaller e-tailers move merchandise via the e-commerce company's Taobao Marketplace.With the growth of O2O (omni-channel) retailing, Alibaba in recent years has useddeep discounts offered during the one-day promotion to encourage Chinese consumers to use their mobile phones to shop for goods and services not only online but also in physical shops. This year,some 300,000 stores in China and around the world got inon the action, drawing smartphone-wielding crowdsto restaurants, hypermarkets, convenience stores, hair salons, movie theaters and other participating merchants.Here's how the sale went down in China:
At 7 a.m. on Dec. 12, shopperswaited in the cold for aCenturyMart in Hangzhou, China, to open so they could get first crack at discounted everyday goods, which sold out quickly during past 12.12 promotions. More than 28 million Chinese consumersparticipated in this year's 12.12omnichannel campaign, held by e-payments provider Alipay andKoubei, Alibaba's on-demand local services platform. Retailers in more than 200 Chinese cities joined the event.
Long lines formed inside this Ren Ren Le big-box retailer as customers filled their carts with veggies, cooking oil and bags of rice priced at up to50 percent off. To qualify for the discounts, shoppers paid at registers using their smartphones and Alipay's point-of-sale solution, which the company said reduced check-out times from about one minute to less than 15 seconds. Oh, and the best-selling item in participating hypermarkets on the day?Facial and toilet tissue, according to Alibaba.
With thousands of KFC and McDonald outlets joining the campaign, fried chickenwas the favorite westernmeal on the day — 960,000 fried chicken orders were paid for during 12.12. Diners also flocked to Chinese restaurants like the one above; adish consisting ofeggplant, meatand rice was the most popular local meal on 12.12, with 240,000 pieces ordered.
Chinese tourists could also enjoy discounts by paying for products and services using their Alipay equipped smartphonesin 13 countries and regions. Participating retailers included King Power duty free shops in Thailand, UGG shops in Australia,Lotte malls in Korea, Bonjour cosmetics shops in Hong Kong, and a Takeya department store in Japan.
At the famed Ning Xia night market in Taiwan, consumers were able to buy snacks for one yuan (15 cents) on Dec.12 by using Alipay to settle payments.
Moviegoers bought 1.51 million ticketsthrough Alipay, Mobile Taobao and Taobao Movie apps at prices as low as RMB 8.80 ($1.40) to watch blockbusters like The Martian.Box-office receipts generated by the promotion totaled RMB 46.87 million ($7.26 million), which was about 30 percent of the nationwide box office on Dec. 12.
Taobao Marketplace'sonline judicial auctionwebsite,paimai.com, was also involved in theevent, auctioning offhundreds of repossessed assets includingan island in the Maldives (above) for RMB 6 million ($930,000) and a cargo vessel transporting natural gas for the same price.