Taobao has teamed up with local retailers to launch a brick-and-mortar, multi-label store to host independent clothing brands that sell on the Alibaba Group-owned online marketplace.
Piloting at the Hangzhou Kerry Center shopping mall, the "Taostyle" store currently offers about 350 items from a rotating selection of 20-plus brands. The first batch of partners features some of the most popular and fastest-growing brands on the e-commerce site, such as Lamps, Roaringwild, Ayuko and THESSNCE.
Taostyle's fashion buyers determine which brands and products to sell based on a mix of market knowledge and consumers insights drawn from Alibaba's platforms, refreshing offerings and introducing new products at least twice a month.
WATCH:New 'Taostyle' Store Brings Online Brands Offline

Frequent product reshuffling is only one of the ways that Taostyle is bringing e-commerce shopping experiences offline. Each garment has a unique QR code, which customers can scan with their phones to access its product page on Taobao, find out the price, get detailed product descriptions and customer reviews. The store even allows consumers to place orders online in addition to buying in-store, as it receives the same commission for both online and offline transactions made through Taostyle.
"We don't just want to open a traditional shop to sell clothes. We want to explore a new way of merging online with offline," said Xia Yu, the general manager of Hangzhou Shunhong, which operates Taostyle.
Xia said rich visual content, also a common feature when shopping on Taobao, sets Taostyle apart from traditional stores. Large LED screens showcase featured brands, while across every clothing rack, there are smaller screens for brands to display their product images and videos. Xia also built a booth inside the store, where livestreamers, merchants and Taostyle staff promote and sell their products via livestreaming.
"For us, business doesn't stop when the mall closes. Using livestreams, we're able to interact with consumers all day, especially between 8 p.m. and 2 a.m. when young people are most actively shopping online," Xia said.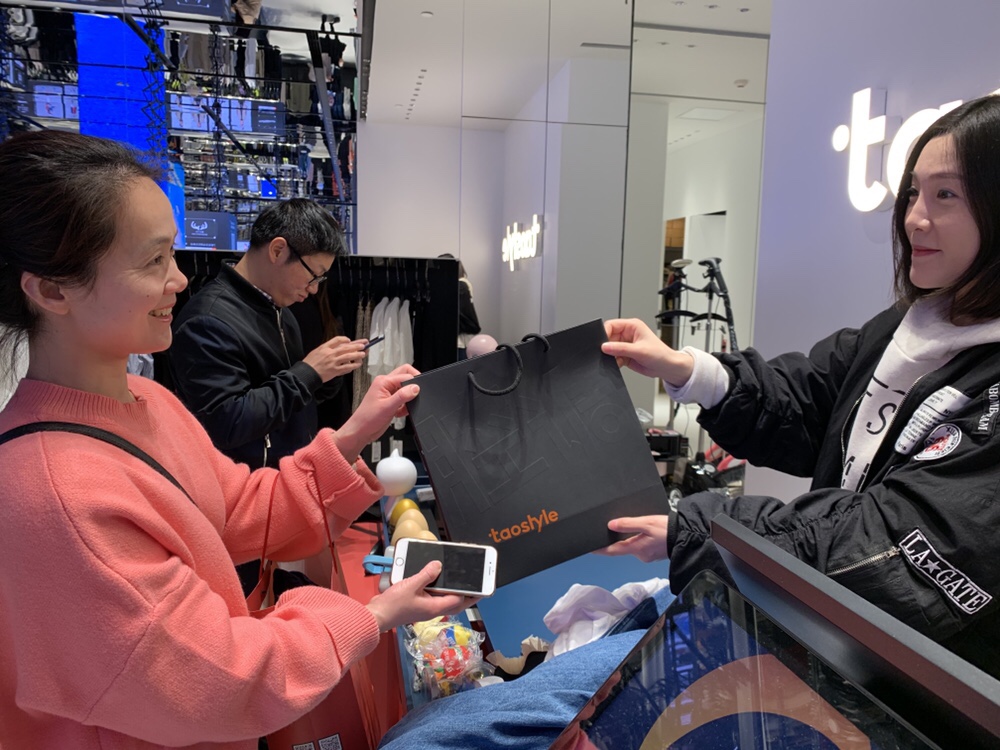 Jingjing Liu, leasing director at the Hangzhou Kerry Center, said partnering with the experimental store helps the department store engage young, trendy female shoppers, who make up the majority of its customers.
"We have high hopes for Taostyle," Liu said. "There has been a lot of buzz around online-to-offline and New Retail, but as a veteran in the retail business, I haven't been fully convinced by any models before working with Taostyle. This is the closest to the concept that we've seen."
From Online to Offline
Most of the showcased brands either got their start on Taobao or scaled up thanks to the platform. Taostyle offers them an offline channel to improve the experience for existing fans and reach new customers, as well as the chance to test the waters before committing to their own brick-and-mortar stores, said Xia.
"Without strong interactions, it is difficult for brands to build emotional connections with consumers through a screen," he said, adding that merchants are interested because physical stores complement the limitations of an online store, satisfying the consumer need for immediacy and to check the feel and try on products before they buy.
Cathy Xu, founder of indie menswear label THESSNCE, said she wants to leverage Taostyle to reach the brand's target consumers — men that like high-quality, minimalistic styles — who don't shop on Taobao that often.
"There are some experiences we can only give consumers through an offline channel, like saving them the wait [for shipments to arrive], so they could instantly try on and feel our designs," she said.
The current trend for online shops is to expand offline, Xu noted. But the right tools, such as payments and inventory technology, can be hard for small businesses to attain.
"Alibaba provides that tech infrastructure here, which would have been very difficult to build on our own," she said.
Her brand launched in March last year, and by year-end had totaled RMB 20 million in sales. The annual sales goal for this year is 70 million, Xu said.