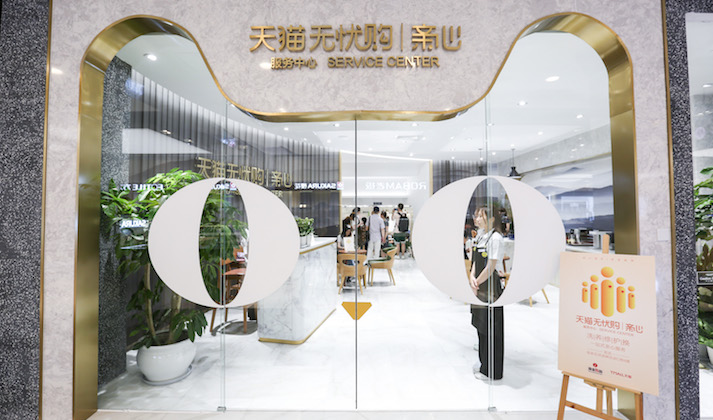 Tmall has partnered with Alibaba Group-owned mall operator Intime on a new brick-and-mortar consumer-services center in Hangzhou.
The one-stop shop for everyday consumer needs includes smartphone and watch repairs, high-end cleaning for luxury goods, footwear and jewelry and clothing alterations. Users can check rates and pre-book the services online using Alibaba's Tmall or Mobile Taobao app and track the status of their order until it is ready for pickup.
The store, officially called the Tmall Wuyougo ( "Tmall Carefree Shopping") Service Center, is a partnership between Tmall Fashion & Luxury, its "shopping experience" division and Intime. It is the latest in a series of New Retail initiatives by Alibaba that merge online and offline shopping to better serve consumers.
WATCH: Inside Tmall's new consumer-services center.
Liu Yandi, head of Tmall's shopping experience division, said the service center was "about putting consumer experiences at the center."
"We want to solve some of the core problems shoppers encounter, such as the services they need being too scattered or [operations] lacking in transparency," she said. "We want to provide them with a platform that is trustworthy, standardized and worry-free."
These services are growing in popularity as the purchasing power and sophistication of China's consumers continues to rise, said David Ye, head of Tmall Fashion and Luxury's customer operations unit. "Demand for good after-sales service in fashion and footwear is also growing," he said.
Tmall said it planned to launch a new "At Your Door" option in the near future, which would give consumers the option of pickup and delivery rather than dropping items off at the store. The service center will eventually expand to all of Intime's branches nationwide, about 50 in total, by the end of this year, as well as independent storefronts in residential and commercial neighborhoods. Partnerships with other retailers, such as home-improvement supplies and furniture chain Easyhome, are being discussed. (Alibaba Group owns a 15% stake in Easyhome.)
Separately, Tmall said it would deepen its collaboration with Intime by integrating their respective loyalty clubs, including targeted membership benefits and marketing strategies. To celebrate the opening of the new service center, Alibaba Super Members could receive two vouchers for free laundry services, with more benefits expected in the future.