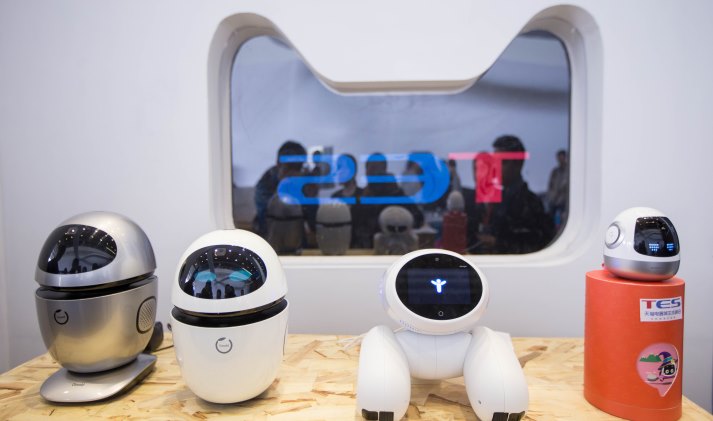 Smart appliances are fast becoming must-have products for consumers around the world. The number of connected smart major appliances sold globally is expected to climb to 230 million in 2020 from under 1 million in 2014, according to U.K. market intelligence firm IHS—a compound annual growth rate of 134 percent.
And China's consumers, who have proven to be eager adopters of new technologies, will play a role in this stellar growth. Already the country is the largest market for smart air conditioners, with 3 million bought in 2015, IHS said. The next closest competitors are the U.S. and Japan at about 30,000 each.
The e-commerce platforms of Alibaba Group—Tabao Marketplace and Tmall.com—are seeing this trend play out as well. On Monday, at the Tmall Technology and Electronics Summit (TES) held in Hangzhou, China, the business-to-consumer online marketplace released a report in partnership with German research firm GfK about the digital appliance market in China. According to the report, gross merchandise volume for smart home appliances on Tmall saw a compound annual growth rate of nearly 300 percent between 2012 and 2015.
Whether it's an air conditioner that adjusts the temperature based on how many people are in a room, or a refrigerator that inventories your food and alerts you when it's time to shop, these appliances have clear appeal in the PRC. Smart devices can often talk to each other as well, via WiFi or Bluetooth, allowing them to work in tandem to deliver greater efficiencies in the home (like, say, an alarm clock that signals the coffeemaker to start the morning brew so it's ready once you've finally stopped hitting snooze).
Merchants now are selling smart devices—air purifiers, water heaters, electric blankets and even robotic vacuum cleaners—in 490 different product categories on Alibaba's platforms. Meanwhile, Alibaba's Smart Living division notes that 71 million smart devices were sold on Tmall and Taobao platforms last year alone, excluding near-ubiquitous smartphones. That's up from about 22 million in 2014. Those numbers come as a result of partnerships with about 1,000 companies, among them global consumer electronics companies Philips and Siemens.
Smart devices are part of an overall surge in growth for consumer electronics on Tmall.com. China's largest business-to-consumer online marketplace, long known for its fashion and apparel merchants, saw gross merchandise volume for the category jump 70 percent a year between 2012 and 2015, according to statistics disclosed by Tmall at Monday's TES event. Tmall says it has more than 6,000 consumer electronics brands, including 300 international sellers, on its platform, making it the largest online marketplace for CE in China.
According to Yin Jing, head of Tmall's 3C, or computer, communication and consumer electronics, division, Tmall is planning a big push into the home appliance space. That includes upgrading the user experience for shoppers in this product category. "One idea is to synchronize major home appliances like stoves or refrigerators to be connected to Tmall so they can order directly from the smart screens on these products."
Smart appliances are catching on in China for the same reasons they are doing so in the West, said Dinesh Kithany, principal analyst for home appliances at IHS: the addition of new homes in the market and a push for greater energy efficiency by consumers, companies and governments. Indeed, the Chinese government early last year launched a program to switch out old, energy-draining appliances with newer smart ones. Consumers are largely happy to comply because they want lower utility bills, and companies are innovating to meet demand.
Kithany also points out that the rapid adoption of mobile technology and the ease with which consumers have integrated them into their daily lives is paving the way for connected smart appliances. This is especially true in China, which has seen enormous growth in mobile usage over the past couple of years.
"Because they have a smartphone in their hand, that makes it easier to adopt connected appliance technology as consumers have become more technology oriented and connected all around," Kithany said.
Alibaba, which studies the search and purchase habits of its 407 million users, said it watched the move to smart appliances take shape and moved quickly to position itself in the market. Lijuan Chen, senior director at Alibaba's Smart Living division, pitched the idea for Smart Living in 2014 and soft launched the division that year with the release of Alink, a protocol that would allow smart appliances made by different manufacturers to talk to each other.
Last year, Smart Living worked with the team from YunOS, Alibaba's operating system, to make it compatible with smart appliances. And now cloud-computing service Aliyun lets companies establish communication and data networks for them. There's even an app—Ali Smart—which consumers can use to operate all of the new appliances in their homes.
"There were only 20,000 smart devices connected to Aliyun's cloud in early 2015," Chen said, "but the number is now at 4 million."
Behind that huge leap is, perhaps not surprisingly, China's growing urban middle class. Chen points out that 63 percent of buyers on Alibaba's e-commerce platforms are from major cities such as Beijing, Shanghai and Guangzhou, and 43 percent of them typically spend at least 4,000 yuan ($617) a month. While men are most often the buyers (59 percent of the time) of these appliances, it's women who are using them (55 percent of the time).
Smart Living is already looking beyond just selling appliances. Now it's working with merchants to offer after-purchase services to generate revenues long after the initial transaction. Someone who purchases a security camera can also pay for monitoring services that watch a person's home to, say, alert the police in the event of a break-in. The refrigerator that keeps a food inventory can automatically order new stock from Tmall Supermarket without the consumer having to worry about it.
"We are trying to make the device smarter and collect data on user habits to make improvements," Chen said, "then help companies to upgrade their business model." That includes delivering all of the data that comes along with this purchase and user activity back to manufacturers so that they can build better smart appliances.
Merchants already have plans for these services. Royal Philips, the Dutch electronics giant, is developing a line of smart personal-care devices that will link to consumers' medical records at hospitals and with their doctors that will help them to build healthy daily habits. Another idea is a smart toothbrush that has an accompanying app on the iPad that teaches children how to properly care for their teeth. The device can trace their strokes and the amount of time they spend brushing and let them know if they're doing it right.
"We would like to build a very big ecosystem and then we can link the medical with the daily life together and then our products can tell you what problem you may have, what smart products you should buy" to help with the problem, said Richard Zheng, Philips' director of Tmall operations.
These initiatives will be important in order for Alibaba to keep ahead of what's on track to become a very competitive market. Chen said the company currently has an edge, however, because of its broad ecosystem of services. Suning, China's largest electronics chain and in which Alibaba is a stakeholder, plays into this as well. Companies that sell their products on Tmall and Taobao also get physical shelf space at the company's stores.
Chen said that given the still-low level of IT capability among many Chinese companies, there's plenty of opportunity to help bring their businesses into the digital age. "They need help to upgrade," she said. "That's what we do."